Around the state on Monday, some classmates met face to face for the first time since schools abruptly closed more than a year ago because of COVID-19.
When the new school year started in September, many of the state's larger schools chose a half in-person, half-online system to ease crowding and slow the spread of the virus. Classes were split into two "cohorts," assigned different days to come to school in-person.
Students in different cohorts hadn't seen much of each other until Monday, when schools in communities including Concord, Goffstown, Nashua and Berlin opened for full-time in-person learning for the first time since last March.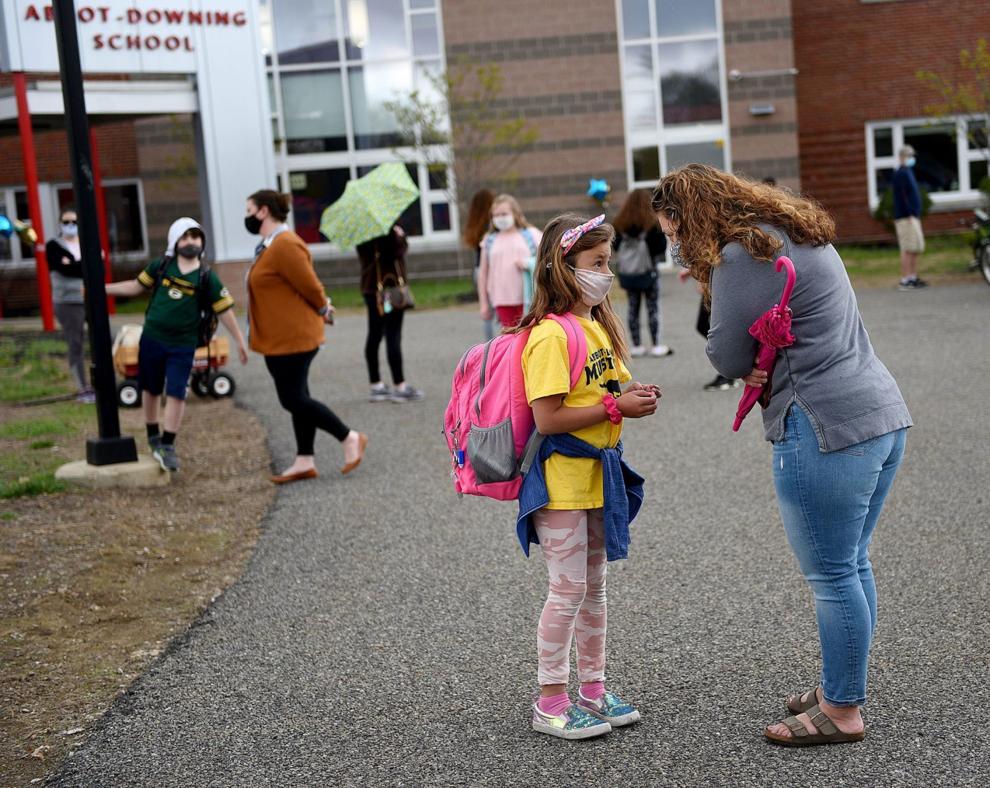 "It was nice to see people you haven't seen in a year," said Rylee Ames, a Goffstown High senior, after school on Monday — even if school was a little odd, with masks, three feet of distance between students, and one-way traffic in most hallways.
"It feels like the first day of school all over again," said Principal Anthony Blinn, of Concord's Abbot-Downing School.
There are still a few kinks to work out, Blinn said, especially lunch. Because children take their masks off to eat lunch, they have to stay six feet apart. Abbot-Downing's cafeteria, like many school cafeterias, isn't big enough to fit everyone and keep that distance. Schools are doing their best to adapt. Some Abbot-Downing students are eating lunch outside, Blinn said. But if it rains, they might have to eat in the gym.
Kelsey Nugent's son Zachary, 5, went to school at Abbot-Downing part-time earlier this year, but it's been a little lonely, Nugent said. He would be the only one at his table in class, and children had to play alone. Zachary has taken it all in stride, Nugent said.
But as she waited to pick up Zachary on Monday, Nugent said she was excited to hear about how Monday went, when Zachary finally had someone else sitting at his table.
'Culture shock'
Older students are also excited for a more normal school experience, even if they worry about COVID-19.
"Socially, it felt great seeing everybody again," said Kathryn Langille, a Concord High School senior.
Langille had been a little nervous about all 1,500 Concord High students being back in the building — she has vulnerable family members, she said — but she said everyone was good about wearing masks and keeping their distance. Still, Langille said, it was a little jarring to be back in a crowded high school.
"It definitely felt like a culture shock," she said.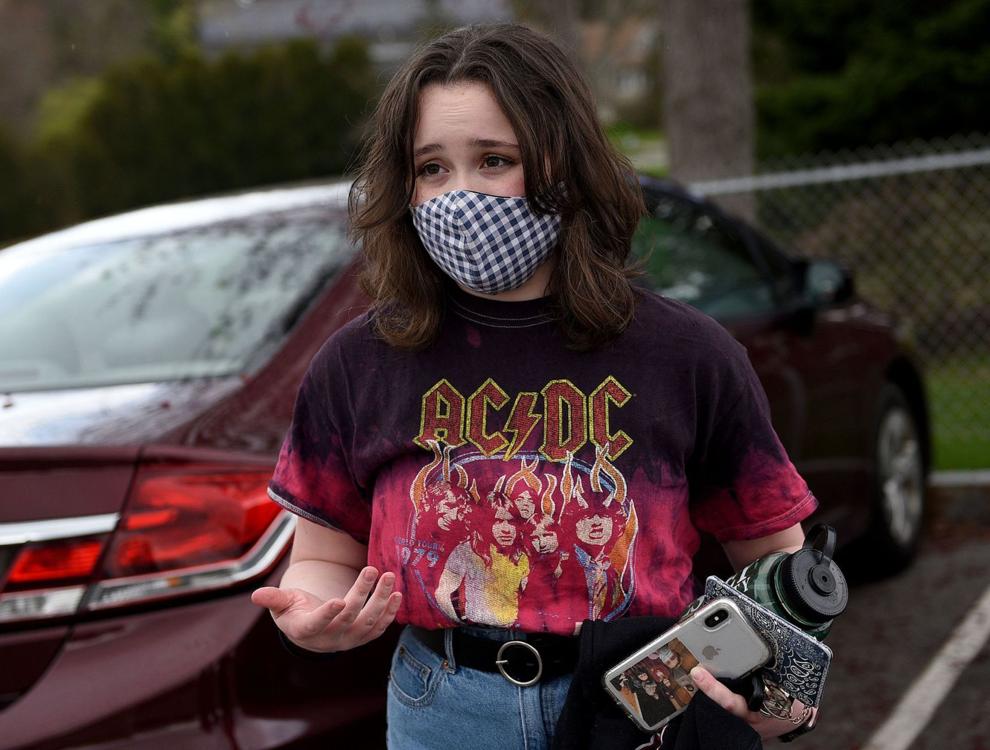 Concord Superintendent Kathleen Murphy was thrilled to see full schools again.
"Kids belong in school, belong with their peers, and their friends and their teachers," she said.
But not all Concord students are back in school buildings. Murphy said between 600 and 700 of the 4,000 Concord students are still learning remotely, though high school principal Michael Reardon said he expects that proportion to drop, especially as more students over age 16 get vaccinated.
The energy in the school feels almost back to normal, he said.
"There's a lot of chatter in the hallways — I think kids are excited to be back, to see their friends. Spring sports are going on. We have a prom coming up in a few weeks. We're taking the final steps to finalizing a graduation ceremony," Reardon said. "Everything's moving forward."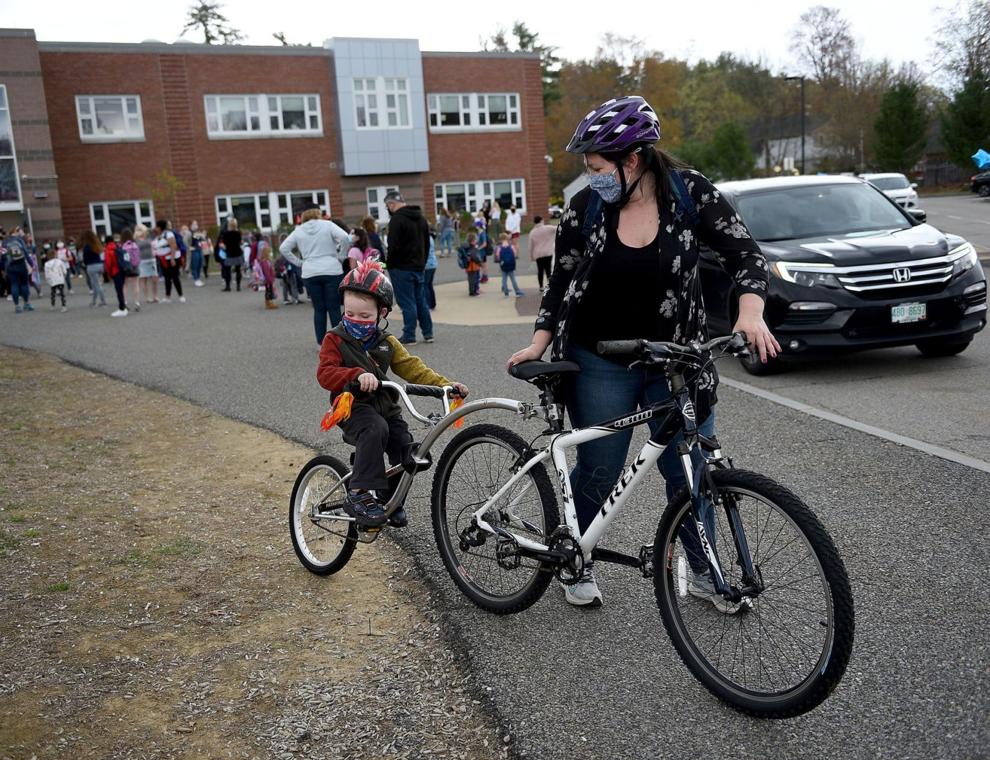 In Nashua, school administrators say the first day of all-in learning was smooth and joyful.
"The kids seem really happy to be here, and the teachers are excited," said Sharon Coffey, principal at Fairgrounds Middle School in Nashua.
While there were some of the obvious first-day glitches getting through eight socially-distanced lunch periods, Coffey said she thought school was off to a great start.
Staffing
Staff shortages were a major hindrance to reopening schools across the state. Teachers working remotely because of health conditions were deeply reluctant to return to school in-person until they were vaccinated.
Until those with medical conditions achieved full immunity, two weeks post-vaccination, many will keep working remotely.
Some Nashua teachers have decided to return to the classroom earlier than expected, Coffey said, which helped Nashua reopen Monday.
In Concord, many teachers received the one-dose Johnson & Johnson vaccine, school board chair Jim Richards has said, which allowed some with medical conditions to achieve immunity and come back to work sooner.
Manchester received permission from the state to delay full reopening until May 3, because so many teachers would be working remotely that there were not enough staff to safely reopen the schools to all students full-time. The Monadnock School District is also planning to fully reopen May 3, as are some Keene schools.
Some charter schools have also put off full reopening. Those include Kreiva Academy, a charter school in Manchester that remains in half-online hybrid learning this week. After May 3, the Department of Education granted a waiver for the school to run half-days on Wednesdays for the rest of the year.
For the schools that were able to fully reopen Monday, the day felt like a celebration.
"There is a great vibe in the school. It seems like this is part of our progression to getting back to something more normal," said Matt Poska, principal at Elm Street Middle School in Nashua.