CONCORD — Superintendents, school board members and students urged House and Senate budget writers to hold firm and deliver on the largest education aid increase in 20 years contained in the state budget Gov. Chris Sununu vetoed.
The third and final public hearing on the impact of the state budget impasse Thursday drew a standing-room only crowd of educators worried those proposed state aid increases could now be on the chopping block in light of new, much more conservative revenue estimates for the next two years.
"I would beg you to hold fast on the education portion of the committee of conference agreement," Berlin Mayor Paul Grenier testified.
"For Berlin, this is getting to be life or death for our school system," he said.
Berlin officials there have been counting on a $4 million aid increase the vetoed budget would have delivered and Grenier has already warned more layoffs could be in the offing if the final grants come up short.
Julie King started as Berlin superintendent of schools on July 1.
"We are a strong, hearty bunch; many of us have been through the school system ourselves. We will come out of this okay, but it is getting harder and harder to provide even the minimum of standards for our schools," King said.
Claremont School Board chairman Frank Sprague said city officials celebrated the windfall that city would have received in the vetoed budget.
"This would have been transformational for us in Claremont. For once we would not have had to cut staff, we could have reduced the crushing tax rate on our citizens," Sprague said.
"That excitement died quite suddenly with the stroke of a pen, the governor's veto."
Pittsfield School Superintendent John Freeman said his property-poor district, one of the lead districts that sued the state over school financing nearly 30 years ago, had to eliminate innovative programs and he's watched some of his best teachers leave for better pay in property-rich communities.
"We are the Fisher Cats. We are the farm team. We try them out and if they work out they go somewhere else and they get more money," Freeman said.
After the hearing, House Finance Committee Chairman Mary Jane Wallner, D-Concord, said the message was clear.
"What we heard today is what we have heard repeatedly over the last decade; New Hampshire communities cannot wait for the state to better fund education," Wallner said.
Municipal leaders offer counterpoint
But at a press conference before the hearing, a group of municipal leaders praised Sununu for vetoing the budget, including Jim Adams, a member of the Pittsfield Board of Selectmen.
"To the legislative leaders I say knock off the political theater; just do your job," Adams said.
Franklin Mayor Tony Giunta said he was surprised the standoff has lasted this long.
"I thought we would have a budget by now and it would not be a heavy lift," he said.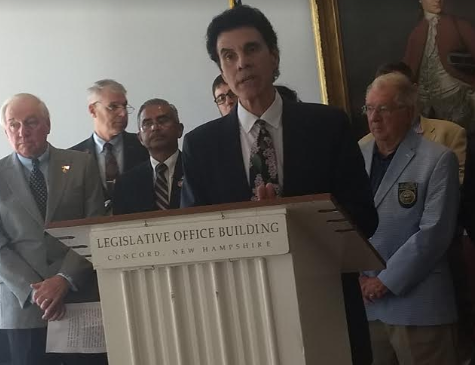 While the hearing promoting higher education aid spending was going on, Sununu released a seven-page open letter to all state educators with his "latest offer" regarding schools in an effort to resolve the budget stalemate.
The vetoed budget included a total of $138 million more spending on education aid.
Sununu's offer includes about half that total in ongoing grants plus $60 million in one-time "infrastructure grants" that all schools could share in.
"Some in the Legislature want to fund these programs at levels that are not sustainable long term. That is not acceptable," Sununu wrote in his letter. "During a time of record surplus and strong economy, the state must not make promises it cannot keep down the road."
Sununu's new offer rejected
Senate Majority Leader Dan Feltes, D-Concord and a possible 2020 candidate for governor, asked Berlin's mayor if Sununu's offer was enough.
"Not even close; dig in your heels," Grenier answered.
The chief executives of the two- and four-year college systems urged lawmakers not to renege on state aid designated for their programs in the vetoed budget.
Both Community College Chancellor Ross Gittell and University System Chancellor Todd Leach said those grant levels would ensure tuition would not be increased over the next two years.
"This has created a major uncertainty as to what our tuition rates will be and whether significant cuts will be needed to sustain our affordable tuition," Gittell said of the continuing resolution that's kept state government running for 90 days to allow for a compromise to emerge.
John Morrison III, CEO of Hitchiner Manufacturing Co. Inc. of Milford, said after this budget deal is struck that policymakers should examine whether it's time to change the reliance on the local property tax to pay the lion's share of the bill for government services.
"I would strongly recommend consideration be given once the current problem is solved, to looking at other forms of revenue to help solve the management of this budget problem," Morrison said.
But Hampton Selectman Regina Barnes said caving into legislative demands on all this spending would lead to "higher property taxes or an income tax."
"I forthrightly support the governor's veto of the budget. The bottom line always matters in my opinion," she said. "It is time to sit down and negotiate."