CANAAN — Mascoma Valley Regional School District Superintendent Amanda Isabelle said Friday night she wants fired lunch lady Bonnie Kimball hired back by vendor, Cafe Service, but Kimball says she won't go.
"They all just want me to get the press off their backs," Kimball said after learning of the district's statement.
Isabelle put out a statement Friday night calling on Cafe Services to rehire Kimball, or face losing the new $500,000 contact it entered into with the district this week. Isabelle said in the statement she'd spoken to Cafe Services representatives about hiring Kimball back, with back pay since she was fired at the end of March.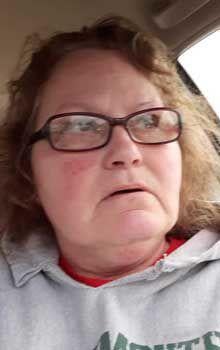 The ensuing media firestorm once Kimball's firing became public appears to have forced the district to make the move.
"The events of these past few weeks and the feedback I have received from parents has given me considerable pause," Isabelle said. "As a school district, we understand the importance of rules and procedures, but upon reflection, I have become sufficiently convinced that it is wrong of us to assume that all the responsibility falls to the vendor, and I do not believe our communities would accept that explanation of this situation. We must be accountable for the people who work in our schools."
Kimball was fired in March after she allowed a student who could not pay to take $8 worth of a la carte items during lunch at the Mascoma Valley Regional High School. Kimball said she'd been instructed to let students take items even if they could not pay by a manager concerned about the upcoming bid process for the new one-year contract.
A district manager who saw Kimball give the student the food on March 28 fired her the next day, despite the fact the student had already repaid his tab that morning, Kimball said.
Cafe Services denied they would fire an employee for giving out free food, though the termination letter Kimball was given states she was being fired for letting the student take food without paying.
Isabelle said the school district's policy is to not refuse food to a hungry children who cannot pay, but also not to allow them to take certain items.
"The district's policy regarding free lunches is that students will always be provided with meals, milk, fruits and vegetables," Isabelle said. "There are, however, items such as ice cream bars, sports drinks and chips that are not provided for free."
Fresh Picks Cafe, the school division of Cafe Services, also sent out a statement Friday night agreeing to rehire Kimball. Fresh Picks Cafe President Brian Stone said the manager felt firing Kimball was appropriate at the time. 
"In consultation with the school district about the current policies for handing transactions with students, we are going to offer to rehire our recently terminated employee and provide her back pay and we will work with the school district to revise policies and procedures regarding transactions. We will then work with our manager on those policies," Stone said in the statement.
It's not clear what will happen to the contract with Cafe Services if Kimball continues to refuse to go back.
"They did this to themselves," Kimball said.