BERLIN — With much love to them and much expectation for them, White Mountains Community College on Friday sent the 240 members of the Class of 2019 into the big, brave world.
During the well-attended 52nd commencement exercises that were held beneath a tent, pitched on the school's south lawn, WMCC President Charles Lloyd said the school is "this little best-kept secret."
WMCC's story, he continued, is the story of its students, with the Class of 2019 exemplifying the fact that the men and women who attend New Hampshire's community colleges are not "traditional students" who, after graduating high school, go directly to a four-year college or university.
Students at WMCC, said Lloyd, frequently have to balance the many compelling demands of life with academic challenges in the classroom.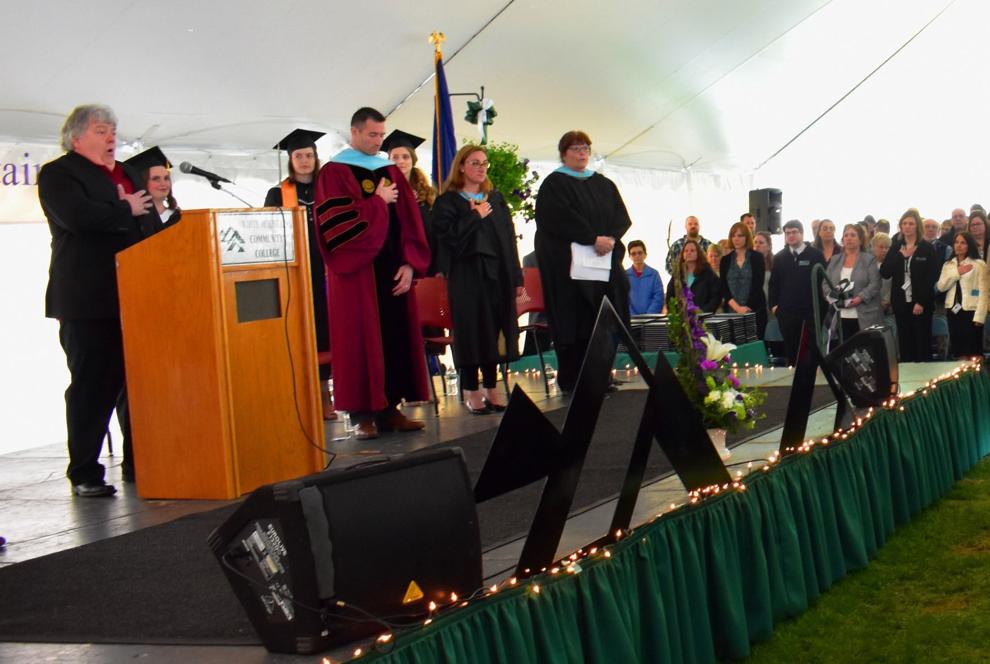 At his direction, soon-to-be alumnae stood to show that they had earned their two-year associate's degree or a certificate while raising or having children during the school year; working full- or part-time (nearly the entire class stood); or were older than 25 and thus "non-traditional."
One hundred and eleven students, or nearly half the Class of 2019, fell into the last category, said Lloyd, who also noted that the graduates included in their number military veterans; the newly married; classmates who stopped, resumed and completed their educations; and six 18-year-olds.
Lloyd urged the graduates to listen to signals in the world and to "pivot when negative and persist when positive."
Tiffiney Poirier, president of Phi Theta Kappa, told her classmates to embrace life.
"Do things and meet people that scare you," she said. "... Good luck, dream big and do things outside your comfort zone."
Alyson Aulich, who earned a degree as a veterinary assistant and studied for it at WMCC's North Conway Academic Center, told the audience that she was thrilled with both the quality of education she received and its affordability.
Employed in the hospitality industry since she graduated from Kennett High School in 2012, Aulich said she had always wanted to work with animals and was delighted to learn that as she was deciding to go back to school to study to be a vet assistant, WMCC had just rolled out its program in that discipline.
"When my acceptance letter arrived," Aulich said, "it was surreal" to be enrolled in the first cohort of students to study for the vet assistant degree at WMCC.
In her commencement address, Meg Brown, WMCC Class of 2013, told the graduates that while many other people made it possible for them to complete their educations, "in all honesty, you're sitting here because of you."
Brown spoke of her grandfather, a Navy veteran, who taught her many important things, among them how to "mindfully" wander through life and to give little credence to the doubters and naysayers.
"Be a doer," Brown summed up. While dreamers "live in the clouds," she said, "the doers live in their dreams."