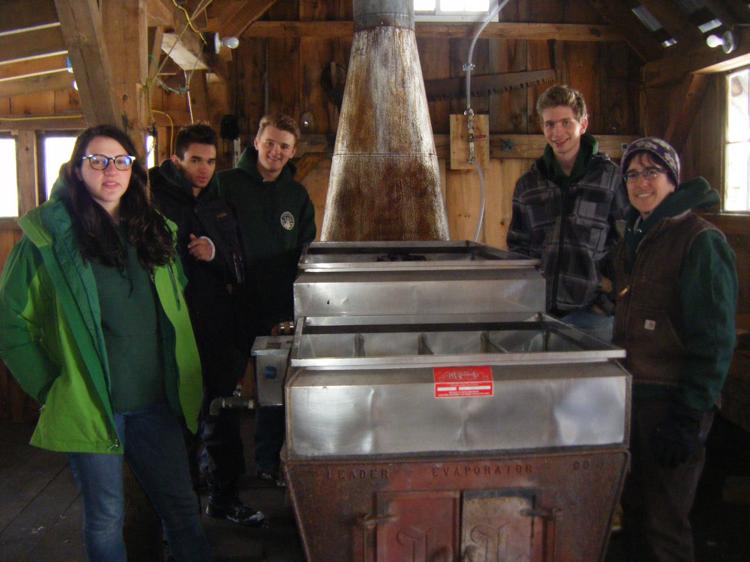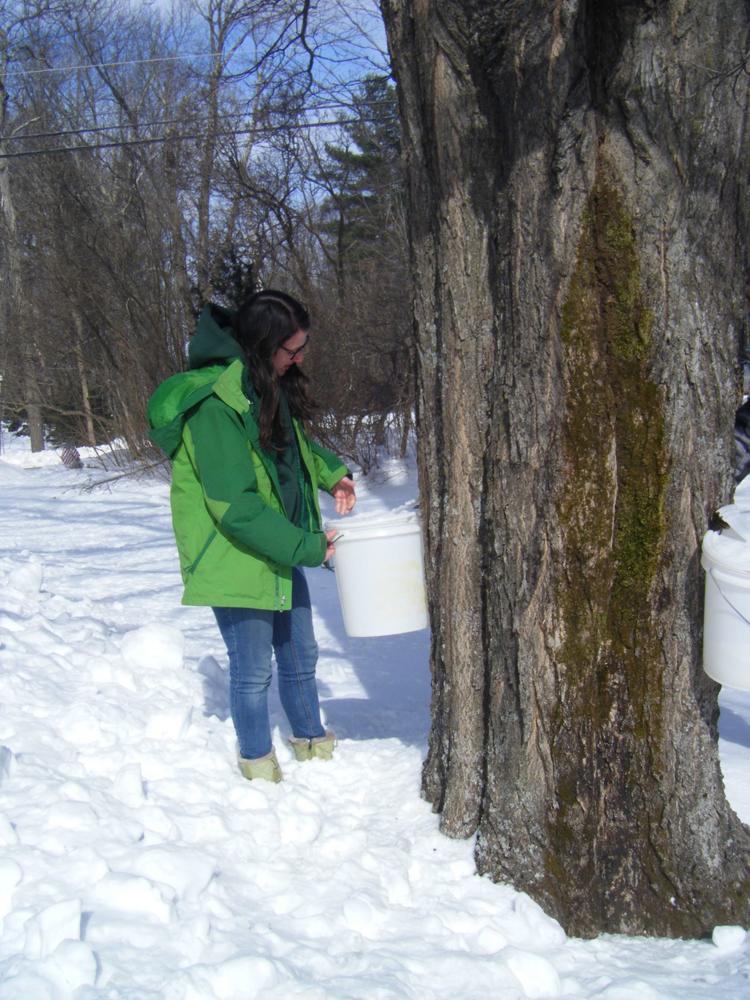 Jonathan Lacy is the first to admit that after working in a sugar house, he's conscious of every precious, hard-won drop of maple syrup. "I hate it when I see my siblings wasting it," the Deerfield senior said.
"I still waste it," his classmate and fellow maple producer Lucius Jacott shot back, adding, "But I eat everything I pour."
The two seniors at Jesse Remington High School in Candia are part of the maple sugaring operation at the private Christian high school. Every March they head out to the woods, sometimes in three feet of snow, to harvest buckets of sap. Their reward? Syrup they made themselves, and valuable life skills.
Susan Wilderman, a JRHS teacher and director of the maple operation, said the program began in 1997, the idea of then-student Nathan Reynolds. "It started simply," Wilderman, who has overseen the program for 10 years, said.
But JRHS knew it was on to something, and students in its building program constructed a sap house. Frank and Myra Reynolds, Nathan's parents, offered a spot on their land. The students in the maple program now set out 250 taps, some on the Reynolds' property, and end up with 60 to 70 gallons.
Maple sugaring is part of Jesse Remington's hands-on education program. While the school stresses rigorous academics, there's also a hands-on component, where students learn by doing in a variety of disciplines two afternoons a week.
Jacott, a senior from Chester, said he was attracted to the program after his sister participated in it. "I enjoy being outside, doing the physical labor," he said, adding, "I like eating it, I like boiling it — and stoking the firebox is awesome!"
Lacy enjoys having tangible work, and a tangible product, as part of his academic experience. "It's not all fun, but there are things that have to be done, and you have a great product in the end," he said. "Plus, I like driving the truck."
"I like that the class is hands-on," Isaac Nicholson, a Deerfield sophomore, said. "They are life skills we can use later in life."
Kate Jeanen, a Candia junior, agreed. "I like being outside," she said.
But like their professional counterparts, the students don't get to choose the weather, and sugar season can be fickle. Jacott remembered one stint last year. "There were two feet of snow, it was 13 degrees, and it was really windy," he said. "I didn't mind, I like being outdoors, but it was really cold."
If there's a lot of sap to gather and a handful of people to do it, that can feel overwhelming, Lacy observed.
But that's also part of the fun, Jeanen said. "On the really heavy collection days it's fun to boil and have conversations with other people."
And when the sap is flowing, they need to be out there. "I've learned lessons in balancing sugaring and schoolwork," Nicholson said. "I've learned a lot about multitasking."
Though sugaring is part of the science curriculum, they often cross disciplines, with Wilderman reading out loud from the Humanities curriculum while the students boil. "We've done 'Bartleby the Scrivener,' 'A Tale of Two Cities,'" she said with a smile. "We call it the both-end approach." For her part, Wilderman enjoys the change of seasons, the longer days when she and her crew can finally tramp out into the woods and set their taps. "It means spring is coming," she said.
The students interviewed all said they'd like to tap their own trees some day. "At my house, there aren't a lot of sugar maples," Lacy said.
"I'd like to try it when I'm older and have my own land," Jeanen said.
But for now they'll toil away, for a good grade and the first taste of that maple syrup, which Jeanen declared is "Oh, so good!"