CONCORD — Farmers, lawn service scientists and educators supplied stinging criticism Tuesday of legislation that activists are pursuing to ban the use of pesticides that can be toxic to bees.
A working group of the House Environment and Agriculture Committee hosted the first work session on HB 646 since the panel voted in February to hold the measure for more study.
The bill would impose a ban on most uses of pesticides that are toxic to bees in response to a massive decline in the bee population here and in many other states.
New Hampshire lost 65% of its beehives in the winter of 2016 to 2017, and 58% between 2017 and 2018.
"We know these pesticide companies are very powerful, but it's not good for the human environment if we fail to address these losses to the bee population," said Louise Spencer, a member of the Concord-based Kent Street Coalition.
Prior to the meeting, Spencer and other activists held signs outside the committee room that read, "Save The Bees."
The subcommittee heard more than two hours of testimony from opponents of the ban who argued there is more to the decline than pesticide spraying and that the chemicals targeted are among the safest on the market.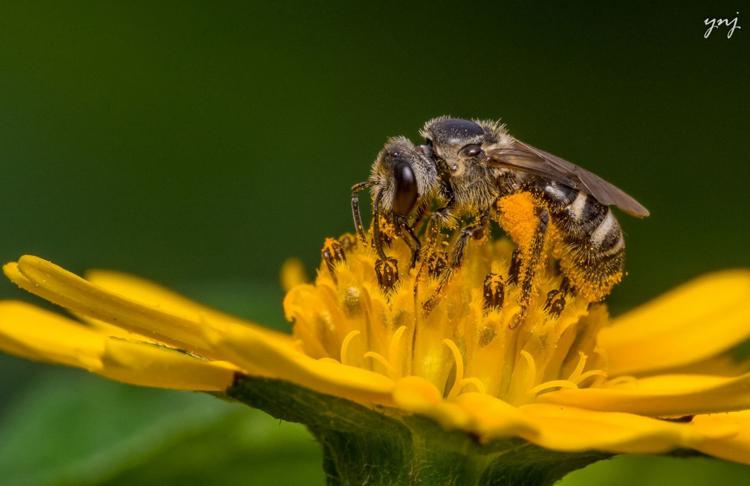 Anna Wallingford, a University of New Hampshire extension specialist with more than 15 years of studying pests, insects and diseases affecting crops, and says the body of science on the topic is still maturing.
"This is too complicated," Wallingford said. "We could say (the chemicals) cannot be used on lawns anymore in the state of New Hampshire, and whether that has any impact who can say?
"The scientific community has not provided us with any consensus about whether or not elimination of any one product has had any benefit."
The chemical class targeted in the bill are the neonicotinoids, which means nicotine-like.
Much like humans and nicotine, bees can become addicted to neonicotinoids rather than to their own food source, which can cause problems with their central nervous system and lead to death.
Colony Collapse Disorder (CCD) causes significant economic losses because many agricultural crops worldwide are pollinated by western honey bees. Neonicotinoids' role in CCD has been the subject of much debate.
Three of the largest makers of these pesticides, Syngenta, Valent and Bayer, reached a settlement last December with the U.S. Environmental Protection Agency to voluntarily stop selling 12 such products.
This left 47 neonicotinoid-based products still on the market.
The EPA later this year will complete a routine review of these pesticides.
"We are not expecting anything particularly new or different," said Karen Reardon, vice president of public affairs for Responsible Industry for a Sound Environment, the trade association representing the pesticide industry.
"Many sectors of our industry have taken voluntary measures to protect pollinators," Reardon added.
Stan Swier worked for the New Hampshire Cooperative Extension for more than three decades before his retirement.
"I think education is the best way to handle these problems, not more regulations," Swier said.
Rep. Peter Bixby, D-Dover, said one compromise may be to require anyone using neonicotinoids to become certified in how to apply them safely.
Maryland and Connecticut have both banned consumer use of these pesticides.
Dr. Ben Hamza, acting chief science officer for TruGreen Inc. in New Hampshire, said the targeted pesticides are more expensive than their predecessors but more effective, especially against new threats like the spotted lantern fly seen in Pennsylvania and New Jersey that could decimate many tree species if it takes hold here.
"We do not see the need to be really spraying plants that have flowers," Hamza said. He said TruGreen has adopted practices to prevent too much pesticide exposure.
"We don't believe every insect flying around a yard is a target of our application," Hamza said.
Many farmers urged the panel to kill the bill and said lawmakers should rely on the expertise of the state Pesticide Control Board, which has regulated pesticide use in the state for more than 50 years.
"I feel that we can do a lot of things more constructive to foster better survival of honey bees and wild bees than banning neonicotinoids," wrote Chuck Souther of Apple Hill Farm of Concord.
A New Hampshire Bee Keepers Association survey found that 40% of hive losses in 2016-17 were due not to pesticides but to mite and disease infestation.
New Hampshire Farm Bureau Policy Director Robert Johnson II said the Department of Agriculture is developing a Pollinator Protection Program to advise the public on how to safely apply chemicals without threatening honey bees and other beneficial insects.
"The problem with bees is very complex," Johnson said
Rep. Tim Hogan, D-Durham, is a co-sponsor of the bill written by two-term Rep. Catherine Sofikitis, D-Nashua.
The panel must make a recommendation next month for the House to act on early in 2020.
"I like the bill just the way it is but I'm pretty confident the committee doesn't," Horgan said after the meeting.
"We knew going in this was going to be a hard sell."