MANCHESTER — Notables from New Hampshire sports, politics and media Monday lent their star power to an eight-stop, 250-mile rally the length of the state to promote awareness of the growing access for electric vehicles.
Eversource NH partnered with Clean Energy New Hampshire to promote electric vehicle use in the Charge Forward Electric Vehicle Rally, which organizers say is the first of its kind in the nation.
The rally started in Colebrook just after dawn Monday and ended that night at Market Square in Portsmouth. One of the stops along the way was for a rally at Eversource Energy Park on North Commercial Street in Manchester.
"This is one of the exciting ways we can advocate clean energy; we love it because it's so New Hampshire," said Kaitlyn Woods, a spokesman for Eversource. "We share Clean Energy's concern with climate change and we want to help spread the word that electric vehicle use is a key way to reduce emissions from the transportation sector that produces the most emissions."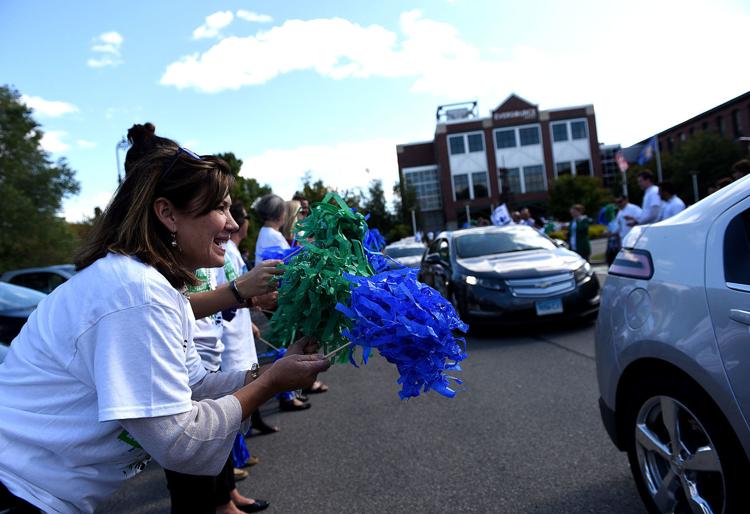 The route also included a stop in Concord in front of State House Plaza, where a fleet of more than a dozen electric cars from the new Audi e-tron SUV to the practical Chevrolet Bolt and Volt created a conga line. Transportation Commissioner Victoria Sheehan accepted a massive metal key in the shape of an electric car charger, signifying the leader of the rally parade, from New Hampshire Motor Speedway General Manager David McGrath. He had just led the rally leg from the Loudon racetrack.
Brianna Brand is senior program director at Clean Energy New Hampshire for its drive electric initiative.
"We did victory laps around the New Hampshire Motor Speedway and I was driving a Tesla Model X that averages more than $100,000," Brand said. "That was a dream ride; it doesn't get any better than that."
Brand said organizing the relay was her idea.
It's the first of its kind anywhere," said Brand. "I don't know how I came up with it, other than wanting to do something bigger and bolder than before. We wanted to do something that would really showcase New Hampshire, as well as a variety of cars.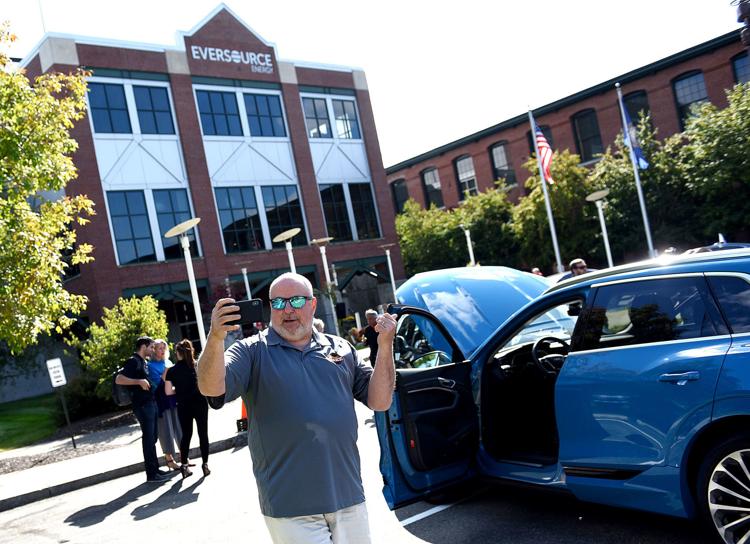 "We find that a lot of people, once they get behind the wheel, they become a believer. They feel the magic, they like what they're behind, then they consider it for a future car."
"I think people in New Hampshire appreciate the value of having more fast-charging stations," said Woods. "Obviously the goal is trying to move toward a decarbonized future, but also important is tourism, because a lot of other states are making that transition faster. Particularly farther north, like in Canada, Quebec has many of its residents using electric vehicles and when they come down into New Hampshire it's important to have those charging stations to be able to charge up, especially in the more rural areas."
Electric vehicle sales in New Hampshire grew by 55 percent in 2017 and industry analysts are expecting similar or even greater growth in the years to come.
Electric vehicles are generally defined as those that must be plugged into electricity sources to charge their batteries. About 2 percent of new car sales last year in the U.S. were electric, and that percentage is expected to grow significantly.
"It's no longer the future; it's here," said Jessica Wilcox of Granite State Clean Cities Coalition.
There are 80 electric vehicle charging stations in the state, although Briand said 80 percent of those who own electric cars charge them at home.
Gov. Chris Sununu signed a proclamation commemorating what has become known as National Drive Electric Week.
New Hampshire received $38 million from a settlement Volkswagen made with federal agencies and state prosecutors over accusations the foreign automaker cheated on emission reports.
Sununu dedicated $4.6 million from that deal to expanding charging stations in the state, the maximum investment allowed under that settlement.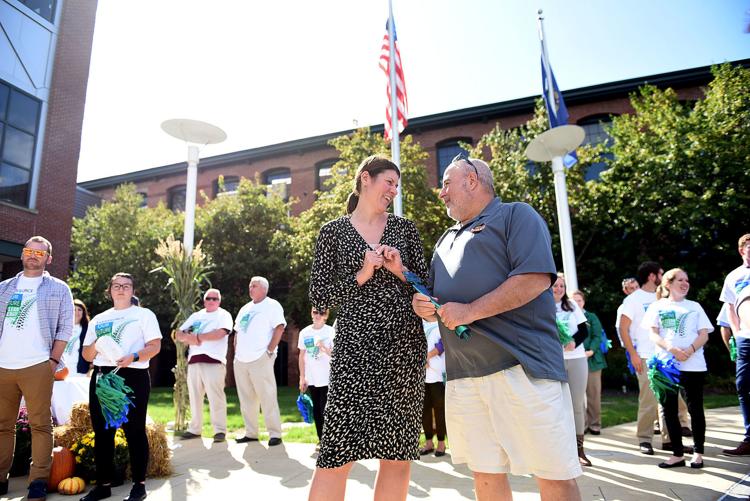 Others who took part in Monday's rally included Common Man founder Alex Ray and Greg Kretschmar of Rock 101's "The Morning Buzz" program, who took the key from Sheehan to lead the last leg of the relay to the Seacoast.
"This will be my first time behind the wheel of an electric vehicle, so I'm very excited," said Kretschmar. "They reached out to me and asked if I would be part of the relay, and I said, 'That sounds like a really cool event, why wouldn't I?' I get to drive the Audi; it's a great looking car. The more we can move to these types of vehicles, the better off we'll all be. Sounds like a good idea to me.'"