CONCORD — Grocers and other retailers squared off against environmentalists Tuesday before a House committee considering whether to ban single-use plastic bags and force merchants to charge a new fee for consumers to buy recyclable ones.
This recrafted ban (HB 559) was the product of nine work sessions before the House Municipal and County Government over the summer and fall. The latest version has the authorship of the panel's chairman, Rep. Clyde Carson, D-Warner.
The bill would ban single-use bags and make retailers charge consumers 10 cents apiece, up to 50 cents per trip, for reusable, recyclable bags made of thicker plastic.
The bill also would ban the use of paper bags except those that are made entirely from recycled paper.
Rep. Judith Spang, D-Durham, has advocated for the cause for several years. She started 2019 with a proposal limited to the food service industry, but the committee has expanded the proposal to all retail markets.
During a nearly two-hour hearing Tuesday, supporters said single-use plastic bags never fully degrade. They also noted that cities and towns have had to stop plastic recycling programs because they are no longer profitable.
"The damage caused by plastic in our rivers and our waste streams and eventually in our bodies has been well established," said Bonnie Christie, a environmental activist from Hopkinton who brought several alternative products to show the panel.
John Dumais, president and CEO of the New Hampshire Grocers Association, accused the advocates of political cowardice by trying to make business owners do the government's dirty work in the name of environmental protection.
"So rather than the state collecting the revenue and a bad reputation, it mandates retailers must charge the 10 cents which is then called a fee," Dumais said. "That hidden tax means grocers would receive the consumer's resentment and not the state. That's just mean."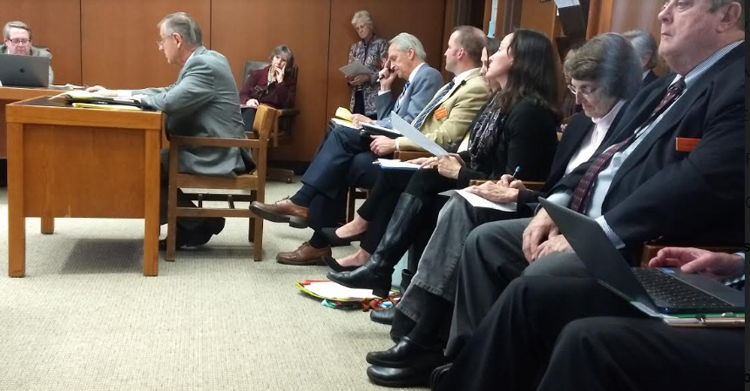 Curtis Barry of the New Hampshire Retail Association said his members are already taking voluntary steps to reduce the use of these bags but said studies show in places where bans have been adopted, consumers respond with purchases of alternative plastic bags.
Erin Graziani, communications manager with the American Progressive Bag Alliance, said increasing the allowable thickness of bags as this bill would do has no healthy purpose.
"Increasing the thickness has no environmental benefit," said Graziani whose organization is aligned with the plastics industry and has fought bids to ban them elsewhere.
She also said thicker, reusable plastic bags that supermarkets currently offer for sale would not be allowed under the bill because they aren't recyclable.
Melissa Gates, New England regional manager of the Surfrider Foundation, said the bill is a good first step.
"I think it strikes a fair balance. This is a pretty decent compromise," Gates said. "We really need to stop making single-use plastic bags. It's clear many New Hampshire people want this."
California is the only state in the country with a statewide ban on plastic bags. According to the National Conference of State Legislatures, however, seven other states have adopted bans that will take effect in the future, including Maine, Vermont and Connecticut.
The House panel is expected to make a recommendation on the bill on Thursday. From there, the bill goes to the full House of Representatives for action early on during the 2020 legislative session.