The battle was quintessential David vs. Goliath.
Picture a diverse band of citizen activists mostly from very small towns fighting the state's largest utility, which wants to bring Quebec hydropower via high-voltage transmission lines through New Hampshire onto the New England power grid.
It took nearly a decade, but their long shot paid off last July with the New Hampshire Supreme Court's unanimous decision to reject Eversource's final appeal of the state Site Evaluation Committee's denial of permits essential for the project.
Belief. Persistence. Communication. Delegation. Teamwork.
Those were a few of the qualities that made opponents of the Northern Pass project the Union Leader 2019 Citizens of the Year.
As a first-termer, former Sen. Jeannie Forrester of Meredith bucked her own Republican Party caucus.
She was inspired to oppose Northern Pass while attending a fundraiser for the late Executive Councilor Raymond Burton of Bath.
Burton became the first elected official to come out against the plan, telling Eversource officials they should "just pack your bags" and leave the North Country.
"There were real heroes in this story, people who were just getting by and refusing to take the big bucks to take a stand," Forrester said.
"The group was consistent, did their homework and they wouldn't back down. It's a lesson for anyone who wants to go up against a powerful interest," she said. "Do your homework, and don't give up just because the odds are stacked against you."
The first time Northern Pass sprang into the public consciousness was in October 2010, when then-Gov. John Lynch went to Franklin to endorse the project and celebrate the property tax windfall the industrial city would receive for a $350 million substation there.
A short time later, Jack Savage, current president and CEO of the Society for the Protection of New Hampshire Forests, went with the group's vice president, Will Abbott, to take the pulse of the opposition at a public information meeting in Colebrook.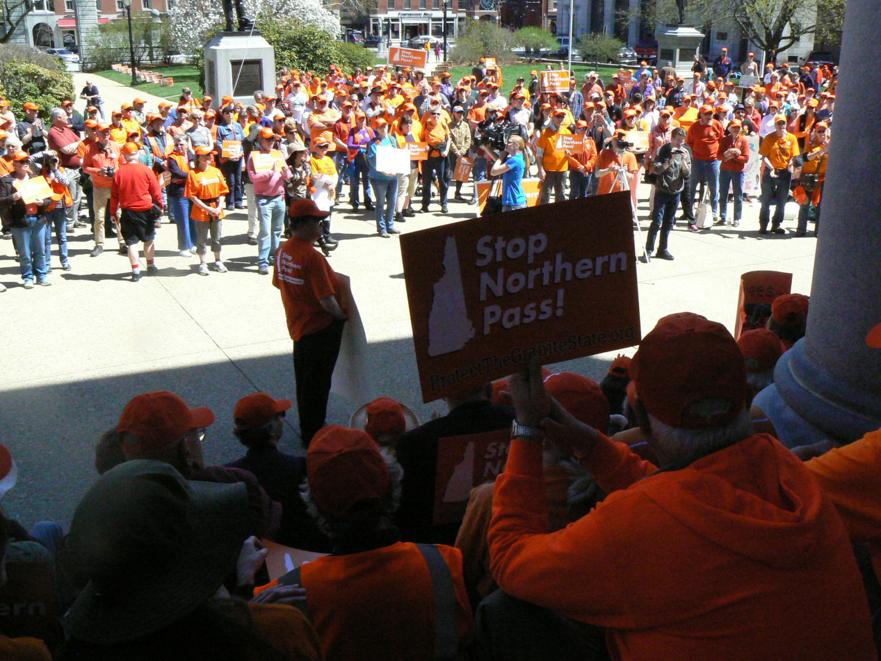 Opposition from the outset
"I was surprised to see about 250 people at that meeting very early on, and no one was for it," Savage said.
"There were folks saying don't get too worked up about this — it's a done deal. Still, that was the first indication to me there was a strong grassroots network starting to build and get very fired up."
Nancy Martland of Sugar Hill had just retired and was looking forward to a slower-paced life. She was stunned to hear of the project.
From outside her home, looking to the west, she can see the Kinsman Range, which includes Cannon Mountain.
"One day walking I met a neighbor who said, 'Have you heard they are going to put a power line over there?' This field across this road from me has been used in the visitnh.gov images. This goes beyond iconic, and I couldn't believe it," Martland said.
"Everyone agreed we didn't want this to happen. I don't remember even one person giving pause to why that would not be OK."
Following Burton's death, his replacement on the Executive Council, Wakefield Republican Joe Kenney, took up the anti-Northern Pass mantle.
"People now may have forgotten there wasn't a lot of senior leadership that went to bat against Eversource, which usually always seemed to get what they wanted," Kenney said.
"I often felt there was a southern-northern New Hampshire divide on this. Most of those in the south saw the economic argument, getting all that cheaper power for the ISO grid, and bought into it, while those in the northern half of the state, even if they weren't directly affected by the alignment, were really offended by this," he said.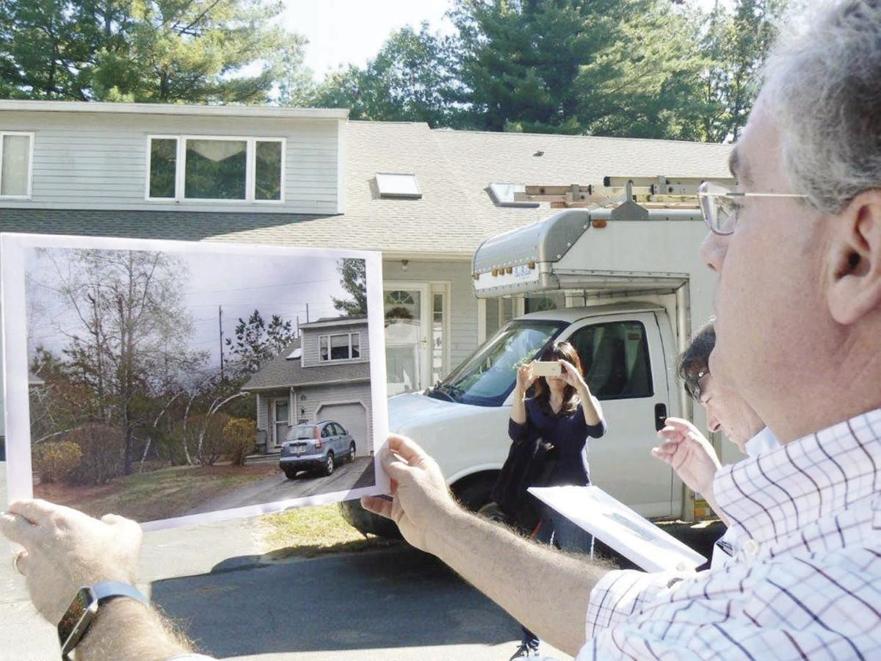 Key developments
The campaign against the project had many turning points, including:
• The List: Opponents credit retired teacher Susan Schibanoff with creating a massive email chain that enabled like-minded people to keep in touch, most of them many miles apart. She also maintained a blog that chronicled all of the major events in the campaign.
For her work, Schibanoff was awarded the Forest Society's Volunteer of the Year Award.
"If I think about it, email was a way for us to be connected and stay on top of all the many developments along the way. If this had happened during a time before there was email, I'm not sure we win this fight," Martland said.
• The Film: Anti-Northern Pass sentiment received widespread media play, including countless op-ed articles, essays and letters to the editors of local papers. But several interviewed said the most powerful was "Northern Trespass," a documentary done by North County filmmakers Jan Marvel and Michelle Vaughn.
The piece included a cautionary tale — a section about a landmark 2005 U.S. Supreme Court decision that eminent domain powers could be used to transfer land from one private owner to another private owner if a clear public benefit resulted.
"Citing the Kelo case about commercial development in downtown New London, Conn., was really brilliant because it resonated with people and put everyone on notice this could happen here," said Savage, of the Forest Society.
• The Taking: Initially, those fighting Northern Pass became convinced the strategy of Eversource and its predecessor, Public Service Co. of New Hampshire, was to use the power of eminent domain to acquire the right of way needed for the project.
"I think there was enough evidence at the time that they felt they would be able to provide themselves with the state's power of eminent domain to give them a right of way for the transmission line. This was a 180-mile line, and they needed about 40 miles of new right of way," Savage said.
The project's foes went to the State House in 2012 to propose legislation preventing a private entity from invoking eminent domain authority for a transmission line project.
"The leadership of both political parties, along with the governor's office, were on board for Northern Pass. The support of the electrical workers union really put Democrats in a tough place," said former Sen. Forrester. "We had to build this unique coalition that crossed party lines, ideology, even demographics, in order to get it passed."
• The Offer: Once eminent domain was no longer an option, Eversource officials aggressively approached private landowners to buy up the right of way.
Rod McAllister of Stewartstown will be remembered as the property owner who turned down $4 million for his dairy farm with the memorable line, "My roots are deeper than their pockets."
The sales pitch during the second visit was strong, McAllister's wife, Donna, recalled in a published interview. "He knew my maiden name, and where my father worked," she said. "And he knew Rod collected guns. Stuff you wouldn't get from town hall records."
Meanwhile, the Forest Society was stepping up its game, asking those same landowners to agree to sell a conservation easement that would prevent utility power line development.
"That was the great chess game of the North Country that went on," said the Forest Society's Savage. "I spoke to reporters from around the world, Germany, Toronto and all over the U.S. They were fascinated by this idea that this local organization was working on how they were trying to connect the dots and take proactive steps to block them."
Balsams was a key parcel
A pivotal get for the opponents was the longtime then-owners of the Balsams property, the Tillotson family, who agreed to sell an easement in late 2011. They gave the Forest Society five weeks to raise $850,000.
The utility tried to get the Attorney General's office to stop the transaction, Savage said.
Not only did the effort fail, Savage said, "it only fueled our fundraising goal because the media covered it."
It was one of many examples of Northern Pass' proponents fanning the fires of opposition, he said.
Two other nonprofit groups that played major roles in building opposition and mounting the legal case against Eversource were the Appalachian Mountain Club and the Conservation Law Foundation.
Sugar Hill's Martland learned how pervasive community outrage was after Eversource agreed to bury a 60-mile section of the transmission line.
"I was shocked at the extent of it. I didn't know what would happen when Sugar Hill would no longer be threatened by the towers," Martland said.
"You talk about NIMBY ("Not in my backyard"). Yet the towers were off the table for us, and residents in the town were still as opposed to it as before, when it was in our backyard."
To this day, Forrester believes Northern Pass would have happened if utility executives had agreed to bury all the wires.
"It was short-sighted on the part of all three governors and others who supported this. We were told by (state) DOT and federal highway this could have been done by building the line underground right along the interstate. This could have been a revenue stream for our roads and bridges. To me it was a missed opportunity," Forrester said.
Martland credited former governors Lynch and Maggie Hassan for their willingness to listen to opponents.
"I think it was a turning point when Gov. Lynch did an interview on public radio and said that if the residents of the North Country don't want this project, it's not going to happen," she said.
"This sent a signal to many of us that we were making the case, and if we just kept working at it, we'd eventually win and we did."