MANCHESTER — City aldermen voted unanimously Tuesday night to move forward with a series of action items designed to address issues of addiction, mental health and homelessness.
The vote came less than a week after city officials held a press conference saying the state's "Doorway" drug treatment program is not working.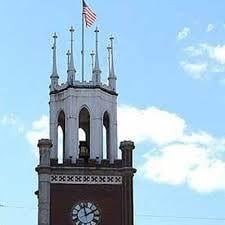 The Doorway NH — the state's new "hub-and-spoke program" — launched less than a year ago with a mission to connect people to drug treatment services in their communities.
Instead, Manchester Mayor Joyce Craig said last Friday, more people are coming into Manchester for drug treatment and other services. The city is straining due to the increased numbers, Craig said.
"The consequences of the challenges we face aren't new, or unique to Manchester," said Craig.
On Tuesday night, Craig led a discussion on the topic of "Conduct In and Around Public Spaces."
Craig issued an introductory four-page memo giving aldermen a summary of the actions the city has taken over the past two weeks, along with several proposed next steps.
• instruct the City Solicitor's Office to begin drafting a process to develop a potential ordinance prohibiting camping in public places;
• instruct the City Solicitor's Office to begin drafting a process to develop potential ordinance addressing trespassing on public property in certain circumstances.
• refer to committee a $150,000 proposal to work with Leon Evans and Karla Ramirez, key players in reducing homelessness in San Antonio, Texas, who have put forward a proposal for services to support the city's efforts to end homelessness.
• refer to committee a request for talks on how to reduce the influx of people from outside the city to access Manchester Safe Station, including transitioning those who are not in crisis back to their home "hub" in the Doorway program, and explore the possibility of drawing up some form of Queen City residency requirement for Manchester's Safe Station program.
"That's the conversation we'd like to have at the committee level," Craig said.
Alderman at Large Joe Kelly Levasseur once again raised the idea of shutting down the Safe Station program.
"Manchester has given its heart and soul," said Levasseur. "What this homelessness, vagrancy crisis has done to the reputation of this city, to the morale of the people living here. This city has given enough. It's time to take care of Manchester. It's time to take care of the people who live here. It's time for Safe Station to go."
Manchester Fire Chief Dan Goonan said he doesn't think closing Safe Station is the answer.
"If we closed Safe Station, I think there would be more homeless, truthfully," said Goonan. "I think deaths would go up. I don't see it stopping anytime soon."
Goonan said he has asked the state to clarify statistics reporting 7,000 people have accessed services through The Doorway since its launch. Goonan said he's not sure how the state is counting and defining "services," but said the 7,000 number may include informational phone calls.
"We don't know what that 7,000 number represents," said Craig. "We've been asking for data for months …we do have data from our Manchester Safe Station, and it is showing last year — for the first time — we saw a decrease in opioid overdose deaths and a decrease in opioid overdoses. The doorway started in January, and that's the only thing that changed, and we're seeing an increase in people coming to Manchester for help and an increase in deaths."
Goonan said the state should require statewide hub sites be open on weekends and evenings and weekends. He said 27 people came through Safe Station on a Saturday and Sunday because there were no open Doorways, including Granite Pathways, the designated hub site in Manchester. The majority of those served came from outside Manchester, Goonan said.
According to statistics provided by Craig to city aldermen, visits to Manchester Safe Station have increased by almost 30% — 758 visits in Januar-June 2018 vs. 980 visits January-June 2019 — overall in the first six months of 2019.
Craig told city aldermen the homeless population is increasing in Manchester, with city officials seeing more people on local streets and in parks. Craig said the situation has been exacerbated by the annual summertime closure of the Concord homeless shelter and the recent closure of the Nashua emergency shelter as of June 30.
"This has significantly reduced the number of shelter beds throughout the state and Manchester's shelter is feeling the effects already," said Craig. "On August 28, the FIT/New Horizons shelter reported they had more than 165 people in their shelter and had to close their doors early because of the demand. Numbers in the summer are generally lower and with colder weather fast approaching, the demand for the shelter will only increase."
The city has hired Doug Howard as the new Homeless Coordinator, a position proposed by the Homelessness Task Force.
Howard starts at his post in the Queen City Sept. 16, having previously worked for Waypoint, Southern NH Services and the Nashua School District.
Craig also cited recent changes to bail laws, resulting in more people charged with crimes being released back onto city streets.
"The intent of the change in bail laws was non-violent offenders with no ability to pay bail would be released on personal recognizance," said Craig. "However, our law enforcement and prosecutors have seen violent offenders released without bail. It appears that there are fewer consequences and less accountability for those breaking the law."
"This is a perfect storm," said Goonan. "I don't think Safe Station is the main driver here...I think it's because all the other shelters are shut down. What I would ask is let us work on a Safe Station 8.0 and have hubs help us get people back to where they're from. You can say what you want about Safe Station but people are coming for a reason. It's a proven access point, and the state should get other hubs open while we're open."
Victoria Sullivan, running against Craig for mayor of Manchester, said the city has fallen into chaos under her opponent's leadership.
"Now, knowing that she is in political trouble and that her talking points are not fooling Manchester residents, she is scrambling to blame others to save her political career," said Sullivan. "Candidate Craig had no problem pointing out the city's problems and pointing fingers when she was an alderman vying for the corner office. Now that she is mayor, she has ignored and deflected our city into chaos."