Two hundred and sixteen. That's the number of Manchester residents lost to COVID-19 during the pandemic.
It's a figure Queen City public health director Anna Thomas will not forget.
"In my head I will always have that number. I will take it with me for the rest of my life," Thomas said. "We were doing everything we could to prevent any number like that from happening."
Thomas was named the Greater Manchester Chamber of Commerce's Citizen of the Year last week for her efforts leading the city's pandemic response. Yet mere hours after the big reveal, her thoughts weren't on the award.
Instead, the families who have lost loved ones over the past year were on her mind.
"Something I would want to say to the families is that I wish we would have gotten to them sooner," said Thomas, 53. "I'm thankful of the lives we've saved, and (we) prevented the spread of COVID as much as we possibly can in a city this size, but I wish we could have prevented loss of life."
Thomas lost her dad, John Noetzel, just before Christmas. She credits him and her mom with teaching her what it means to serve a greater good, that there's always a cause "bigger than you and your needs."
"When I talk about people we've lost in the city, and people in nursing homes, my dad was in a nursing home," Thomas said. "He didn't die from COVID, but he died from the impacts of not having his family around him.
"He was isolated and had to be quarantined on numerous occasions for the simplest things. At one point he fell out of his wheelchair and they had to take him to the hospital. And every time they had to take him to the hospital he had to be quarantined in his room for two weeks."
Thomas said she and her family were able to bring her dad home for his final days.
"It's what he wanted, and what we wanted," Thomas said. "Losing my dad was a big blow during the pandemic, but it also helped me really feel for the families who've lost their loved ones. Many unfortunately were in nursing homes and long-term care facilities, and it breaks my heart."
A healthy leadership style
Thomas was nominated for Citizen of the Year by Manchester Mayor Joyce Craig.
"This was a tremendously difficult year, and there was no one who could have led us through this the way Anna did," Craig said. "The first few weeks of the pandemic, there was so much unknown.
"We pretty much lived at the EOC (Emergency Operations Center) Monday through Sunday, just talking about how we are going to keep our communities safe, how are we going to keep our businesses open, what are we going to do with our children and schools...they had to think through these processes and build policies in order to keep things going," Craig said.
"We were on our own, and because of Anna's leadership, we came out of this pandemic in a very good place."
Members of Thomas' team at the Manchester Health Department describe her as a "cornerstone of resiliency and perseverance."
"There were, and continue to be, many difficult decisions, including some that are unpopular but are critical to protecting the public's health," said Manchester Health Department Chief Operations Officer Phil Alexakos in a nomination letter to the chamber.
"Despite tremendous pressure, Anna has always put the community's health and safety first in guiding systems response efforts and policy changes.
"Her entire public health career has been focused on addressing health inequities among vulnerable populations, such as children living in poverty, to do what is right for the greater good."
Craig said one of the qualities that makes Thomas special as a leader is she "defers to everybody else."
"People give their all because Anna encourages us to give our all," Craig said. "To go above and beyond what we need to do ... not only because of who she is as a person but because of who she is in leading the department. The health department does incredible work in the city of Manchester, but until this pandemic it has always been sort of quiet."
Rising to the occasion
The Manchester Health Department was founded in 1839 to combat the spread of infectious diseases in local millyards, said Thomas, now in her 27th year with the city.
Since then, the department and its mission have evolved, with Thomas now overseeing a staff of 65 full- and part-time staff and a budget over $9 million, more than half of which comes from federal, state and foundation grants.
According to Thomas, her department has handled more than 12,000 COVID-related calls and investigated more than 11,700 cases of the virus among city residents.
She says she worried — more than once — over the past year that she was going to burn out her staff.
"They are working nights and days, seven days a week and holidays, sacrificing their families," she said. "It's one thing if I have to shoulder the burden along with the other city leaders, but you think about the ones who are out there every day, swabbing the noses of people who might have COVID, when the week before they were inspecting restaurants.
"They have all risen to the occasion. They all know how important this is, and that kind of counters the days where it seems like this is never going to end.
"That's infectious — and I get to use words like that as a public health director," Thomas said. "That fuels everybody."
A military approach
Thomas, a nine-year breast cancer survivor, received her undergraduate degree from the University of New Hampshire and pursued her master's degree in public health at the Harvard School of Public Health, Johns Hopkins Bloomberg School of Public Health and the Dartmouth Institute for Health Policy & Clinical Practice.
She was selected as one of 20 national scholarship recipients by the Centers for Disease Control and Prevention to obtain her graduate certificate in public health.
Thomas served in the U.S. Army for 16 years as a Medical Service Corps officer, achieving the rank of major.
She credits her time in the military with giving her the tools needed to lead in times of crisis.
"In the military you are trained to always focus on the mission and focus on the team," Thomas said. "That's how you operate, regardless of your rank."
She also points to time spent observing the late Manchester pediatrician Dr. Selma Deitch, one of the first people she got to know after coming to town.
Deitch was famously dedicated to helping low-income families and their children and was a strong advocate for comprehensive, quality health care for all kids.
"Watching her work was one of my obsessions," Thomas said. "She was somebody who could come up to you, slap you across the face and have you walk away saying, 'Thank you.' And I loved that. I loved her style.
"I said, 'OK, I don't think I could ever be that,' but she knew exactly what she wanted to say and she always had a leg to stand on."
Sacrifices all around
Thomas said she remembers the first few days at the city's Emergency Operations Center and the "very fluid" nature of the pandemic at the time.
"Every day you didn't know what was going to be the piece of new information," Thomas said. "It was the first time in my 27 years of being an employee of the city having to rely so heavily on an entire community's buy-in, and everybody doing their part. I remember the weight of knowing this was not going to be something quick, knowing we would be at it at least months."
One moment involving her children stands out vividly.
"We all had to go remote with our children, and I had at the time 10- and 15-year-old children at home, by themselves, trying to figure out how to go remote," Thomas said. "I had to sneak away to the stairwell at the fire department and Facetime with my poor 10-year-old who's in tears, who can't get their Google classroom set up.
"We were there the whole time. There was no time for family. Everybody sacrificed ... I feel like this is really a 'Citizenry of the Year' award because everybody played a role in this."
Many tough decisions were made in response to COVID, none more so than the one to close city schools, Thomas said. Manchester announced schools would go remote ahead of Gov. Chris Sununu's decision ordering public schools to take that route.
"We knew what was at stake because there were still a lot of unknowns," Thomas said. "How we would teach so many kids remotely, and get meals to them and basic needs met? That was one of the harder ones, and I am absolutely so happy we made it when we did. I think it was absolutely the right decision. There are things like that I hang my hat on, that was good decision-making."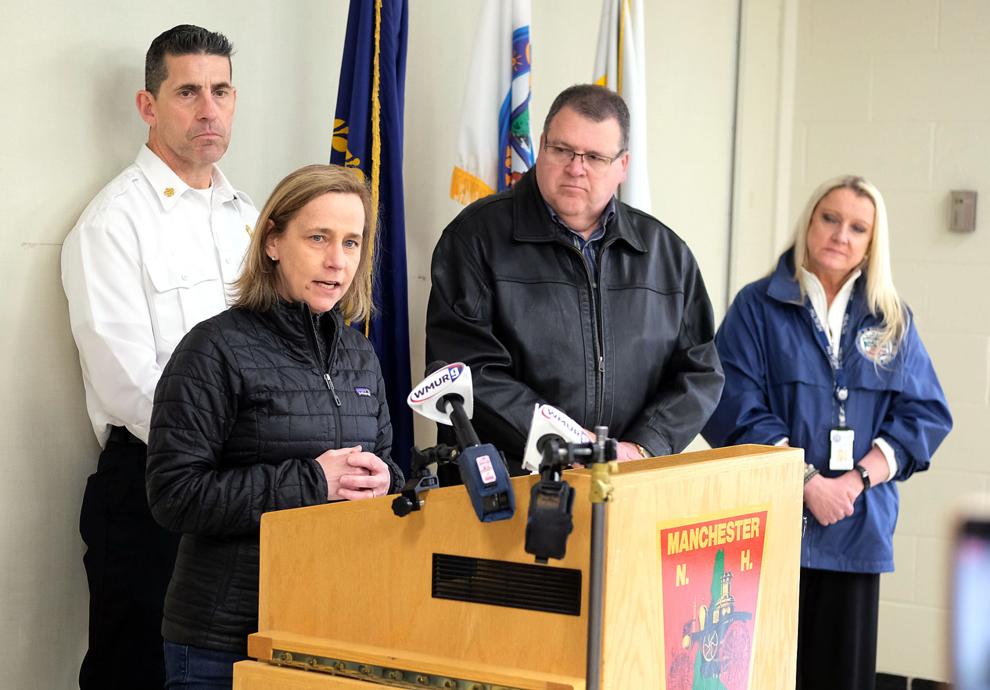 Thomas said she is aware of comments from those who disagree with some of the city's pandemic-related decisions and says she respects everyone's opinions and positions.
"I can only give the best guidance on what we know scientifically," Thomas said. "I do believe at the end of the day the best you can do is make a decision that is going to be the most sound for as many people as you can.
"Not everyone is going to agree with you, and not everyone is going to want to abide by that, and that is absolutely their choice," she said.
"It's population-based decision making, and I can't let any one person who's strongly opinionated deter me from what I know is right for the greater good, and that's what public health does every day. That's our true north."
City officials and local leaders are quick to praise the efforts of Thomas and her team over the past year.
"The last year has tested even the strongest of us," said Patrick Tufts, president and CEO of Granite United Way. "Anna Thomas has been on the front line every step of the way. What can't be underestimated is the important impact of Anna's leadership on the business community. During the pandemic Anna has worked countless hours to create policies that helped the business community continue to operate safely."
In her letter nominating Thomas, city solicitor Emily Rice wrote, "She has earned the confidence both of the public and of city leaders with evidence-based, transparent guidance at every turn. Director Thomas is the city's most trusted adviser at this critical and overwhelming time, and her leadership has made all the difference. She is truly the voice of reason."
Positive from negative
Thomas says vaccinations provide hope for the future, and she encourages all who can to get one.
As of last week, outside of long-term care facilities and federal programs like the VA (whose statistics city officials don't have access to), about 50% of Manchester residents 16 and older — 48,005 people — have received their first dose of vaccine, and 32,090 — at least 37% of Queen City residents — are fully vaccinated.
Thomas said while the pandemic has tested "every single system imaginable" in the city, she hopes some positive lessons have come out of it.
"I feel like what the message needs to be is how every decision we make can impact the life of another person," Thomas said. "It can happen not only in an adverse way during a pandemic, but it can also happen in a very positive way.
"If people can stay purposeful to something bigger than themselves, that will help them through this. I think if we can get people focused on those small gestures, those random acts of kindness, those things can make a big difference."