ST. LOUIS — Bullets are Dr. Laurie Punch's enemy. They threaten everything the 44-year-old trauma surgeon cherishes: her patients' lives, her community, even her family.
So Punch has made it her life's mission to stem the bleeding and the damage bullets cause — and excise them if she can.
In the operating rooms at Barnes-Jewish Hospital in St. Louis, Punch treats gunshot victims, removing bullets that studies show can poison bodies with lead and fuel depression. And in her violence-racked community, she teaches people how to use tourniquets to stop bleeding, creating a legion of helpers while building trust between doctors and community members.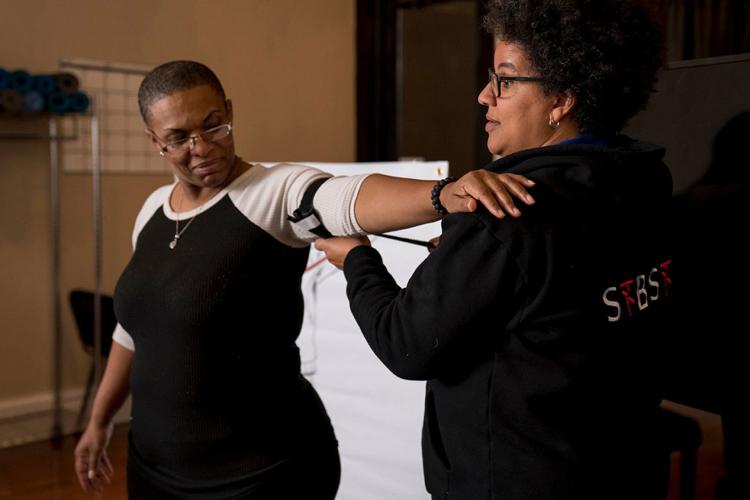 Punch feels a calling to St. Louis, a place with the nation's highest murder rate among big cities, where at least a dozen children were shot to death this summer alone, including a 7-year-old boy playing in his back yard.
In September, Punch brought her message to Washington, D.C., testifying before the House Ways and Means Oversight subcommittee on gun violence. Wearing a jacket and tie, she faced lawmakers to share the story of Shannon Hibler.
The 23-year-old was brought to Punch's hospital last summer, shot seven times.
"I watched his wife sink, as the floodwaters of vulnerability and risk came into her eyes, thinking about the life of her and her child and how they would live without him," Punch told the assembled lawmakers. "I watched his father rage. And I heard his mother wail."
The trauma surgeon was adamant: Violence is a true medical problem doctors must treat in both the operating room and the community. Until they do that, she said, violence victims will continue to be vectors who spread violence.
But healing also can be contagious — spreading among victims, families and the physicians themselves.
On a recent hot summer evening, 20 people gathered around Punch. A few feet away, a doctor, a trauma nurse and a medical student stood near tables stacked with pool noodles the width of a human arm.
Punch told the class that a person can bleed to death in a minute, but an ambulance can take 15 minutes to arrive.
"If you can stop the bleed, you can save a life," she said. "Time is life and minutes matter."
Participants practiced packing wounds by pressing gauze into holes in the pool noodles. They tightened tourniquets — first on the foam cylinders, then on each other.
Punch knows one of the doctors who created the "Stop the Bleed" training sessions after the mass shooting at Sandy Hook Elementary School in Connecticut. She realized the same training could save lives after street shootings, too.
Since March 2018, she and her team have trained more than 7,000 community members in the St. Louis metropolitan area. Many come to a rented space she dubbed "The T," for trauma, tourniquet and time. But Punch's team has also held classes in schools, a juvenile detention center and a firing range.
"It's far more than teaching people what to do," Punch said. "They learn: 'I am not simply a victim or a perpetrator or an observer; I'm a helper. I have the capacity to help.'"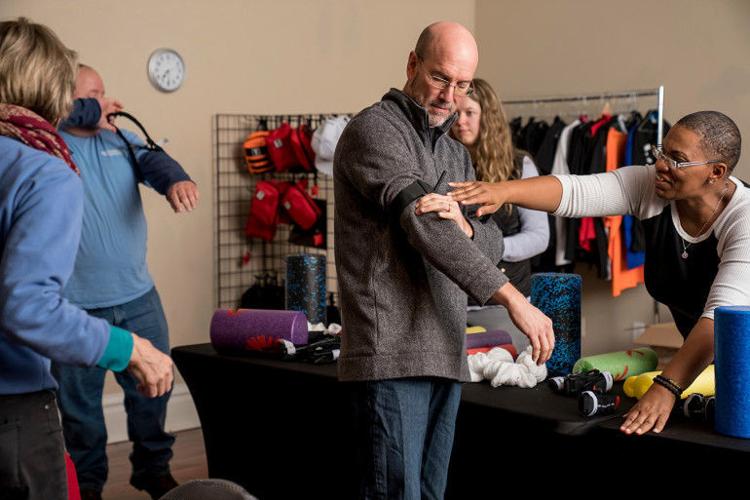 Contagious healing
Two years ago, Sidney Taylor was shot outside his brother's comedy club in north St. Louis County while trying to help a friend who was drunk. When Taylor arrived at Punch's hospital, profuse bleeding had left his blood pressure dangerously low.
After 10 days in intensive care, the longtime wrestling coach and father of four was still in physical and mental agony.
That's the point when many patients slip back to their communities, unhealed. But Taylor, now 47, showed up in Punch's clinic a month after he had been shot, and they bonded during a 25-minute visit. Punch described to him how her team had removed part of his lung and inserted a breathing tube.
"Wow," he told her. "I have another chance at life."
Punch mulled a thought, then asked. "Would you ever want to share your story?"
Punch recruited his hospital caregivers to create a video of their memories of saving him. When the taping finished, Taylor hugged each one.
Punch uses the video during talks, sometimes inviting Taylor to join her. Giving back to the community in that way has saved him a second time, he said.
After getting shot, "I could've basically turned to the dark side and done straight revenge," Taylor said. "But I didn't because of her."