The city of Manchester rolled out its expanded community health worker program on Tuesday, positioning health workers to address matters ranging from public assistance for a struggling parent to a cleanup crew for an ugly lot.
Mayor Joyce Craig and Health Director Anna Thomas were on hand to introduce eight Public Health and Safety Team (PHAST) workers.
All eight are non-Anglo and know at least one language besides English. Thomas said they live in city neighborhoods, know families and will be able to build trust immediately.
"They have faced adversity themselves," Thomas said. "They can directly relate to when a resident is struggling."
Funded by federal American Rescue Plan Act money, PHAST will try to improve the health of city residents, reduce the number of police calls and ensure that residents receive the services they are entitled to, Craig said.
The program will use a community-health, non-police focus to address matters such as evictions, food insecurity, domestic violence, overdoses, mistreatment of children and crimes of desperation, Thomas said.
"This is the intersection of public health and public safety," said Police Chief Allen Aldenberg, who was also part of the press conference. "We realized in the last two years, police aren't going to solve every problem in society," he said.
The city has had community health workers since 2014, but they were limited to specific duties such as schools. PHAST workers have already been tasked with addressing any concerns that a volunteer sees when delivering Meals on Wheels.
And the hope is that will address most of the 1,800 "check condition" calls that come into the police department. Such calls are the single largest category of calls to police, but only 10% involve a law enforcement matter.
PHAST is headed by Biram Saidybah, who was a high school principal and publisher of an independent newspaper in his home country of Gambia before his publication drew the ire of a dictator and he sought asylum in the United States.
Saidybah said he moved his family from New Jersey to Manchester in 2014 after hearing that New Hampshire was a good place to raise children. He was shocked to find that syringes could be purchased over the counter in New Hampshire pharmacies and was about to move again.
But he decided against it. "We have to stay and fight this battle," he said.
He has degrees in public health and public administration and has worked as a bus driver and social worker. Most recently, he was employed by the Health Department's Community Response Unit to follow up on drug overdose victims.
He has been working with PHAST since late last year.
"We love this city, and each of us is a trusted member of the community we serve," he said.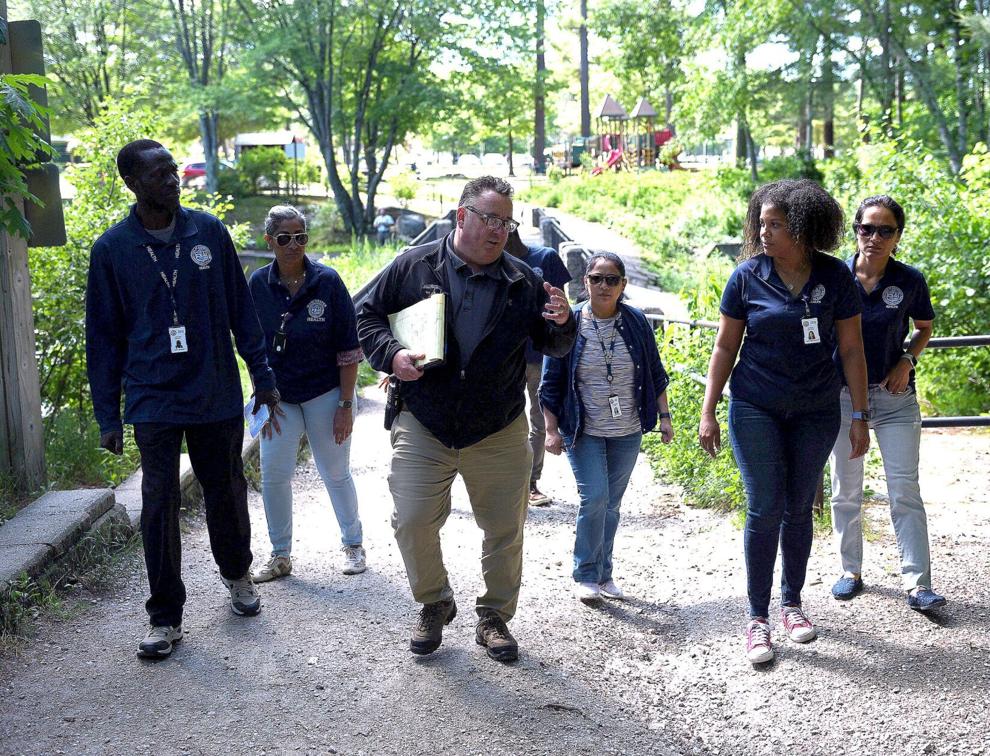 His hires include Luisa Leger, a Dominican and former corrections officer in the state prison system's Secure Psychiatric Unit. Her education includes a concentration in behavioral science, which she said will help deal with people with mental health and substance abuse issues.
"An individual doesn't have to come to visit (our office), we come to them," she said.
Nira Kandel grew up in Nepal and has lived in Indonesia, Egypt and Washington, D.C. She has a law degree in Nepal and has training in female empowerment, human trafficking and conflict resolution.
"When you move to a new country, you start from zero," Kandel said. But she loves to go to work every day and prefers her new job over an insurance company position she previously held.
PHAST workers start at $19 an hour. Including Saidybah, the city employs eight. Plans are to eventually have one in each of the city's 12 wards and a 13th for senior services, Thomas said.
She said the place-based nature of the program is novel in the United States.
The health department plans to ramp up the program slowly. At full complement, it will cost $6 million over five years, which is how long the ARPA funds will last.
By then, the city will have enough data to judge its effectiveness.
She said the emphasis will be on helping individuals before they are in dire straits, which can often lead to crime.
But Aldenberg said he does not think the program will result in a reduction in his budget or the number of Manchester police officers.
"We're freeing up my police officers on the street to go do things that aren't more important, but are more aligned with their duties and responsibilities," he said.