MANCHESTER — Linda Silver knows hospitals.
She lives in the shadow of Catholic Medical Center and spent time overnight at Manchester's two major hospitals this year.
"They saved my life (at CMC)," Silver said as she sat in a wheelchair enjoying the sun last week outside the Pariseau high-rise apartments, a block away from CMC.
Silver, 63, who said her semi-private room at CMC "could have used more space," was excited about seeing a rendering of the hospital's proposed expansion that includes private rooms.
"It's going to be close to a grand thing," Silver said.
CMC last week confirmed it was moving forward with plans for building up to a six-story addition and demolishing a nearby strip mall in a project estimated to cost $125 million to $175 million.
Harvey Construction in Bedford has ongoing projects with multiple hospitals across the state.
"We have over $150 million worth of work going on among those five hospitals," said Rob Prunier, its executive vice president.
The money represents only "hard construction costs," Prunier said.
They include a new four-story medical office building on the Concord Hospital campus. The building will handle "an increased demand for specialty services while providing space to accommodate more patients from beyond the Capital Region," according to a hospital announcement.
The $56 million building is set to be completed in spring 2020, according to hospital spokesman Jennifer Dearborn.
Harvey Construction also is working on the $59 million expansion of Dartmouth-Hitchcock's Manchester clinic, which includes an ambulatory surgical center, medical infusion space and a fixed magnetic resonance imaging unit.
Harvey Construction, which also is doing work at CMC unrelated to the expansion proposal, earned about 40 percent of its total revenue from health-care construction projects in 2018.
"There's some growth there," Prunier said. "The New Hampshire health care world is our sweet spot."
Hospitals "just have more outpatient services that they need to accommodate, and medical office seems to be the way to go," Prunier said.
At Elliot Hospital, work is nearing completion on a 350-space parking garage costing $6.7 million, while site work has begun on a $19 million expansion of the Elliot Regional Cancer Center, set to open in August 2020.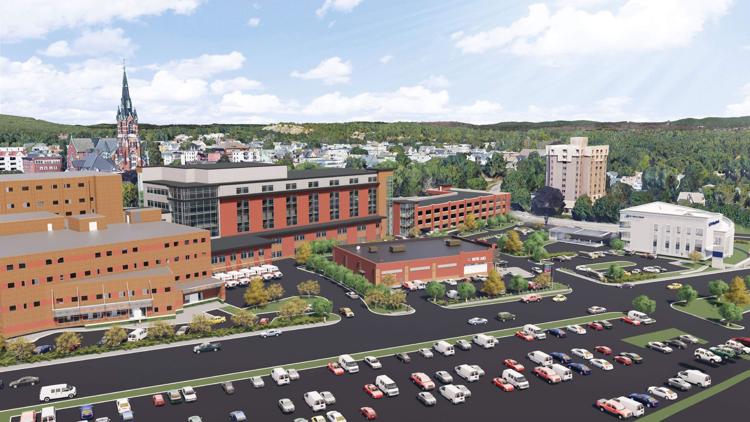 Given the success last year in opening a unit with private beds dedicated to patients undergoing total joint replacement, "there is always a desire to create additional private beds, and we are studying the most effective way to do that," said Dr. Greg Baxter, president of Elliot Health System.
As a member of SolutioNHealth, Elliot is focusing on the "pressures that come from the behavioral health crisis and the opioid epidemic," he said.
"We are actively working with the state to find new approaches to care for pediatric patients in crisis," Baxter said. "While the plans have not been formalized, it would include the use of existing facilities, and it would open up beds for adult psychiatric patients at the State Hospital."
Last December, Dartmouth-Hitchcock Health announced a $130 million expansion, including a third inpatient tower on the Dartmouth-Hitchcock Medical Center campus in Lebanon.
"We continue to make progress in the planning around a proposed in-patient tower and parking garage," Thomas Goins, vice president of facilities operations at Dartmouth-Hitchcock Health, said Friday. "A design firm has been selected for the project, and we are currently evaluating existing mechanical, electrical and plumbing systems to identify existing capacities and necessary expansions."
Last January, Dartmouth-Hitchcock and CMC said they wanted to combine forces but keep separate identities in a pact not expected to get approved until 2020.
Alex Walker, CMC's executive vice president and chief operating officer, said CMC had been working for about five years on the project and that it is separate from wanting to work more closely with Dartmouth-Hitchcock.
CMC's plans include expanding the emergency room and the New England Heart & Vascular Institute as well as adding up to 90 private rooms and six new operating suites.
Walker said he hopes the expansion project could be completed in mid-2022. A possible parking garage, which the hospital is seeking permission to build, isn't part of the cost estimate or within the 2022 timetable, he said.
CMC wants to subdivide part of the plaza housing Rite Aid, taking ownership of a portion of the property, he said.
The plaza's owner pays about $71,000 a year in property taxes, according to Bob Gagne, chair of the city's board of assessors.
"I'm not expecting they (CMC) will be paying taxes on the expansion," Gagne said of the nonprofit hospital, meaning there will be a yet-to-be-determined loss of property taxes.
Neighbors talked about people panhandling for money around the plaza.
A woman carrying two Rite Aid bags up a steep hill past CMC said the area around the plaza "looks ghetto."
A CMC addition, she said, will obscure the view of mill buildings for some West Side residents, "but we'll get a better view by all the stuff getting built."