New Hampshire's health care heroes are hurting.
Nineteen months into a pandemic that has sickened more than 120,000 Granite Staters and killed nearly 1,500, medical providers say they're exhausted and discouraged by a new surge in COVID-19 cases.
It's starting to feel a lot like last winter, they say, with one key difference: Now the sickest patients are unvaccinated, with very few exceptions.
In interviews last week, nurses and a physician who work in the intensive care unit at Catholic Medical Center in Manchester said it's disheartening.
"Right now we're seeing a lot of unvaccinated patients that are coming into the ICU," said Abby Bucchanio, an ICU nurse.
"We are seeing all different ages, anywhere between 30 and 90," she said. "And it's exhausting."
"It's much harder now," said her ICU co-worker, Dawn McGuire. "The nurses are burned out, patients are sick, families are devastated, and it all could have been prevented."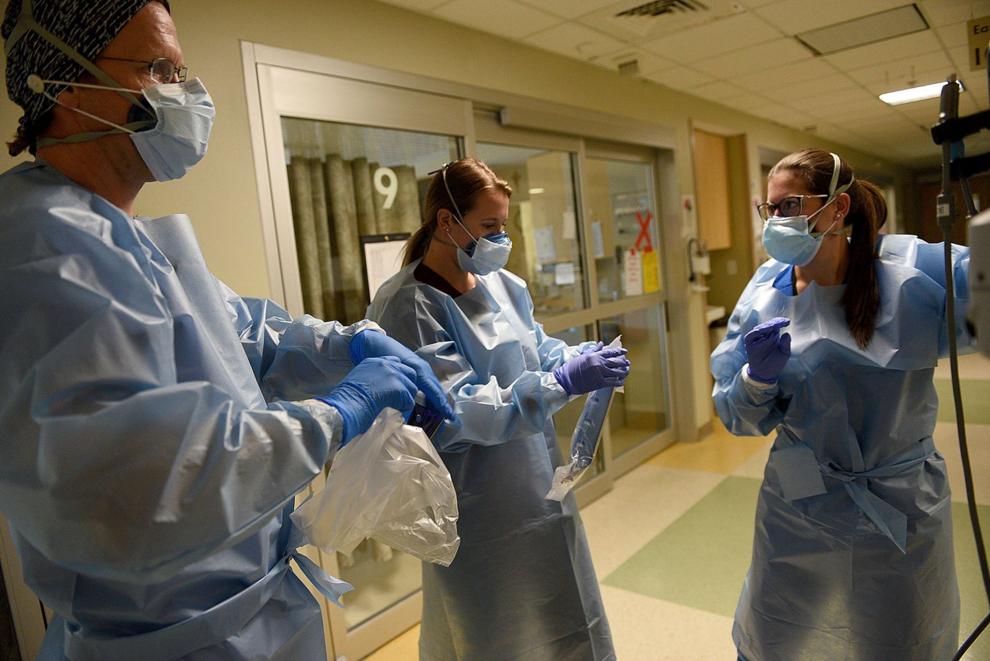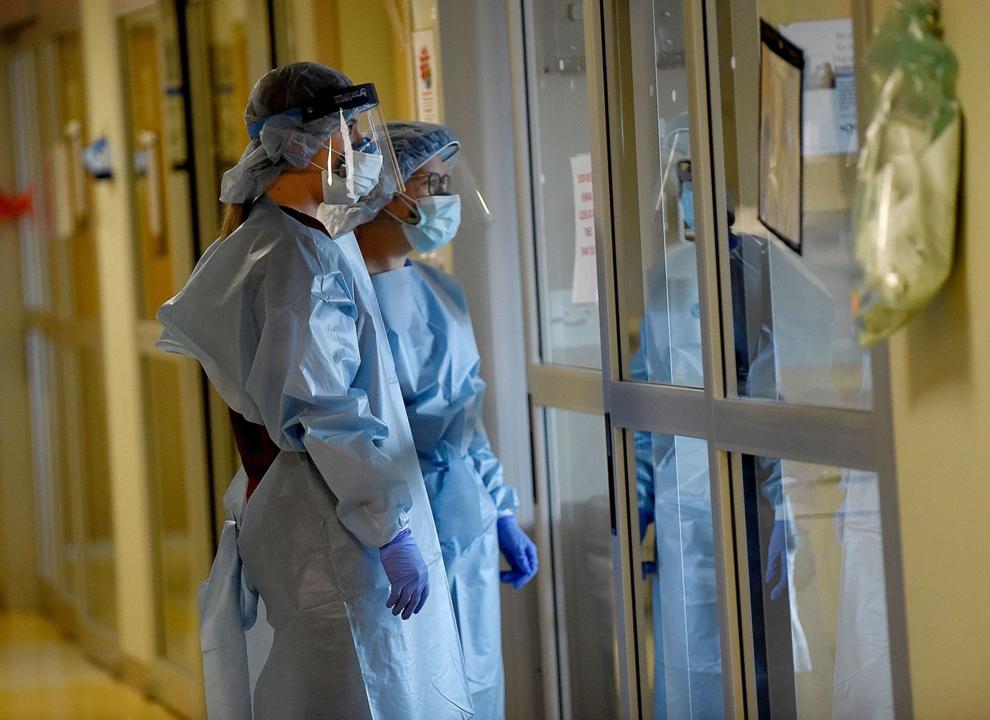 Dr. Richard Read, medical director of CMC's intensive care unit, said that last year, most critically ill patients were in their 70s and 80s. Now many are in their 30s and 40s, and unvaccinated.
"That makes it more difficult," said Read, a pulmonary critical care physician. "You're caring for someone who really has no business dying."
"It's a strain on everyone," he said. "Just to know they could have done something (to prevent COVID) makes it tougher."
These patients arrive at the hospital with extreme shortness of breath, he said. "They need a lot of oxygen, they're working hard to breathe and they steadily decline over the course of usually a few days," Read said. "You see them grinding downward."
COVID patients also stay sicker longer than the typical ICU patient, he said.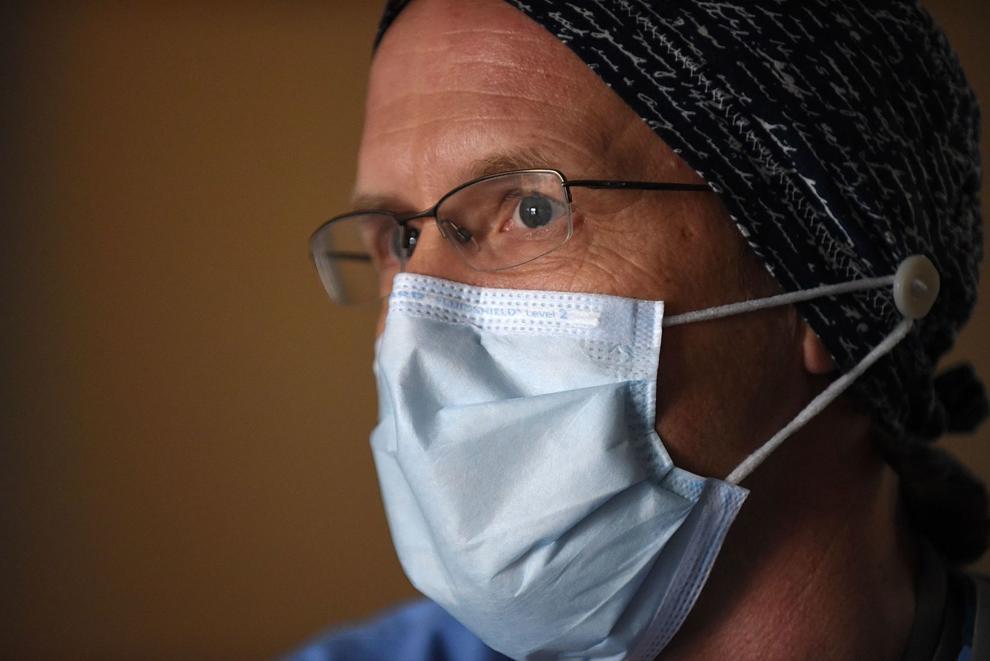 Caregivers did get a break over the summer, as case numbers and hospitalizations dropped to the lowest they had been since the start of the pandemic.
But the numbers are back up to where they were in February. The state health department reports the seven-day average of new daily cases statewide as of Oct. 1 was 451, with a total of 3,830 current cases and 150 people in the hospital.
"I think the nurses were bouncing back, starting to get a little more normalcy, and now it's gone," McGuire said.
Since the first vaccine breakthrough case was identified on Jan. 20, only 38 of the 596 total COVID hospitalizations statewide (6.4%) involved breakthrough cases, according to the Department of Health and Human Services. Of the 446 COVID-19 deaths reported since then, 32 (7.2%) were breakthrough cases.
Jennifer Torosian, CMC's associate chief nursing officer, said she thinks resiliency has diminished for many health care workers. Some have chosen to retire.
She compares it to "an engine revving on high continuously."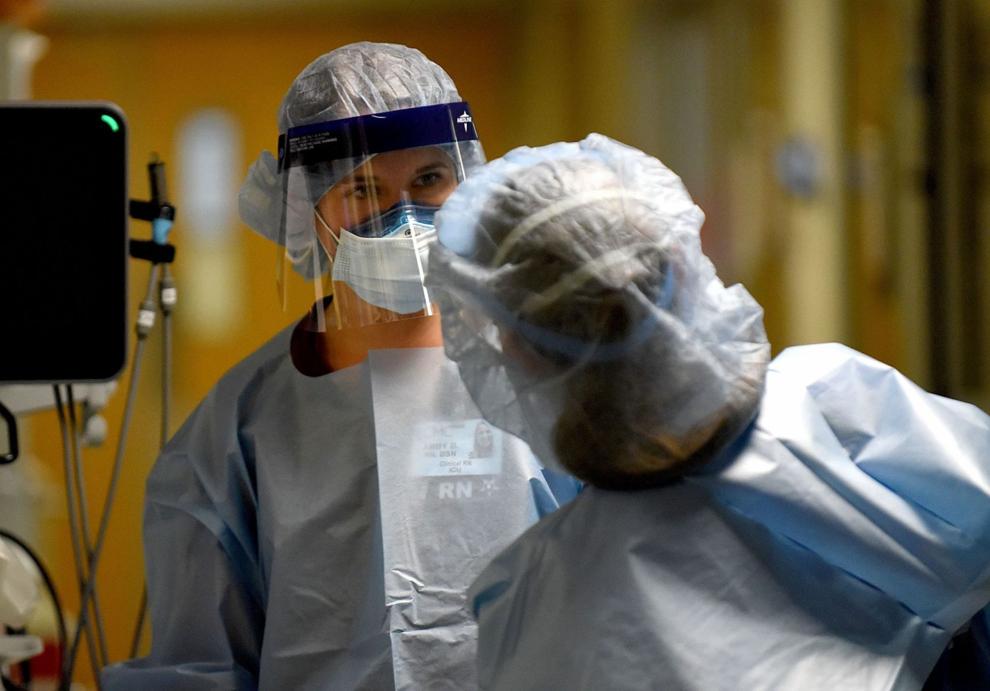 "Everyone is working so hard and so many hours, it's really hard to keep that going," she said.
CMC's emergency department is seeing COVID-19 patients every day now, Torosian said, with constant testing for the virus. "Everything we do every single day, it's COVID, and there's no break from it," she said.
Her plea: "Be kind and be patient with us. Have a little understanding of where we're coming from."
Compassion fatigue is real, but the patients and their families will never see that, said Lynn Harkins, the resource nurse in the ICU.
"Once we step into the room to take care of a patient, they will never know how tired we are, because we're going to take care of them with the best effort possible," she said.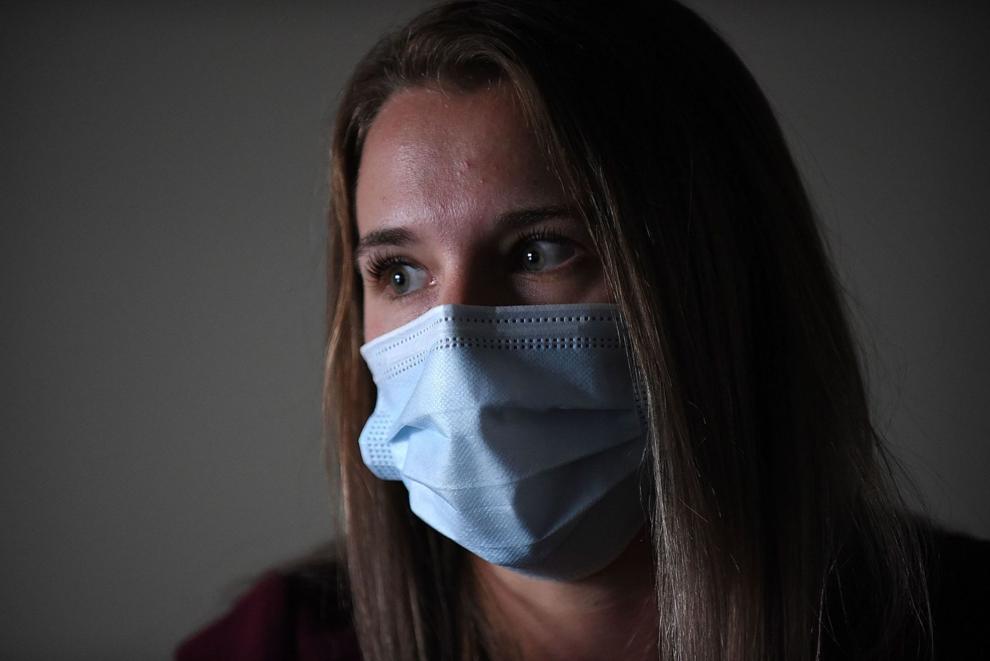 Bucchanio agreed. "Even if we are frustrated, we leave it at the door," she said. "You go in your patient's room and put a smile on ... and give them everything that we have."
"We treat all patients like family. We empathize with them, we cry with them, we laugh with them," she said. "But during these times, it's just been very difficult and depressing."
'Very, very heartbreaking'
Grief is a constant companion.
One of Bucchanio's saddest memories is of a man in his 50s who kept getting sicker and sicker and finally had to be intubated. "It was their anniversary and it was Valentine's Day," she recalled.
She connected the patient with his wife on Facetime for two hours. "We played their favorite songs on Spotify and I read her Valentine's Day card to him," she said. "It was just very, very heartbreaking. He didn't end up making it."
"She was so grateful for the care that we gave him. At the end of the day, this disease took him away from her and it was just absolutely devastating," Bucchanio said.
The caregivers said they try not to bring their work stress home to their families; they wouldn't understand.
So they lean on each other for support.
Diane Kobrenski, director of CMC's ICU, said she works hard to give the staff the support they need. "I've had staff come in my office and just shut the door and cry because of how difficult a patient has been," she said.
Early on in the pandemic, Kobrenski said, "We didn't know what to expect. It was all new territory. We were figuring it out and navigating as we went along.
"Now we know how sick these patients can get," she said. "We know how exhausting it is for our staff physically, emotionally."
That knowledge is both a blessing and a curse.
"We know what we're doing, but at the same time, we know where it could go," said Katie Landry, another ICU nurse.
'It's emotionally draining'
Some things have gotten easier. Now family members are allowed to be with their dying loved ones at the end.
Last year, that wasn't permitted for fear of contagion.
"It was heartbreaking to tell families they couldn't come in," Torosian said. "We had nurses hold their hands and sing 'Amazing Grace' and pray and do whatever the family had requested."
There are still no good medical treatments for COVID-19, Read said.
For healers, that's difficult. "There's this real sense, as these patients are declining, of real helplessness," he said. "You can't effect much change in the course of illness. All you can do is try to get them to survive.
"You feel like you're doing something wrong because the patient isn't getting better," he said. "That definitely weighs on your psyche a little bit.
"It's just emotionally draining," Read said.
Most families are gracious and grateful for the care their loved ones receive. But some can be difficult, fueled by misinformation.
Read has had relatives insist that he give their loved ones ivermectin, an anti-parasite medication touted by some on social media.
"I just say that's not an approved treatment. I want your loved one to survive," Read said. "I refuse to give them medicine that I know will not help them and will most likely hurt them."
It's often an unproductive discussion, he said. "Sometimes they threaten to sue you," he said.
Some patients also refuse to accept what's happening to them, Bucchanio said.
"We've had a few recently who don't believe in COVID, and they're intubated and sedated," she said. "Some of them have pulled through and they get better but they still don't believe that they have had COVID."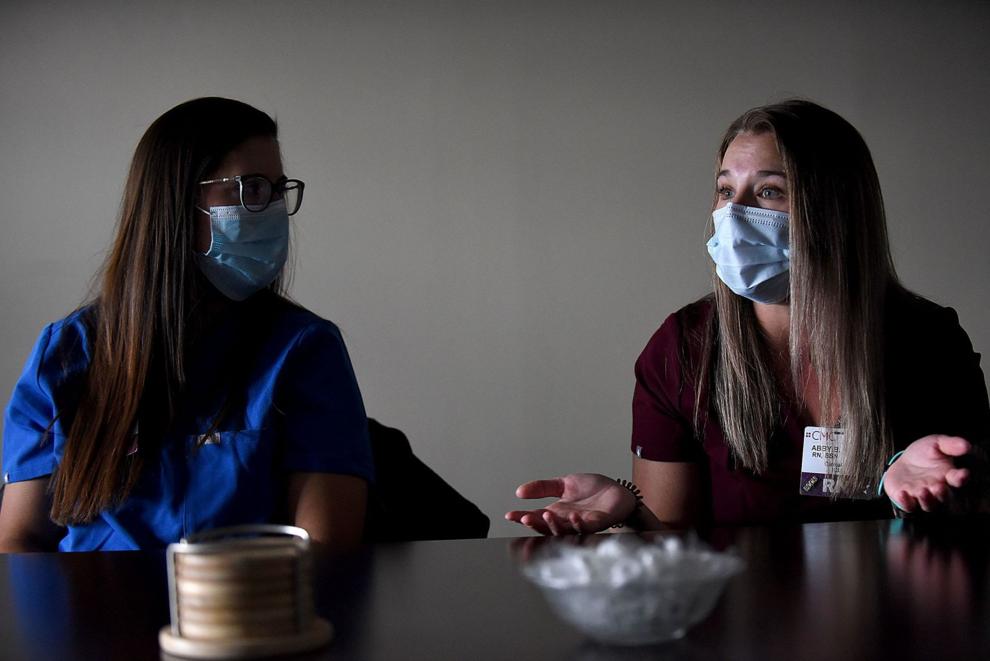 'A shell of themselves'
For others, getting sick is a wakeup call.
Landry said as patients get sicker in the ICU, some ask how soon they can get vaccinated.
Others call their family members and urge them to get vaccinated.
Getting COVID "is traumatic," Read said. "It is life-altering — if you survive."
Most people don't realize how very sick a COVID patient gets, he said. "They're on life support, with tubes and lines getting stuck out of pretty much anywhere they have a hole — and some we make for them," he said. "They're stuck on a ventilator, sedated, with blood draws and procedures and turning and bedsores, just on and on."
If they do survive, he said, "Two or three weeks later, they are a shell of themselves."
Lung scarring, poly-neuropathy, weakness and post-traumatic stress disorder are all consequences of the illness. A year after surviving, patients have told him they still don't feel like themselves, Read said.
"The damage is done," he said.
It's like driving a car too fast, he said. "Once you go off the road and hit the tree, there's no un-denting the car. It's still smashed."
With COVID, he said, "Unfortunately, some people get smashed."
'It's become so political'
Last year, as the COVID-19 pandemic took hold, signs of support sprouted at businesses, firehouses and residential lawns: "Thank you, health care heroes."
Many here joined in solidarity with New York City residents, banging on pots and ringing bells at 7 p.m. every night to honor those working on the front lines.
Deliveries of food and care packages arrived daily at CMC to support the health care workers.
What happened to all that goodwill?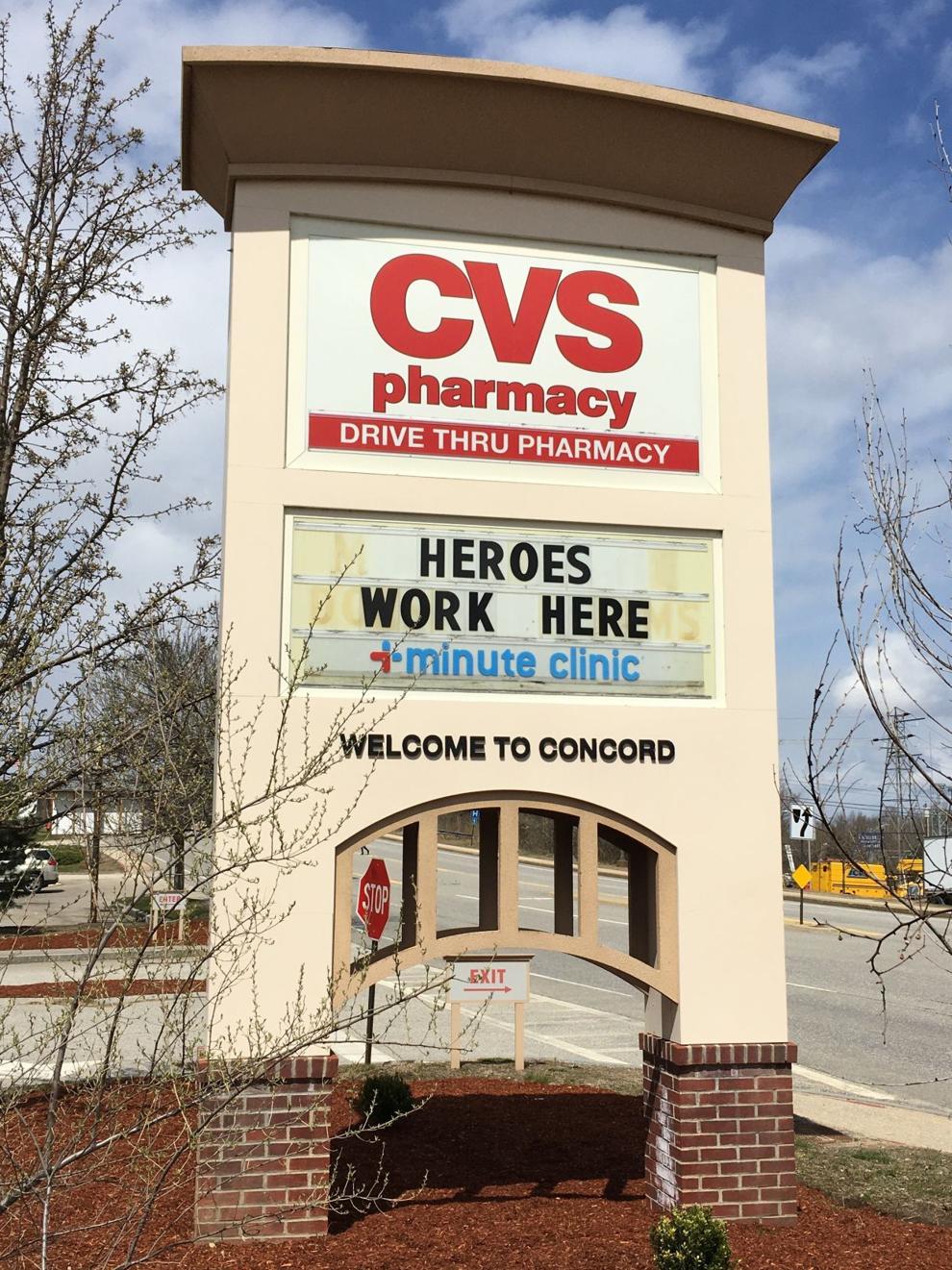 "I feel like the support's definitely dwindled for sure," Bucchanio said. "But I partly feel like it's because it's become so political."
Case in point: Nine CMC caregivers and hospital CEO Alex Walker were supposed to receive a commendation for their work during the pandemic from Gov. Chris Sununu at last week's Executive Council meeting, but that meeting was canceled abruptly when shouting anti-vaccine-mandate activists took over the room.
The animosity between those who believe in vaccines and those who oppose them has been distressing for the caregivers, Bucchanio said.
"We're supposed to get through this together," she said. "It seems like people are against each other."
These days, she said, "We're no longer the front line. We're now the last line of defense."
Landry said the nurses don't need the food, as nice as that gesture was. Instead, she asked: "Just understand we're doing the best that we can, given what's thrown at us every single day."
'The public doesn't understand'
Do they ever think about quitting?
"Does it get difficult? Absolutely," Bucchanio said. "Times are tough around here, and I feel like the public doesn't understand that."
But, she said, "I love what I do. I love the profession, I love learning, I love my co-workers.
"And I honestly love being in the ICU and being in this critical environment."
Dr. Read, too, said he finds meaning in practicing medicine.
"And I find it gratifying when you can help someone, whatever that might mean," he said. "Sometimes to help them get better, sometimes to help them die peacefully."
He rides his bike to relieve stress, and he relies on his wife and his best friend, both physicians, for support. "So finding that balance allows me to come back, to have that emotional and mental reserve, to be able to go through it again," he said.
Torosian, the associate chief nursing officer, said she wishes people who are resistant to vaccination could see what her staff is battling every day.
"If they saw what the nurses and physicians see every day at work, and what they're dealing with, and how sick patients are, I feel like it would change their mind," she said.
When people find out she's a nurse, they often ask her what she is seeing, she said.
"We're seeing people die," she tells them.