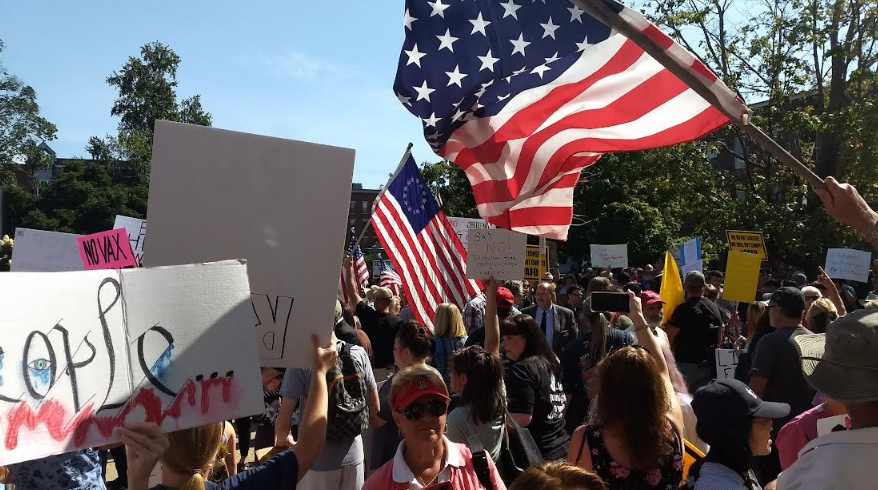 CONCORD — A New Hampshire House Republican leadership event protesting the latest COVID-19 vaccine mandates from President Joseph Biden erupted into a shouting match Tuesday from a large crowd of citizens angry that state officials had failed to do enough.
House Speaker Sherman Packard, R-Londonderry, hosted the news conference outside the State House to show a united GOP front against Biden's executive orders, which will require vaccines or mandated COVID-19 testing for up to 80 million Americans.
"We will not comply," Packard said to the loud cheers of a crowd of more than 400.
The House leader chastised the state's all-Democratic congressional delegation for failing to come out against the new mandates, adding "all of them have to go."
"This is unacceptable from an administration that has no idea what the hell they are doing," Packard declared.
But shortly after Packard began, protesters shouted "Where is Sununu?" and later, "We can't wait."
Packard said Sununu and GOP legislative leaders were looking into "all possibilities" for how to fight back against the mandate.
"We are doing what we can. This is a federal mandate, this is not from us," Packard said.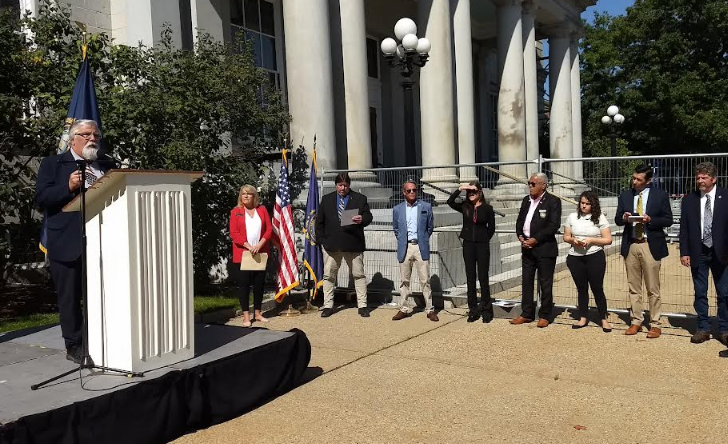 When the shouting continued, Packard said, "You are yelling at the wrong people. We are trying to help, yet you are attacking us."
Sununu has sharply criticized Biden's latest mandates.
"Instead of working collaboratively with governors across America to increase the vaccination rate, President Biden skips our weekly calls and issues overreaching mandates from Washington," Sununu said late Monday.
"I am working directly with my fellow governors to see how best we can push back against this federal overreach. I am as pro-vaccine as it gets, but I do not support this mandate from Washington as it is not the answer."
Anger over exemptions
During interviews, several citizens attacked the GOP-led Legislature's new law (HB 220) which bans vaccine mandates for all government workers and for any person trying to access public benefits.
They are upset the law exempts public schools, hospitals, nursing homes and day care centers from mandating immunization against COVID-19.
Therese Grinnell of Loudon, a nurse in Concord who has led anti-vaccine mandate protests outside Concord Hospital, screamed at Packard to "protect the lives" of health care workers who refuse to get the shot.
Grinnell warned vaccine mandates will leave hospitals without enough workers.
"You will have hospital units shutting down; there will be costs," Grinnell said. "It is going to be ugly. You are going to have people who are critically ill that won't get care and the state is being blackmailed by Medicare."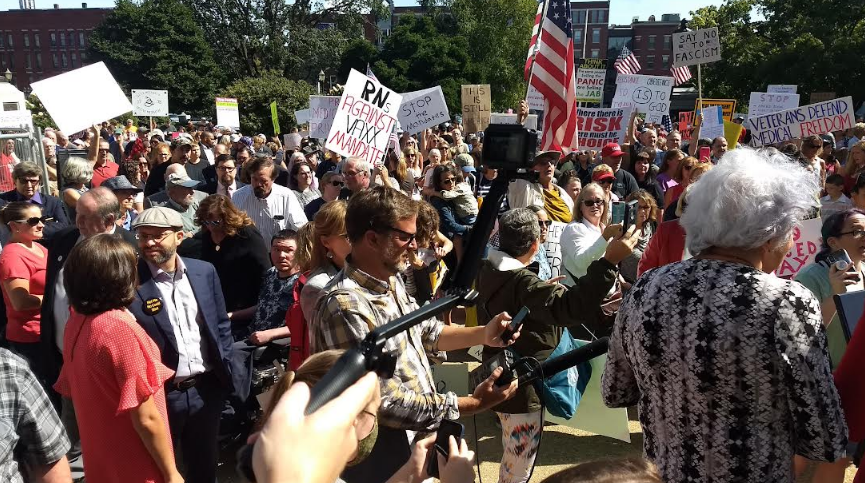 A half-dozen other House GOP leaders spoke and then once the news conference ended, the protesters took the stage, cranked up their own sound system and urged their allies to insist on more decisive action.
The citizens held signs that read, "End the Mandates," "We do not consent; we will not comply," "Remember Afghanistan" and "I call my own shots."
There was one pro-House GOP sign that offered, "N.H. House. Thank you for standing up!"
Asserting state rights
A home-schooling mom from Pembroke who identified herself as Nancy said Sununu and legislative leaders should assert state rights and block the mandates.
"I'm very frustrated. My body, my choice. My child, my choice," she said during an interview.
"I think Sununu should stand up to Biden, plain and simple."
David, who said he is a blue-collar worker who lives in Alexandria, said the state GOP response has been too weak.
"They came up short; they should have stood up for us," he said. "The job of government is to ensure the protection of our legal, individual rights."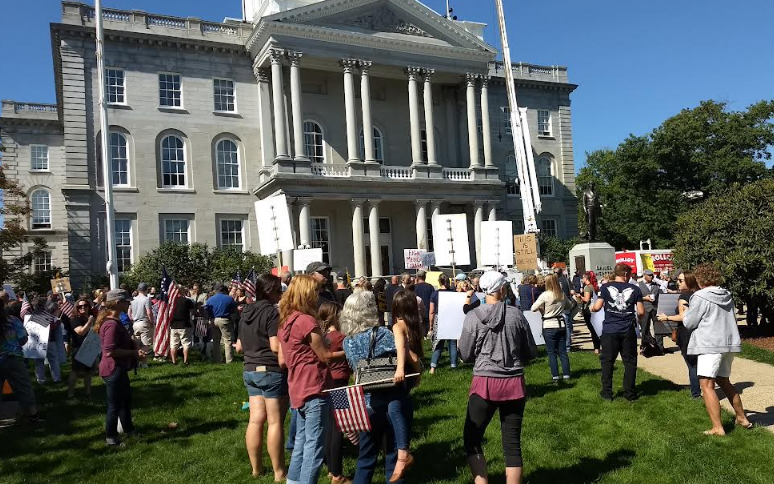 But John-Michael Dumais of Keene, who described himself as a progressive citizen advocate, said bipartisan critics of vaccine mandates should work together and not be at war with one another.
Dumais held a large sign that read, "COVID Vaccines are unsafe, unscientific and unethical."
"We live in a time of great censorship. Does the state have the power to ignore a federal executive order? We don't know the answer to that question, but what is being offered is patently dangerous," Dumais said.
Senate Democratic Leader Donna Soucy of Manchester criticized the House GOP event.
"New Hampshire Republicans have no leg to stand on regarding workplace safety, civil rights, or bodily autonomy," Soucy said.
"Today's actions and words by Republican leadership put New Hampshire at a disadvantage in the eyes of the nation."
In a related development, state Rep. William Marsh of Brookfield, a retired ophthalmologist, changed his party from Republican to Democrat right after the event ended.
Sununu named Marsh to serve on his Economic Reopening Task Force in response to the pandemic, and Marsh on Tuesday praised the Sununu administration for helping to restore the state's economy.
"I cannot stand idly by while extremists reject the reasonable precautions of vaccinations and masks which made that happen," Marsh said.
"And so I have reluctantly changed my party affiliation. I urge others to consider what is happening and come to their own conclusions."
A small band of House GOP conservatives have been trying to get enough colleagues to convene a special session to take up legislation that would ban vaccine mandates among private employers.
Rep. Melissa Blasek, R-Merrimack, said more than 50 House members have signed it and three state senators; they need the endorsement of eight senators to bring about the special session.