SALEM — The run on toilet paper, cleaning products and other groceries sparked by coronavirus fears had Granite Staters and consumers coast-to-coast facing empty shelves Saturday. Meanwhile, retailers are reassuring consumers that more supplies are on the way.
"I went out yesterday, which was a big mistake. Absolute madness," said John LaPlante of Dunbarton on Saturday afternoon.
LaPlante said he was shopping at the Market Basket on Fort Eddy Road in Concord and there were lots of customers buying large quantities of grocery items and forming long lines at the checkout lanes. He said he gave his carriage to a customer as soon as he emptied it because they were such a scarce commodity.
LaPlante said his daughter encountered similar "madness" at the Market Basket in Nashua.
Across the country shoppers picked grocery store shelves clean on products ranging from disinfectants to rice, causing retailers to race to restock their stores as the worsening coronavirus crisis stoked fears of shortages.
As shoppers swarmed stores, President Donald Trump on Friday afternoon declared a national emergency aimed at slowing the spread of the novel virus, which has killed at least 40 people in the United States.
Daily routines have been upended as businesses including Amazon.com urge employees to work from home, as schools and universities close, and as sporting events and church services are paused across the country. In response to the run on certain items, major retailers have imposed some purchase limits.
The chief executive of Walmart, Doug McMillon, at a news conference with Trump on Friday, said the retailer was having trouble keeping up with demand for products like hand sanitizer Purell, cleaning supplies and paper goods.
"Hand sanitizer is going to be very difficult to have 100% in stock for some time," McMillon said. "We're still replenishing it ... but as soon as it hits the stores it's going. The same thing is true for the other categories I mentioned."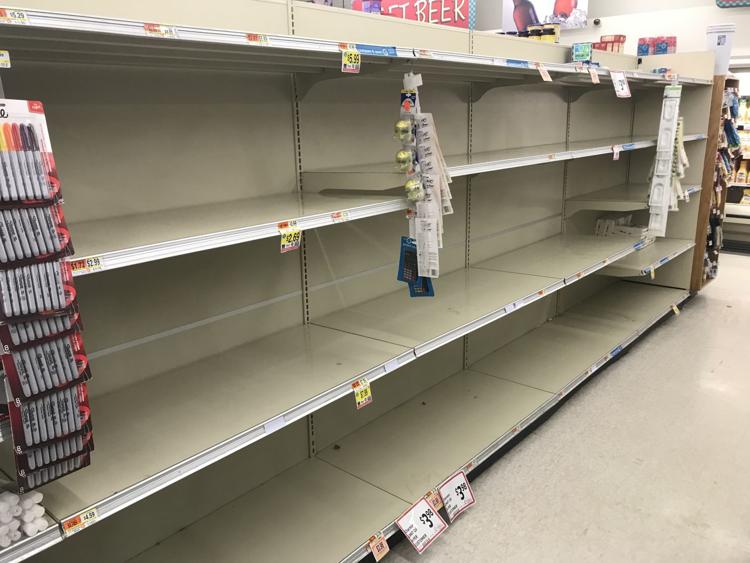 On Friday at 7 a.m., Heidi Kos of Goffstown was shopping at the Tewksbury, Mass., Market Basket for work. It was just an hour after the store opened, and Kos said there were no parking spots or carriages available.
"It was already nuts," Kos said while shopping at Sully's in Goffstown on Saturday. "I'm glad to see it's not so bad here."
Still, Sully's was busier than a usual Saturday, with store manager John Bilodeau helping out in the checkout lanes.
Bilodeau said they seemed to avoid the initial runs on paper and cleaning products until Thursday. He suspects most people were focusing on the big box stores first.
He said they opened earlier than usual at 6:30 a.m. Saturday and their fully stocked paper products were sold out within two hours.
Some stores like Hannaford set a limit of five products per customer per visit for things like Clorox and Lysol disinfectant wipes, toilet paper and paper towels. The store in Manchester's north end saw intense traffic Saturday morning, according to staff, and by mid-afternoon still had every checkout aisle open.
The entire aisle of paper products was stripped clean, except for some napkins.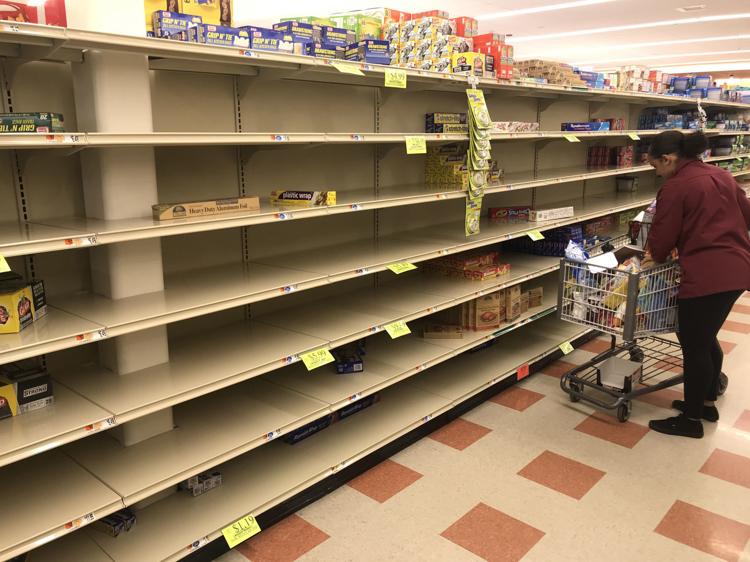 At the Market Basket in Salem's Tuscan Village, traffic began to climb on Wednesday and apparently peaked on Thursday and Friday, according to a manager. Saturday morning was also extremely busy, with the paper and cleaning products selling out within a couple hours of opening, but by mid-afternoon, it started to seem like a normal Saturday.
Still, it's all hands on deck for Market Basket employees. "Our manager team and team of associates have done a fantastic job taking care of our customers," spokesman Joe Schmidt said.
In response to an increase in sales volume over the past four or five days, he said the company's team of buyers has undertaken a "coordinated effort" with suppliers to accelerate deliveries to distribution centers and individual stores to make sure all their stores are stocked daily.
"That's helped us continue to keep the flow of product to the stores," Schmidt said.
Aside from sanitation and paper products, Schmidt said customers were also stocking up on shelf-stable food items like peanut butter, rice, pasta, sauce, beans, tuna fish and other canned goods.
Stores are being restocked daily, but toilet paper, paper towels, disinfectant wipes, hand sanitizer and rubbing alcohol remain hard to find as high demand for them results in cleaned-out shelves.
Schmidt said the level of increased traffic they're seeing is tantamount to a holiday weekend or a snow storm. Salem has three Market Basket stores, and he said they are all seeing an equally high pulse of traffic.
"We're used to handling high volume. It usually doesn't happen four or five days in a row," he said.
Some rumors on social media led some to believe Market Basket was closing some of its stores, but Schmidt said that is not true. Each store will remain open and continue to be stocked daily, he said.
Ultimately, they expect the volume to return to normal in the coming days.
Several customers, like Cathy Koscielniak, turned to social media to comment on the grocery store rush Friday, and complimented the patience and poise of employees on the Market Basket Facebook page.
"Londonderry was a bit crazy at mid-afternoon today," Koscielniak wrote. "All the employees had a great attitude and were still happy with all the crowds of people. Stay safe MB employees and thank you for your great customer service!"
On Facebook, Manchester Mayor Joyce Craig shared her experience Saturday morning at the Hannaford in the north end.
"I went to the grocery store at 7 a.m. this morning. It was packed, long lines and not much on the shelves. The cashiers were jammed," Joyce said. "While I was there, I saw a man who had been shopping, leave the store and come back with coffee and donuts for the people working at the grocery store. This moment in time requires us to think of others. Thank you to everyone who is working together, staying safe and checking in on loved ones or neighbors."
The high demand for cleaning and paper products is felt across the country.
Kroger, the largest U.S. grocery store operator, limited the number of cold, flu and sanitary products per visit, while Walgreens limited disinfectant wipes and cleaners, face masks, hand sanitizers, thermometers and gloves to four per customer.
Reuters contributed to this report.