The number of COVID-19 cases and COVID-19 deaths outside nursing homes and other long-term care facilities is spiking in New Hampshire, evidence of widespread community transmission, a top health official said.
Case counts started climbing in early November, when those not associated with long-term care numbered about 100 a day. Last week the daily count, based on a seven-day average, topped 847.
Meanwhile, the number of cases in long-term care rose and then fell over the same five-week period — 20 on Nov. 1; 48 on Nov. 23; and back to 20 on Dec. 13. Deaths associated with both long-term care facilities and deaths outside of long-term care have increased sharply through the five-week period and only dropped off slightly in the last week.
The increases show that community transmission is now the driver in COVID-19 cases, said Beth Daly, chief of the New Hampshire Bureau of Infectious Disease Control.
That contrasts with the spring, when COVID-19 ran through nursing homes but was held at bay from the public, especially after Gov. Chris Sununu issued a stay-at-home order in March, she said.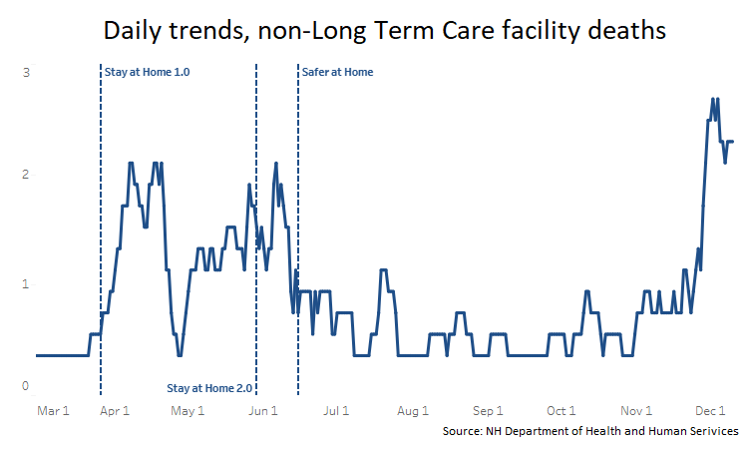 Once the state reopened in the summer and then moved indoors this fall, community transmission increased, and with it, the number of cases outside nursing homes.
"I do think we will see increases during the holidays because it's so difficult to not get together with friends and family," Daley said. "It's really up to the public and their behavior that's going to influence what happens in our state in the coming weeks."
Meanwhile, a hospital spokesman said the second coronavirus wave has introduced something new: COVID-19 cases discovered when a patient is tested upon entering the hospital for an unrelated procedure.
Elliot Hospital had 46 COVID-19 patients on Wednesday, 16 of whom had not entered the hospital for COVID-19 treatment, said Dawn Fernald, a spokesman for Solution Health, the parent company of the Elliot and Southern New Hampshire Medical Center in Nashua.
Sometimes, doctors go ahead with the procedure despite the COVID diagnosis, she said.
"Every situation is different. The surgeon and clinical care team get together and figure it out," Fernald said. One of the factors they must consider is staffing and bed availability, she said.
New Hampshire has led the United States in the percentage of COVID-19 deaths associated with nursing homes — 81% of all deaths, according to the most recent data.
Daly said she does not see that changing much because community transmission threatens the safety of nursing homes, too.
Whether they live inside or outside a nursing home, elderly make up the vast majority of New Hampshire COVID-19 deaths. Two-thirds of people who die of COVID-19 are 80 or older, and 23% are between 70 and 79.
"The number of cases are what drives hospitalizations and deaths," Daly said.
Nationally, the number of new cases of COVID-19 appears to have plateaued, partly because of decreases in the upper Midwest, which saw a surge at summer's end, Daly said.
Fernald said Solution Health's two hospitals, which are located in the state's two largest cities, consistently have handled more COVID-19 cases than other hospitals in the state.
She said the severity of the COVID-19 cases also has changed. For example, on Wednesday, only one of Elliot Hospital's COVID-19 patients was on a ventilator.
Elliot Hospital had 285 patients on Wednesday of last week, its highest number in the past several years, Fernald said.
"This is just a busy time," she said.