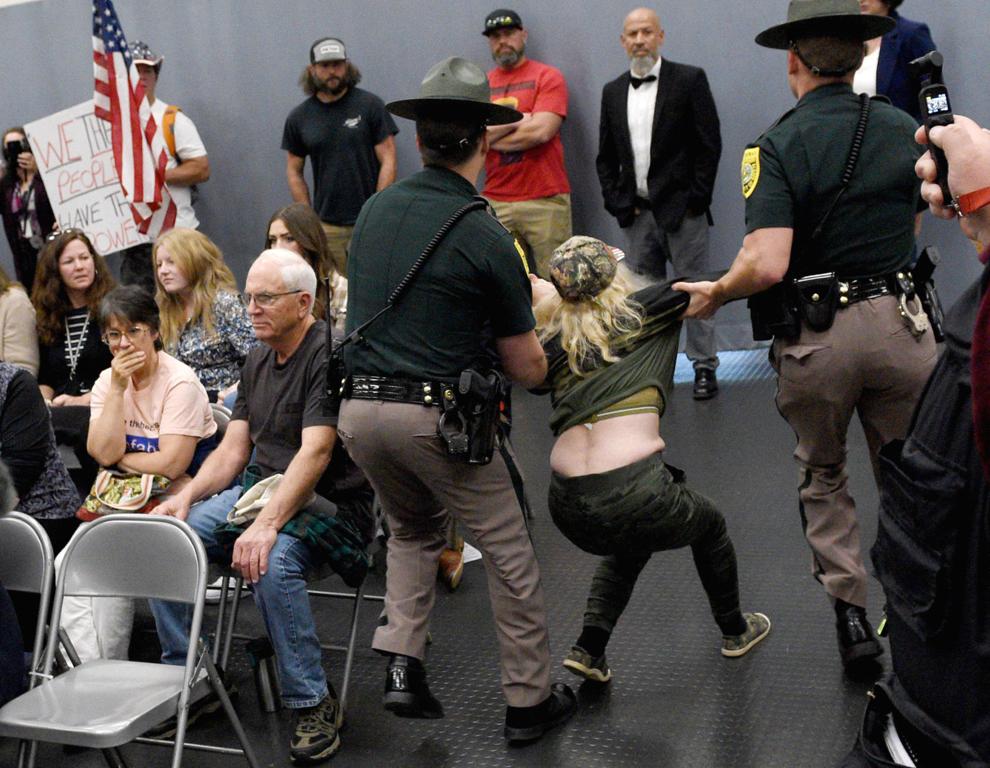 CONCORD — After nine vocal anti-vaccine mandate protesters were arrested, the Executive Council on Wednesday rejected two contracts for $27 million in federal money to expand COVID-19 vaccinations and other immunizations throughout the state, drawing condemnation from Gov. Chris Sununu.
The 4-1 vote came after an hour-long debate. All Republican councilors voted against the contracts. Cinde Warmington of Concord, the only Democrat, supported it.
"The vote showed a reckless disregard for the lives we are losing while they turn away the tools our state needs to fight and win this battle against COVID," Sununu said in a statement after the vote.
Sununu moved the council meeting to the Police Standards and Training Council auditorium after loud protesters prompted officials to cancel the last scheduled meeting, on Sept. 29 in the New Hampshire Institute of Politics at Saint Anselm College.
Before Wednesday's vote, Sununu repeatedly urged the Republican councilors to change their public positions.
"We would be the only state in the country to reject these dollars," Sununu said.
Health and Human Services Commissioner Lori Shibinette said rejection of the grants will not bring a halt to the state's COVID-19 vaccination efforts, as more than 500 health care providers are offering shots at their own offices along with pharmacy chain locations across the state.
"It doesn't mean the vaccine is not going to be available," Shibinette said, but "it is going to be available through the (existing) health care system, which right now is struggling with staffing and struggling with their census" of patients.
The contracts included financial support for the cities of Manchester and Nashua and the state's regional health care networks to promote vaccines among the racially diverse and economically disadvantaged sectors of the state.
It also included nearly $4 million to give booster vaccines for residents and staff in long-term care settings, Shibinette said.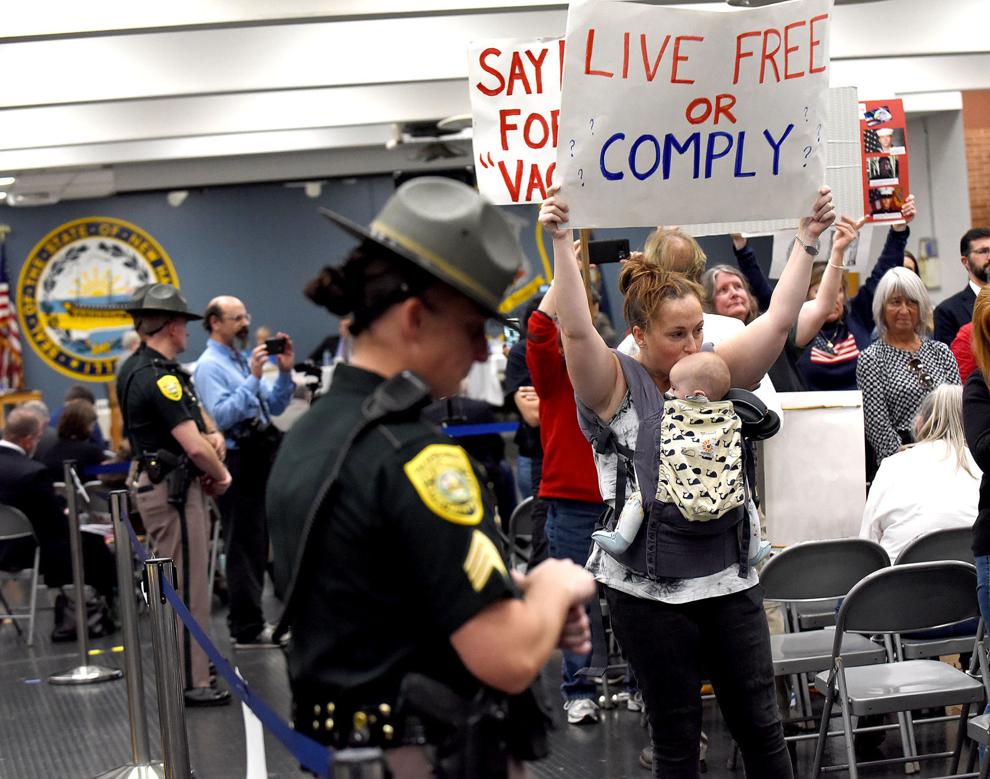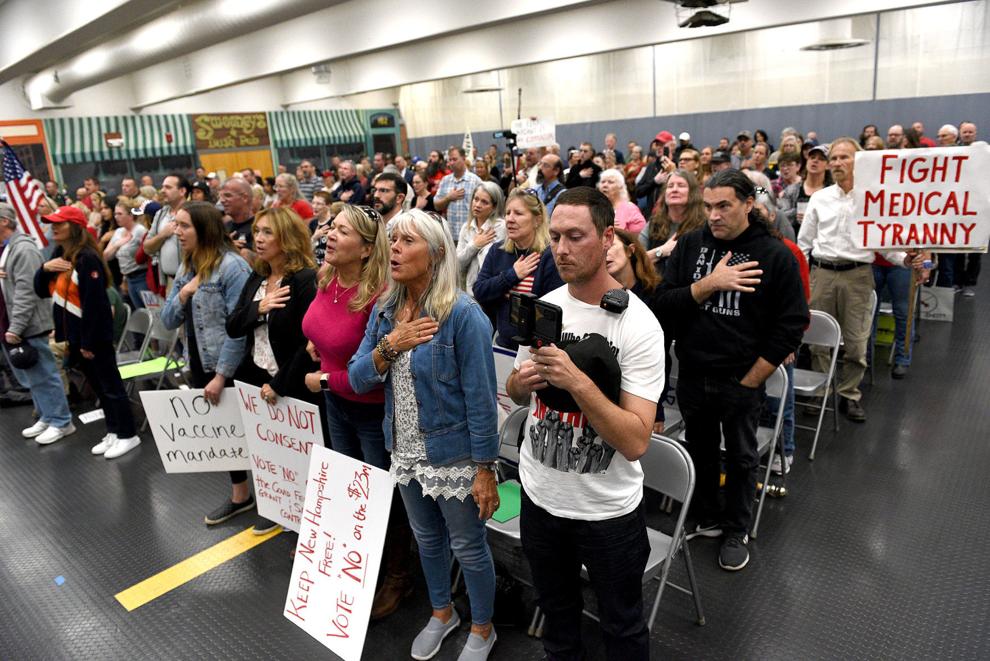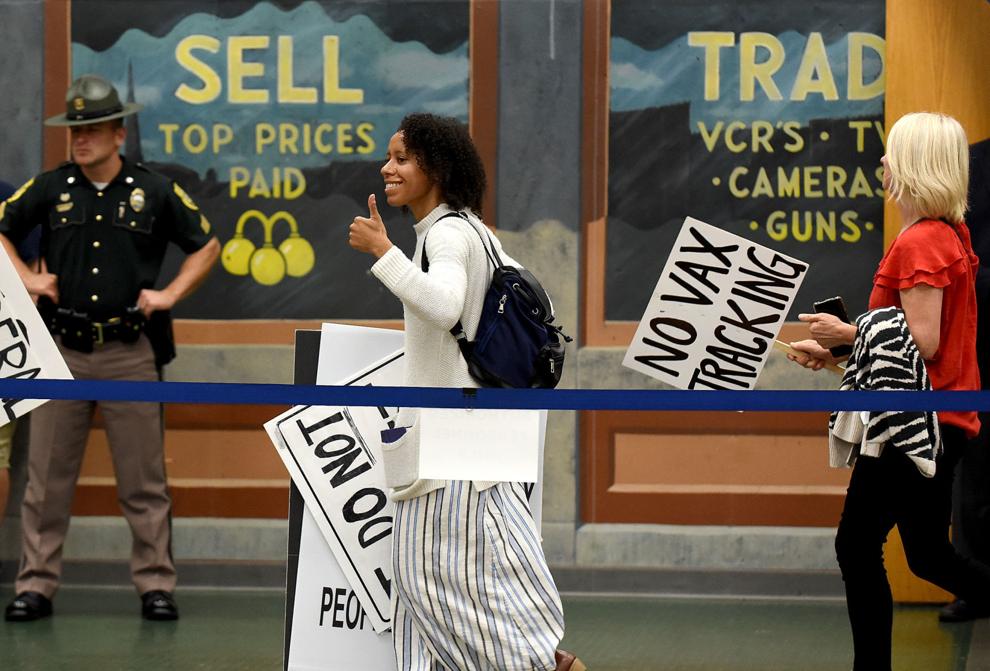 Not surprised
Later Wednesday, Sununu said he wasn't surprised at the outcome, concluding the votes of the councilors were "baked in" before the meeting.
"I think they were pushing out a lot of misinformation based on these contracts," Sununu said.
Both Shibinette and Sununu said they will continue to search for alternative sources of federal financial support to do this vaccine outreach.
"If we can get creative and find funding, then we are going to do it," Sununu said.
The governor said opponents have crossed a line during this controversy, with vocal anti-vaccine mandate protests being staged at several locations on a regular basis, including outside his Newfields home.
"I can tell you it is personally discouraging. I won't lie about that," the governor said.
State Democratic Party Chairman Raymond Buckley said Sununu's rant against President Joe Biden's vaccine mandate has only energized this vocal unrest.
"For months, Sununu enabled anti-vaccine rhetoric and loudly opposed vaccine requirements — and today he reaped what he sowed," Buckley said after the vote.
"The governor's inability to convince his own party to accept federal funding for much-needed public health measures shows a complete lack of leadership and is a defeat for public health in our state."
About two dozen state troopers were inside the auditorium at Wednesday's meeting to maintain order.
They arrested four women and five men for disorderly conduct.
According to J.R. Hoell, a leader of RebuildNH, which is opposed to vaccine mandates, all those arrested were released later Wednesday either on their own recognizance or after posting cash bail.
Federal mandates
Attorney General John Formella had advised the council that taking this money would not commit the state to future federal mandates, which had been suggested.
The Biden administration has yet to act on its proposal to have the Occupational Safety and Health Administration oversee a mandate that up to 100 million people either get the shot or be regularly tested for COVID-19.
Sununu has vowed to join a multi-state lawsuit against the Biden mandate once it's released.
House Speaker Sherman Packard, R-Londonderry, and GOP members of a House-Senate fiscal panel have raised other concerns about the grants, including the hiring of 13 full-time temporary state workers to carry out its goals.
Before the final vote, the protesters turned their backs and stood silently as the council debated whether to accept $13 million in Federal Emergency Management Agency grants for a private vendor to create more mobile clinic sites that would help deliver booster shots and vaccinate younger residents should the Biden administration approve vaccines for those under 12.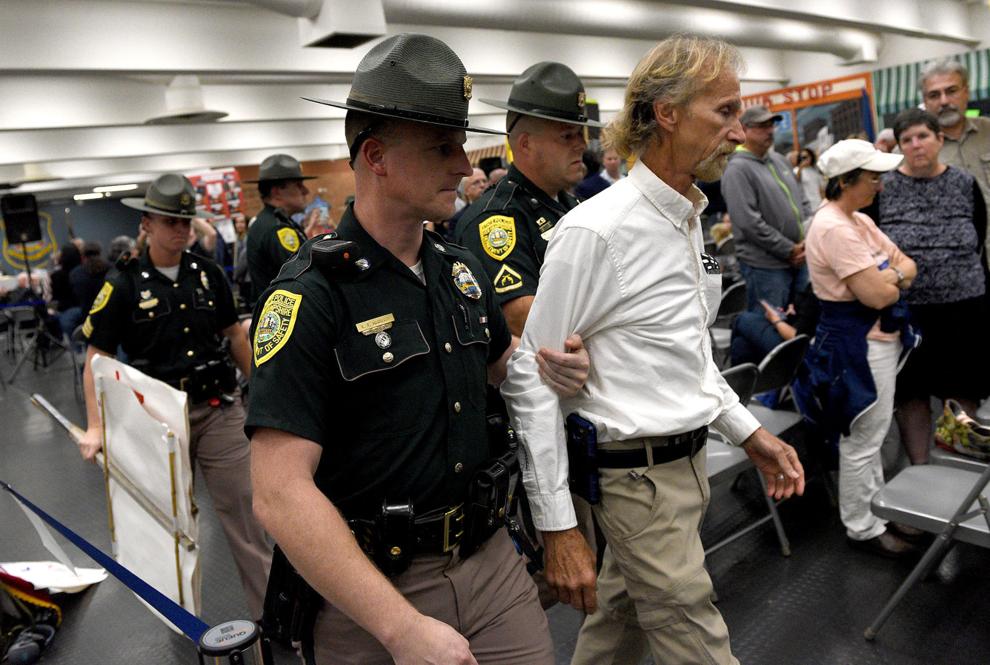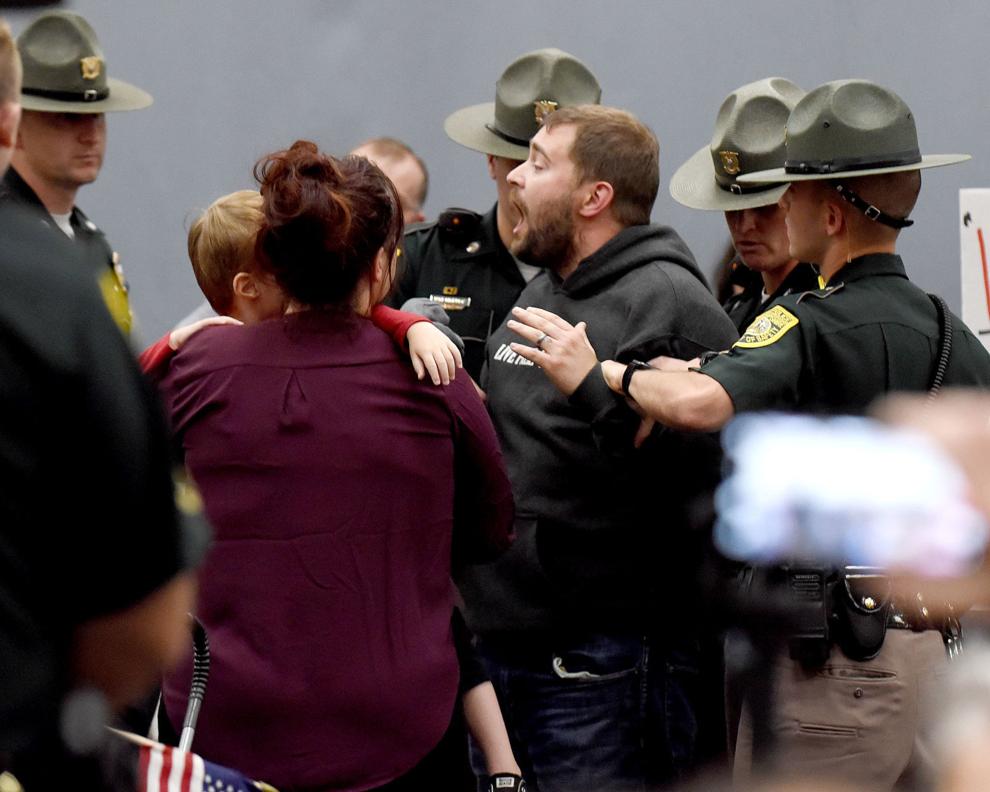 The council approved taking the FEMA money.
Councilor Ted Gatsas, R-Manchester, told Shibinette the state already has enough federal money to raise the numbers of those fully vaccinated, a rate that has barely gone up during the past few months.
"I am sure that the department will find another way to bring it forward to the council," Gatsas said.
'Outbursts'
During a protest outside the auditorium, organizer and Loudon nurse Terese Grinnell, one of those later arrested, urged her compatriots not to shout loudly during the meeting even if the council approved the grants.
"We're going to stand up. We will link arms, and then we are going to leave silently," Grinnell said. "I have a lot of hope today. Let's pray. God is in control, no matter the outcome."
At the outset of the meeting, Sununu admonished protesters when they loudly shouted while reciting the Pledge of Allegiance.
"That kind of outburst is not going to be tolerated," Sununu said.
After an hour, with several protesters occasionally yelling their disapproval, a state trooper warned the crowd, "If there are any more outbursts, you will be removed and arrested for disorderly conduct."
About 15 minutes later, a male protester declared, "Shut the (expletive) down" and state troopers escorted him out of the building. When a young female protester spoke loudly and refused to stand up, troopers dragged and then carried her out of the auditorium.
Another male protester began shouting after Sununu said state government should not interfere with the right of any owner of a private business to require vaccination of its employees.
"There are already people losing their jobs. It is already happening. You are lying up there," the protester shouted at Sununu before he was escorted out.
Following the vote, the rest of the protesters quietly filed out after some of them yelled, "Thank you" to the council.
Registry also protested
Many protesters were upset that New Hampshire last year created an immunization registry to keep track of all who have gotten vaccines, the last state in the nation to do so.
Sununu said he would "be open" if lawmakers proposed legislation in 2022 to change the registry and compel state officials to get the permission of adults before their family's vaccine records were placed on the database.
The current registry requires parents to affirmatively "opt out" of being on the registry.
But Sununu said he would veto any legislation in 2022 that would eliminate the registry.