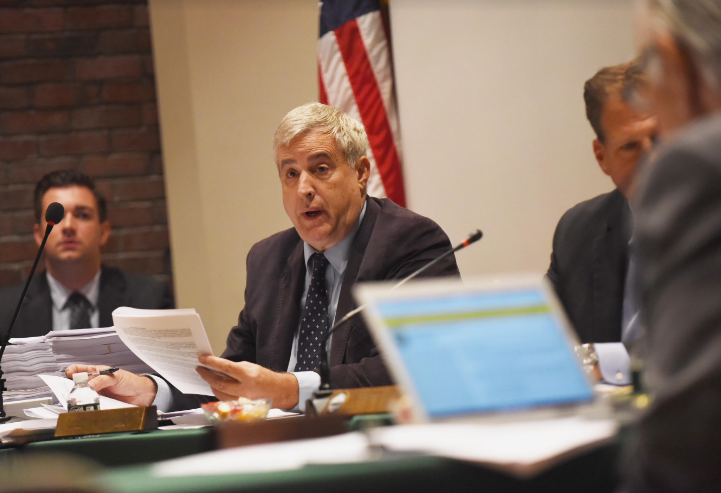 Business as usual — minus the drama — returned to the Executive Council on Wednesday.
The five-person council unanimously approved $4.7 million in federal immunization grants two weeks after it rejected a $27 million request over concerns with the Biden administration's COVID-19 vaccine mandate.
On Oct. 13, the council voted 4-1 to reject the grant in front of more than 200 protesters who turned out to oppose the vaccine mandate. State police arrested nine protesters at the meeting in the auditorium of the Police Standards and Training Council.
The council met Wednesday in the auditorium at the Department of Environmental Services in Concord. No protesters were seen outside the meeting.
This grant, from the American Rescue Plan Act previously approved by Congress, will be used to deliver vaccine to children once the Biden administration approves the shots for children 5 to 11 years old. The grant also can be used to deliver boosters and other COVID-19 vaccines for adults at community health care centers.
"This is going to bolster their effort in the rural areas," said Councilor Joe Kenney, R-Wakefield, who had opposed the larger grant, which was from the federal Centers for Disease Control.
Andrew Manuse, chairman of RebuildNH, an interest group opposed to Gov. Chris Sununu's COVID-19 response efforts, said recently that many parents strongly oppose giving the vaccine to their younger children.
Manuse also questioned whether additional federal spending will do much to increase the state's vaccination rate.
Republican councilors OK'd the smaller grant because it did not contain legal language they feared could force the state to enforce the president's proposal to require up to 100 million Americans to get the shot or be regularly tested for the coronavirus.
Both Sununu and Attorney General John Formella had said the bigger grant did not have strings attached.
Sununu said he will ask the Joint Legislative Fiscal Committee in the coming weeks to approve another $7 million in federal grants for immunizations.
Possible shot delays
Health and Human Services Commissioner Lori Shibinette said it's likely the earlier vote against the larger grant will cause delays in getting COVID-19 appointments for children or adults.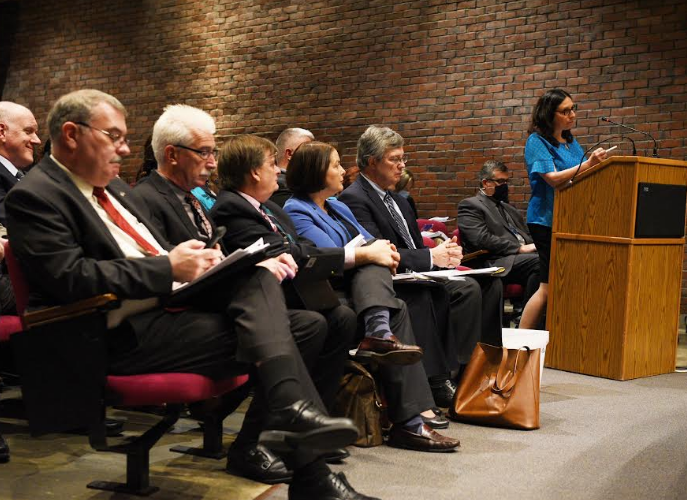 Shibinette also said using the American Rescue Plan grant for this purpose means the grant can't be used for other "flexible" programs. New Hampshire has used the grants for a variety of purposes, including workforce recruitment, long-term care grants and supports for the unemployed.
Sununu vowed again on Wednesday to join a multistate lawsuit against the federal vaccine mandate once Biden approves it.
AG Formella said as yet the Biden administration has not tried to compel a state agency health care program to comply with the mandate in order to continue receiving federal Medicaid or Medicare dollars.
"We are planning to push back on that if that happens," Formella said. "To this point, they haven't been that aggressive."
Kenney said some health care centers will lose significant numbers of workers if they impose their own vaccine mandates.
Shibinette said she remained concerned that many future grants from the Centers for Medicaid and Medicare Services and other Biden administration agencies will contain the same language the council and fiscal panels had rejected.
"Are we going to continue to reject those funds?" Shibinette asked. "If we do that, we are talking tens of millions of dollars that should have been spent for these purposes."
A majority of New Hampshire voters opposes a vaccine mandate, according to a new poll from the New Hampshire Institute of Politics at Saint Anselm College.