As businesses shutter or scale back operations, by next month the pandemic's effects could cost more than 100,000 Granite Staters their jobs, at least temporarily, according to Laconia economist Russ Thibeault.
"I think we're looking at an unemployment rate of 15 to 20 percent by the end of April," Thibeault told the New Hampshire Union Leader on Monday.
About 34,000 Granite Staters registered with New Hampshire Employment Security between March 17 and Monday, Commissioner George Copadis said Monday evening. The department's call centers also received 10,000 calls.
Copadis said the U.S. Department of Labor prevents him from releasing the actual number of people filing for initial unemployment benefits. He said some first-time registrants could have filed for another reason other than seeking benefits.
The flood of registrations came after many businesses closed or reduced operations following orders from the governor to take precautions to slow the spread of the coronavirus.
That tally doesn't count others who already were unemployed. The state counted 19,930 people unemployed in February when the unemployment rate stood at 2.6 percent.
People filing initial unemployment claims last week should see money in their bank accounts by Wednesday, said Richard Lavers, deputy commissioner for New Hampshire Employment Security.
"The state over the past week has experienced an unprecedented level of unemployment insurance claims, and we anticipated this," Gov. Chris Sununu said at a news conference.
People filing new claims from here on out should receive their first check in about eight days, Lavers said.
"We are on the financial front lines of this crisis," Lavers said.
The worst week of the Great Recession saw 4,058 new claims in New Hampshire.
Thibeault said he believes the job losses will grow.
"The important thing to say is it is an estimate, and we are in an unprecedented situation, so the range of outcomes is broad," he said.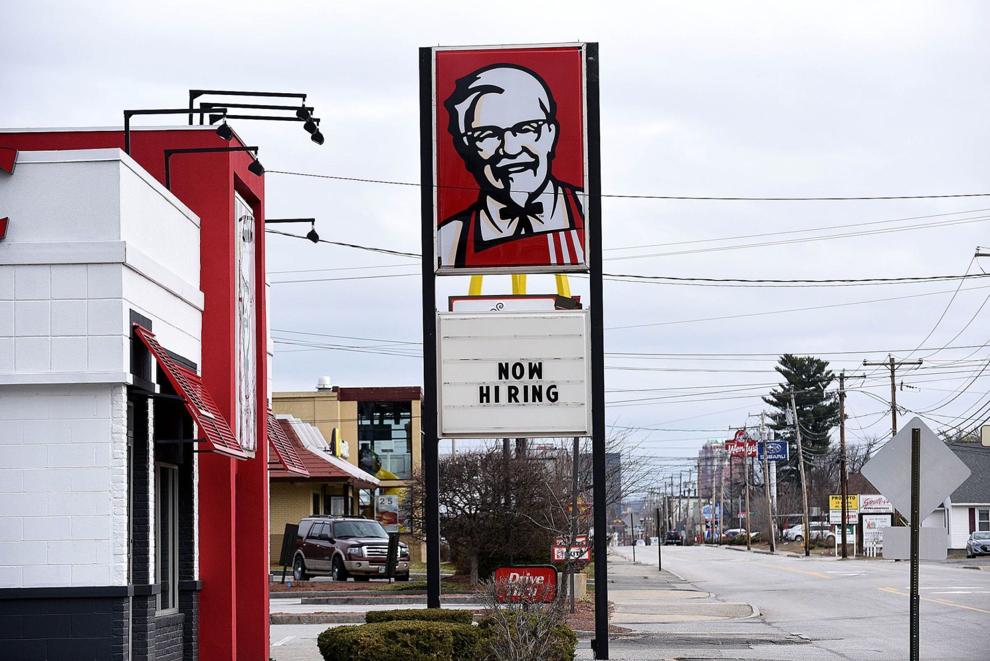 Looking at the past, New Hampshire's unemployment rate hit 7.4 percent in parts of 1991 and 1992 during a recession, most recently in August 1992. The rate stood at 7 percent or above for 23 consecutive months.
During the Great Recession, unemployment topped off at 6.5 percent for several months, most recently in August 2009, according to federal figures.
Thibeault estimated job losses at 70 percent in food services, 50 percent in retail and 25 percent in wholesale trade, which is transporting goods.
The ripple effects are widespread.
At Quik Laundry and Cleaners, the coronavirus fallout means the Laconia business is closing some days at 1 p.m., 4.5 hours earlier than normal.
"Our businessmen are working from home and don't need their clothes done," said worker Eugenia Clark. "It has slowed down quite a bit."
Massachusetts Gov. Charlie Baker on Monday ordered all nonessential businesses to close by noon Tuesday and remain so until noon on April 7.
Thibeault said about 80,000 Granite Staters commute to Massachusetts, some of whom will now work from home.
"It's hard to know how many commuters will lose their jobs," he said.
A proposed federal stimulus bill to help idled workers remained in flux Monday, making it difficult to determine how it would affect unemployment numbers, though it should help those unemployed to "pay the bills" for a while, he said.
Some companies like CVS plan to hire 50,000 people nationwide.
But others, including General Electric, planned to cut jobs.
GE Aviation said it will reduce its total U.S. workforce by 10 percent. GE operates a jet engine plant in Hooksett with about 900 workers.
"The aviation industry is feeling the impact of this global pandemic most acutely," GE Chairman and CEO H. Lawrence Culp Jr., told employees in a message.
"The rapid contraction of air travel has resulted in a significant reduction in demand as commercial airlines suspend routes and ground large percentages of their fleets."
As far as airline pilots dropping off their uniforms for dry cleaning at the Laconia shop, Clark said: "I haven't seen them in three weeks."