New Hampshire residents hammered by COVID-19-related joblessness, sickness and anxiety are logging on and double-clicking for digital doses of spiritual comfort.
YouTube channels and live streams are new territory for many churches that for years have been happy with a standardized website or Facebook page.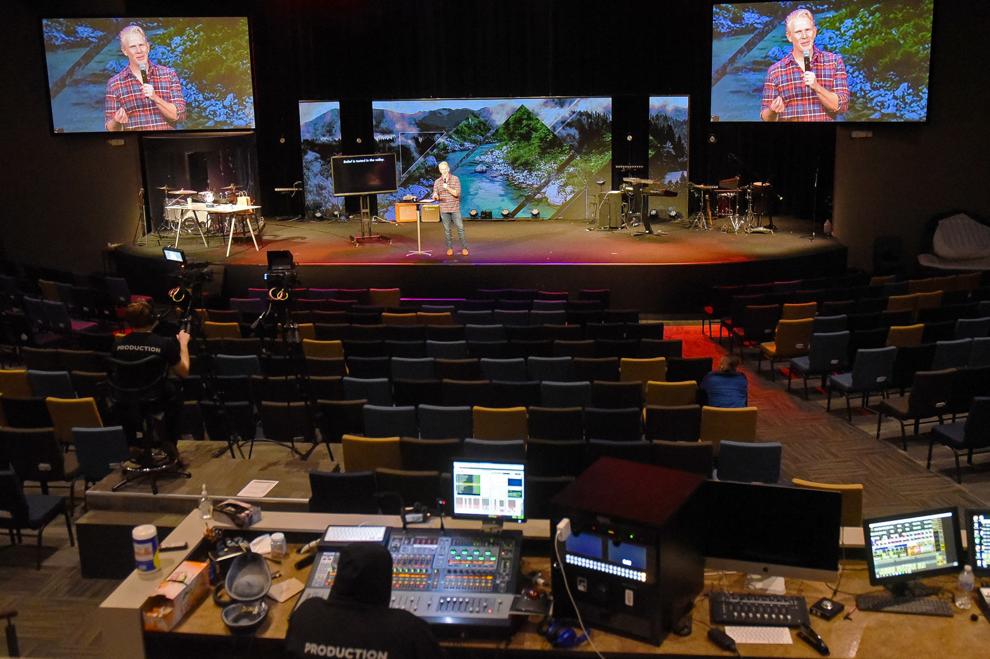 Meanwhile, one quickly growing church has ramped up its online presence already, adding a daily talk show and discussion groups aided by Google Zoom, after Gov. Chris Sununu instituted crowd restrictions two weeks ago.
"The internet has already changed the game. The pandemic has just moved the needle faster and further than anyone expected," said Bo Chancey, senior pastor of the non+denominational Manchester Christian Church.
Three years ago, Manchester Christian Church launched its fourth community presence, its online "campus," which has grown to be its single largest and — for now — its only campus.
Churches across the state started scrambling after Sununu's March 16 executive order limited crowds to 50 and specifically mentioned spiritual gatherings in a list of restricted activities. Then last week, Sununu prohibited crowds of 10 or more.
He did exempt houses of worship from the shutdown order, but they still have to limit crowds to under 10.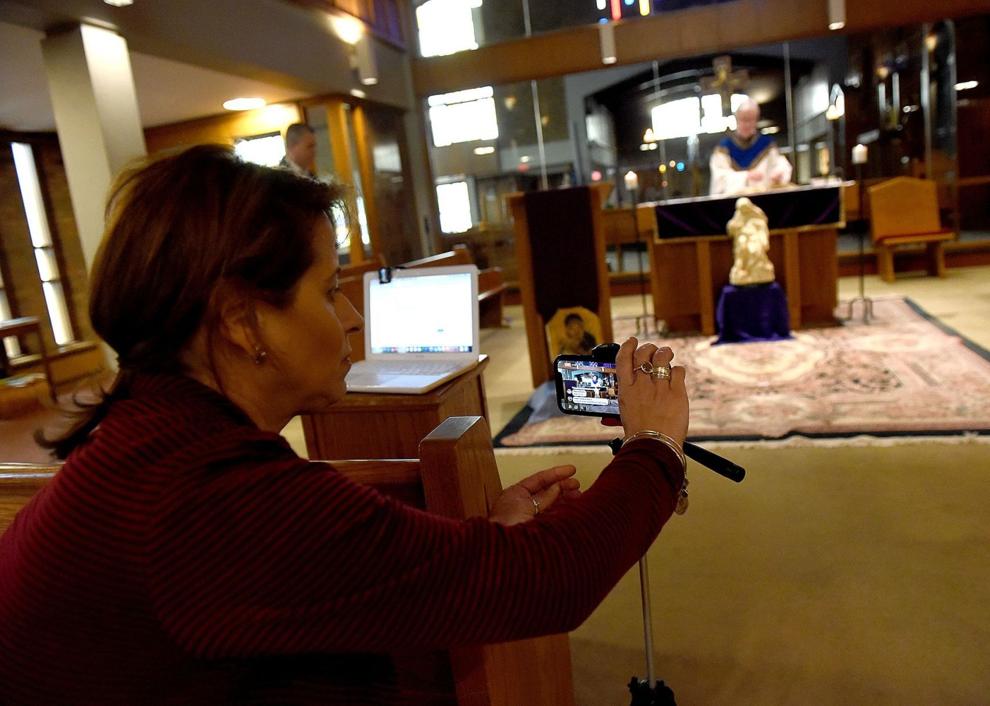 Many services are comparatively low-tech, such as the daily and Sunday Masses at St. Raphael Parish on the West Side of Manchester.
Earlier this week, the Rev. Jerome Day, a Benedictine monk and the church's pastor, celebrated Mass in a chapel that was nearly empty except for a few church workers and a Union Leader reporter and photographer.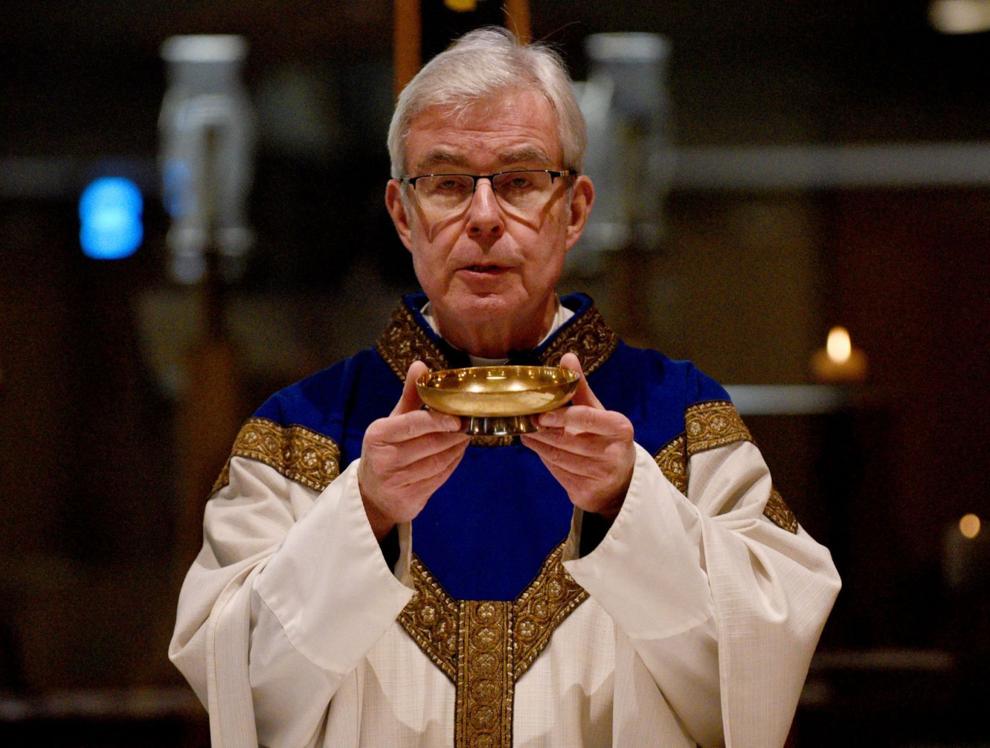 His technical assistant was the church secretary. Her iPhone was affixed to a tripod and streamed the service on Facebook Live. An uncooperative laptop forced Kerri Stanley to abandon the YouTube broadcast.
"When you offer Mass, theologically, you do it in union with the whole church, so you never do it wholly alone," Day said, "but it is a little strange."
Pre-pandemic, the noontime daily Mass drew between 12 and 30 worshipers. Online attendance has been about 25, split evenly between Facebook Live and YouTube, Stanley said.
Twenty-nine Catholic churches in New Hampshire stream services, according to a listing on the Diocese of Manchester website.
Bishop Robert Hirschfeld of the Episcopal Diocese will broadcast a service today from a chapel inside his house via Google Zoom, a video-conferencing site, said David Deziel, the communications director for the diocese.
Last Sunday, Hirschfeld's first online service drew about 370 worshipers.
"This has been so fast-moving. (Two weeks) ago we were talking about physical distancing, but (still) attending church with groups of 50 or less," Deziel said. He thinks the move online might spark new and creative ministries that will remain after the coronavirus subsides.
"We've seen a real responsive engagement, almost a faith renewal," he said.
Likewise, the Upper Valley Jewish Community — located in one of the hardest-hit sections of the state — has moved services online.
Rabbi Mark Melamut was scheduled to give Shabbat services Friday and Saturday on Google Zoom, according to the website. The community made prayer books available Friday outside its front doors.
Office manager Chris DePierro provided help via phone for people using Zoom for the first time.
"There are no silly questions, and patient and kind technical assistance is available to help you via the telephone," the website reads.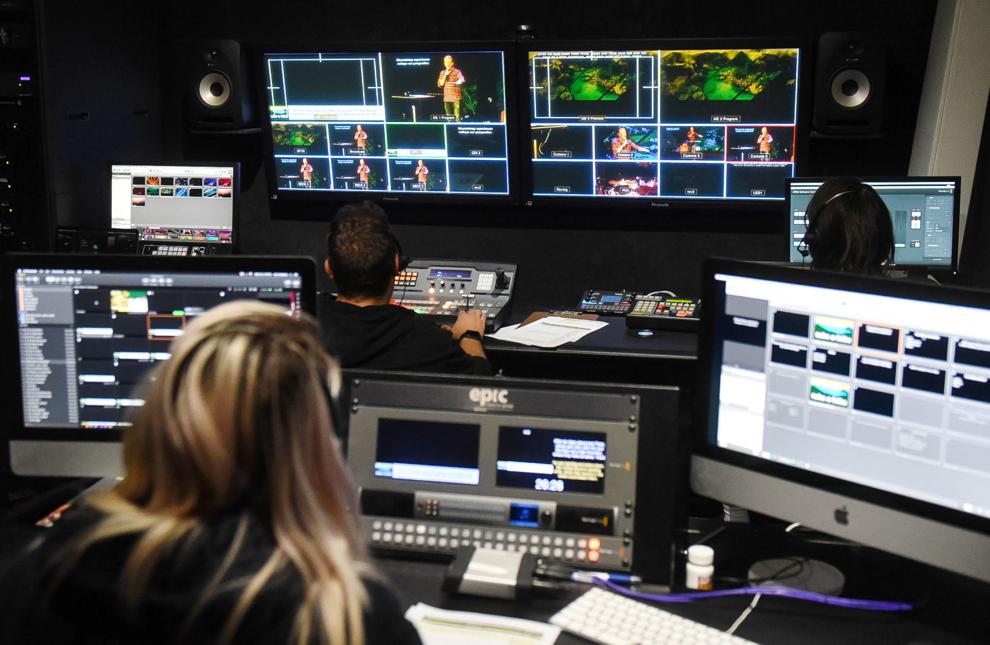 Holy meets high-tech
On the other end of the digital spectrum is Manchester Christian Church.
Chancey spoke to the Union Leader minutes after delivering a 30-minute sermon in the empty, 998-seat auditorium at the church's Bedford location. A cameraman and soundboard technician were on hand, and a production studio further refined the production by adding musical performances, communion service and a concluding message.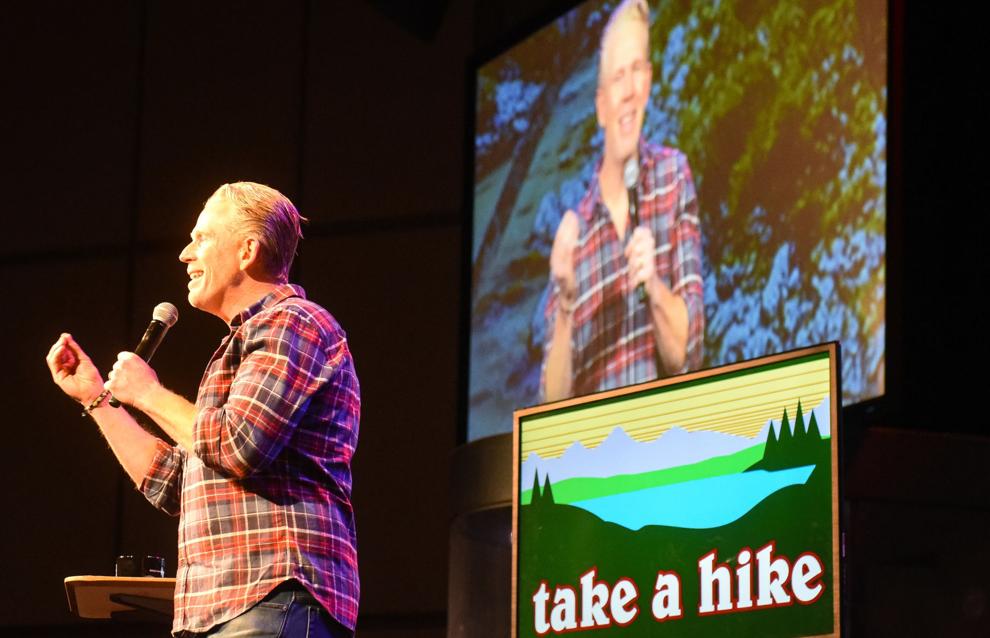 It was streamed during regular church service hours on Thursday night and is scheduled to be streamed again this morning. The church will make it available on demand this evening.
When Chancey cites Scripture, the text crawls along the bottom of the screen. A backdrop shows a mountain stream, which coincides with his message of Jesus' transfiguration on a mountaintop. Chancey uses bulleted statements to emphasize the main points of his message. A host provides pastors' phone numbers and digital contact information.
"Engagement is a word we use a lot. We try to not just get viewership; we want engagement," said Drew Crisp, the church's online minister.
Rebecca Murphy usually attends services at Bedford MCC. She tuned in online when her family schedule conflicted with the church service, so transitioning to online church has been effortless, she said.
"My generation grew up with screens," said Murphy, a data analyst in her mid-40s. "It's not that different from a movie theater, and online I can talk to the people around me. It's hard to get into a conversation when you're in the (church auditorium)."
While she watches, her husband and grown children wander in and out of the living room. They might sit down and listen, which is an easier way to get them involved than prodding them to go to a church building, she said.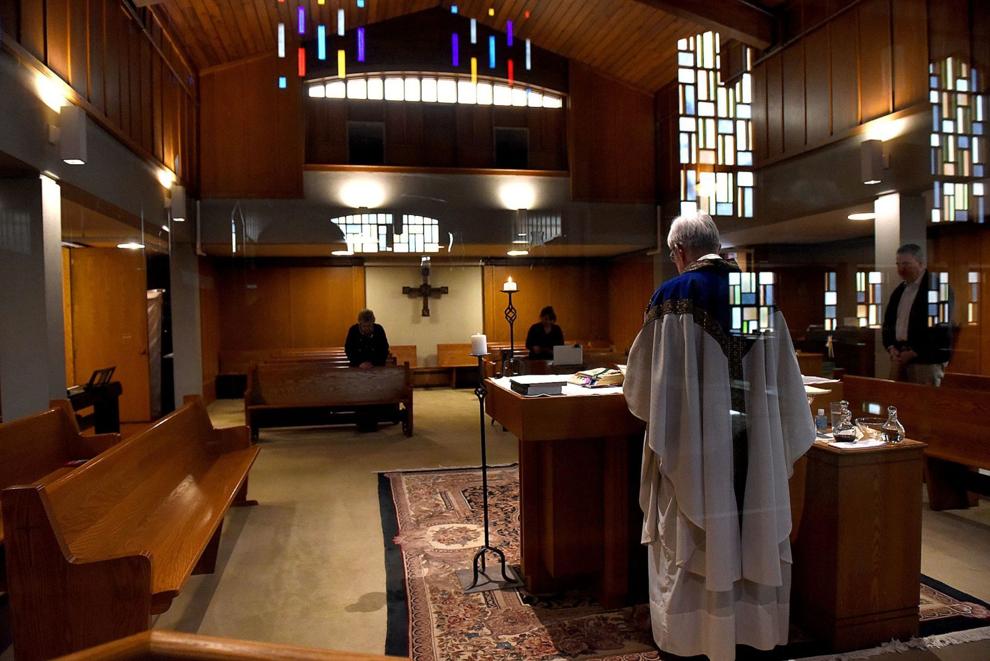 Semi-retired sales executive Ronnie Schlender approaches the St. Raphael Mass with less enthusiasm.
She speaks highly of Father Day, and she said the online Mass provides a connection to the faith. But she can't partake of the Holy Eucharist — bread and wine that Catholics believe is transformed into the body and blood of Jesus Christ.
"It's like going to the feast and not eating," Schlender said.
Day said it would not be appropriate for Catholics to consume their own bread and wine at home while watching Mass.
Giving affected
A more earthly matter is the collection plate.
Catholic Masses have an offering about halfway through the service. Day said he does not ask online for donations during that portion of the service.
He said the church has seen a dip in donations. But a few donors have come forward with large contributions, and the church website has a donation link.
Manchester Christian Church does not ask for donations during the service. It has a giving box outside the church auditorium, and online donations already outnumber traditional donations, Crisp said.
The Episcopal Diocese has some capabilities for online donations, Deziel said, but officials are working to bring them up to speed.
What about Easter?
The dates that loom for Christian congregations, whether digital neophytes or experts, are Holy Week and Easter, the most sacred part of the Christian calendar, when churches are usually filled.
President Donald Trump has said he would like to see churches filled for Easter on April 12.
Sununu's stay-at-home executive order stretches to May 4. The crowd restriction of 10 people ends on April 6.
Some signs recently appeared around Manchester for Easter at the Arena, the MCC event that uses the SNHU Arena. They were placed by enthusiastic members, but the event will not take place, said Jason Rose, minister of the Bedford campus.
Day and Deziel said they are working on services for Holy Week and Easter, but anticipate they will be online.
"It does make you feel a lot better," Schlender said, "than sitting down and watching the coronavirus news on television."