CONCORD — New Hampshire was the first state to offer all first responders "hazard pay" bonuses for being on the front lines of the COVID-19 pandemic.
But unlike Gov. Chris Sununu's other relief initiatives, few states or the federal government have followed this one. And the $300-per-week bonuses for New Hampshire's firefighters, police, EMS and corrections officers have drawn controversy.
"Governor Chris Sununu you should be ashamed of yourself; to not include the doctors, nurses, hospital personnel, those who are keeping people safe at home on hospice and caregivers providing needed personal assistance, let alone the cashiers at grocery stores," Gayle Spence Davis posted on Facebook recently.
"I have no idea who gave you this advice, but you have been horribly misguided. We are on the front lines every day and frankly, you do not really care. Open up the economy a little more and see where that lands us."
Spence Davis, who works for an in-home care program for seniors, stressed that first responders should get help, but others should as well.
"I am not saying they don't deserve it BUT there are others who do too. When NH went to 'Stay at Home' there was a list of essential workers; those awarded today were only a fraction of it," Davis posted.
Unsought but appreciated
Nashua Fire Chief Brian Rhodes's crew has dealt with the second-highest number of COVID-19 cases in the state, including at least nine deaths.
Rhodes didn't ask for the pay bump but said he appreciates the sentiment.
"We had no idea it was coming. Yeah, it is a really nice thing the state is doing to recognize the hard work the first responders are doing in the community," Rhodes said.
"Part of our job is inherently dangerous, and we signed up for that," he said. "There are a lot of people out there who have done some heroic things — the volunteers, the folks who have kept their businesses open. I have a ton of respect for all they have gone through."
Sununu first came up with the idea of weekly bonuses last month for health care workers.
He set up a $75 million fund to support $300-per-week checks for all those who give direct care to clients in programs the federal-state Medicaid program supports for low-income people, seniors and the disabled.
Started with long-term care
The governor said the move was partly market-driven.
Nursing home and other direct care providers feared their workers, many whose pay peaks at $11 per hour, would leave in droves if they could receive more while on employment. That benefit includes an additional $600 a week in federal money through July.
The gambit appeared to pay off as providers applied to pay bonuses to more than 20,000 workers.
On May 4, Sununu implemented the payments for first responders with a $25 million fund to run through the end of June.
"We wanted to create that stipend, not just to offer an appreciation for what they do," Sununu said. "This is one way also as we are moving forward with cities and towns to provide a little extra help to them."
The governor said taxpayer dollars should not be used to boost the pay of "essential workers" in the private sector.
Some firms have given hazard pay to their workers during the pandemic, including Amazon, Whole Foods, Albertsons, Kroger and Safeway.
In mid-March, Sununu was the first governor to create a state fund to keep hospitals open — a $50 million, no-interest loans program.
The idea spread in states across the country, and Congress responded with help multiple times.
New Hampshire hospitals and health care providers have received nearly $300 million since the pandemic began, Sununu said.
In fact, they have received so much that when Sununu's legislative advisory board proposed giving hospitals another $100 million 10 days ago, he cut the amount to $20 million.
Few states have chipped in
There's been no such chorus of support for first responder checks. According to EMS1.com, a website closely following the issue for the emergency medical service community, only three other states have endorsed statewide programs, most more limited.
Maine Gov. Janet Mills was first, granting $5-an-hour hazard pay for 800 union employees, including corrections officers and mental health workers.
Massachusetts Gov. Charles Baker approved a union settlement with 6,000 state health care workers that provides them extra pay of up to $10 an hour.
Similarly, Michigan Gov. Gretchen Widmer endorsed giving 6,000 corrections officers in her state an extra $750 per pay period after 151 tested positive for COVID-19.
A few dozen communities in 14 states have acted to award bonuses for their own employees.
In Atlanta, officials granted $500 a month for public safety and sanitation workers, and in Baltimore, police, fire and EMS employees get $200 extra every two weeks.
Nashua's Rhodes said his city's contract does not give firefighters hazard pay in extraordinary situations like COVID-19.
These employees are eligible for overtime, which in many cases has been significant during the emergency.
First responder pay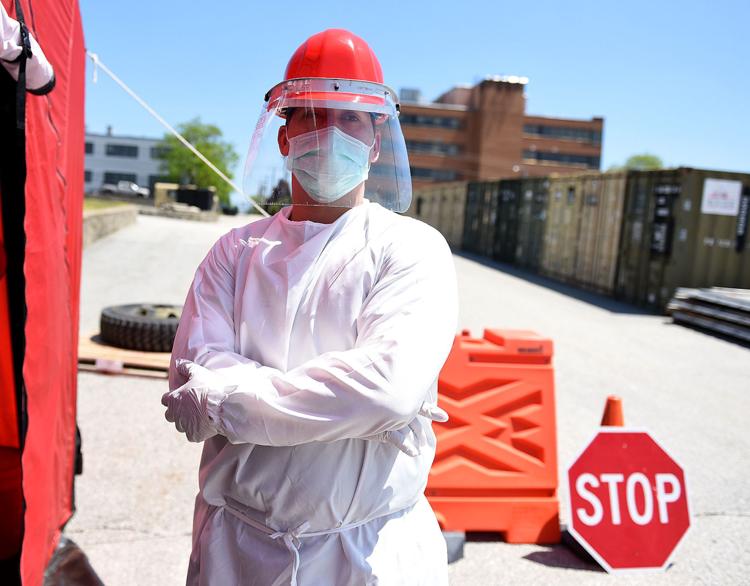 The Union Leader annually has reported a few dozen police officers in Manchester receive full pay that's more than double their annual salary, thanks to overtime and special detail pay.
Reviews of payrolls for state government workers found dozens of state troopers and corrections office workers had six-figure incomes for the same reasons.
During the pandemic, state and local governments can be reimbursed for any overtime that is directly connected to COVID-19.
New Hampshire ranks 21st in the country in pay for first responders, according to Yahoo Finance — an average of $58,120 a year for police, $48,640 for fire and $38,390 for EMS.
First responders in Massachusetts (13th), Rhode Island (15th) and Connecticut (7th) have higher average pay. Those in Vermont (36th) and Maine (41st) make less.
Trump embraced idea early
Policymakers in many states might have decided not to pursue additional first responder pay because they believed the Trump administration was going to carry it.
"I think it's something we are discussing in terms of bonus or bonus pay," President Donald Trump said April 1.
A few weeks later, U.S. Treasury Secretary Steven Mnuchin said hazard pay for first responders was "definitely something we'll put in the next bill," referring to a fourth stimulus package.
U.S. Senate Majority Leader Mitch McConnell changed course on Friday, saying that though the Senate likely will pass another COVID-19 stimulus bill, "I can tell you it won't be a $3 trillion liberal wish list."
Senate Democrats want to give up to $25,000 to essential workers.
During a recent conference call with local officials, Portsmouth Mayor Rick Becksted urged Sen. Jeanne Shaheen, D-N.H., to press for hazard pay, along with more direct payments to communities.
"If we don't do that, we are going to start to see layoffs," Becksted said.
Legislative leaders embraced Sununu's proposal and in fact, sought even more.
Before Sununu came up with his proposal, Democratic candidate for governor and Senate Majority Leader Dan Feltes promoted a $50 million account to pay first responders more.
House Finance Chairman Mary Jane Wallner, D-Concord, pushed Sununu to add state child protection workers going into homes to investigate complaints of alleged abuse.
When advocates urged Sununu's Economic Reopening Task Force to give bonuses to nurses working in the prison system along with private contractors working at nursing homes, Sununu agreed to add them.
Debate over 'essential'
Still, Patty Miller, a peer support specialist for Dartmouth-Hitchcock Medical Center, said on social media that all "essential workers" should be eligible for the benefit.
"The first responders knew when they chose that work they would be at times risking their lives. They get paid more and definitely have earned respect on a regular basis; however, when people become employees at a grocery store or gas station, or janitors or fast food employee etc. they did not think they would be risking their lives," Miller posted.
"As a matter of fact, most people didn't think they deserved $15.00 an hour. Now they are risking their lives and their family's lives and are still not getting $15.00. Let that sink in."
Brian Parks, an on-call firefighter with the North Country town of Dalton, could receive a $150 per week bonus.
"Please do not downplay us first responders and firemen," Parks said in responding to Miller. "We are on the front line. I myself get a stipend at the end of the year and am not paid during these months but you still can't call ourselves volunteer any more. We live in small towns and are out there in the line of fire."
Nashua Fire Chief Rhodes said as for his ranks, the extra pay will be reinvested locally.
At the onset of the pandemic, Nashua firefighters ran into problems getting food because of their work schedules.
"Some of the union members got together and pitched an idea with the community. They worked with five restaurants and caterers in the community to buy a total of 76 meals a day from local merchants," Rhodes said.
"I can't speak for everyone, but I am fairly certain and hopeful that the vast majority of this money ends up back in the local communities."