Sitting on a couch in the late day sun, surrounded by friends, Cindy Gravell took a sip from her cocktail and smiled.
"Good times with good friends," said Gravell, of Windham. "There's nothing better than that. It's just a sense of normalcy, enjoying each other's company."
Gravell and three friends were enjoying drinks and a pizza in the new outside dining area at Tuscan Kitchen in Salem, joining dozens of diners looking to get out of their homes for a bite to eat Monday, as restaurants welcomed back customers after two months of being limited to curbside pickup and delivery only.
"It's nice to have someone wait on us," joked Melissa Trombly of Derry, part of Gravell's group.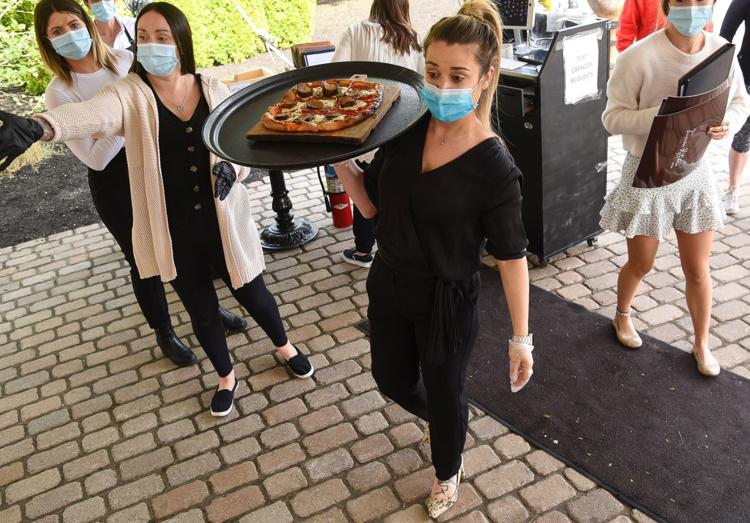 Monday marked the first time New Hampshire restaurants have offered sit-down dining — outdoors only, and under certain conditions — since they were shut down in response to the COVID-19 pandemic.
The newest phase of reopening carries many restrictions, such as tables positioned to keep parties six feet apart, and no more than six people allowed at a table. Employees must wear face masks or coverings.
At Tuscan Kitchen, a large white tent was installed by the patio to accommodate diners. The area can handle about 200 people, with more distance between tables than required, said Joe Faro, founder and CEO of Tuscan Brands.
"We're pretty blessed that everybody came out to say hello," said Faro. "I think they all wanted to come back out to eat and have a few drinks. We're just excited to see people smiling again."
Faro said the entire setup — including the giant tent, container bar, and wood-fired pizza oven — came together in about five days.
"We wanted it to feel authentic, not just a tent with a few chairs around it," said Faro. "We're just playing the cards we were dealt. We get lemons, we're gonna squeeze limoncello."
Former Republican state representative David Dalrymple was enjoying a meal decked out in a colorful sombrero and poncho.
"I missed Cinco de Mayo, so here I am," said Dalrymple. "This is the perfect thing to help me celebrate. Look how beautiful this place is? I think Gov. Sununu is doing things right, gradually opening things up. This makes me so happy."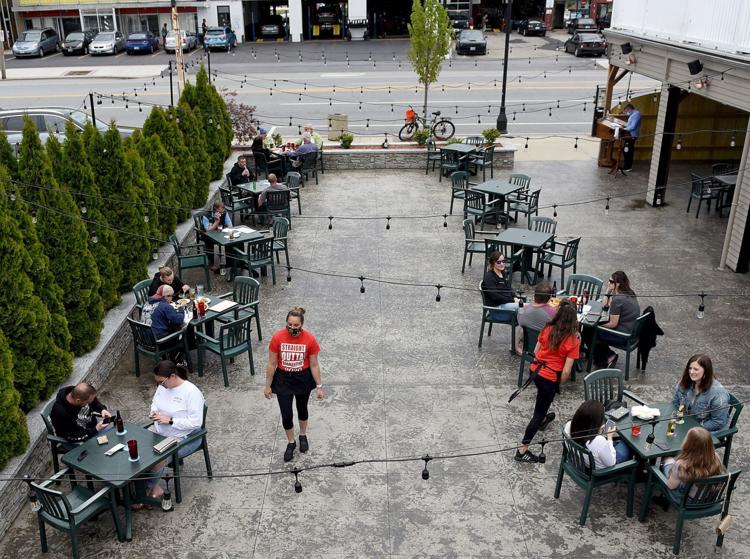 "It's been a downer"
Elsewhere in the state, patrons took advantage of the opportunity to eat out again.
"Isn't it nice? It's just good to be outdoors and see people around you," said Ginny Harris, who joined her husband, Fred, for lunch at Billy's Sports Bar and Grill on Tarrytown Road in Manchester.
Billy's blocked off a large area of the parking lot and set up 14 picnic tables with umbrellas, all spaced apart to meet the social distancing and safety protocols of Sununu's "Stay at Home 2.0" order.
Servers were all wearing face masks and a large bottle of hand sanitizer was available for customers on a table at the entrance.
"I think people are really starting to feel a little better, because it's been a downer," Ginny Harris said of the restaurant shutdown that began March 17.
The two-month shutdown wiped out St. Patrick's Day, one of the busiest days of the year for bars, and forced many places to furlough or lay off staff.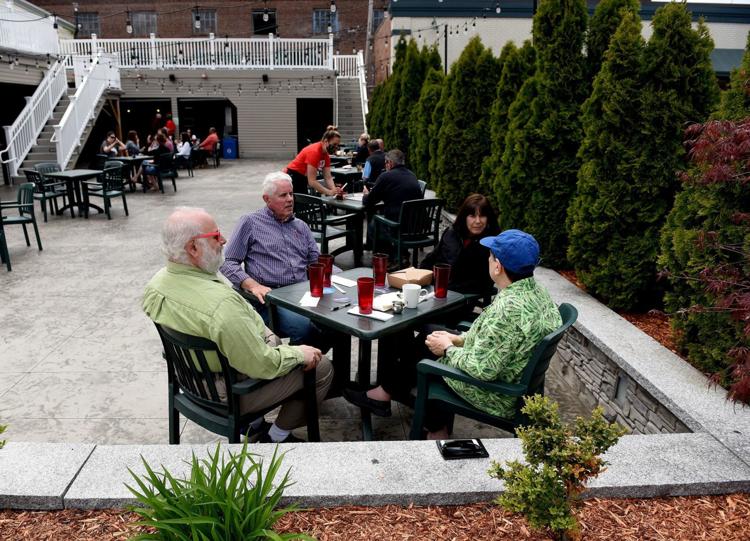 Keith Murphy, who owns Murphy's Taproom on Elm Street and Murphy's Taproom and Carriage House in Bedford, said the lunch crowd at both locations was probably double what he sees on a typical Monday.
"After eight weeks of being closed, it's a real relief," Murphy said. "I'm in a better position than a lot of the other restaurants in the state and I feel very lucky to have the outdoor patios that I have."
Megan Decelle and Sam Wilson of Manchester were finishing their lunch and were accompanied by Riley, their golden retriever who had enjoyed his "puppy patty."
"We were the second people here, two minutes after they opened," Decelle said.
Patience, please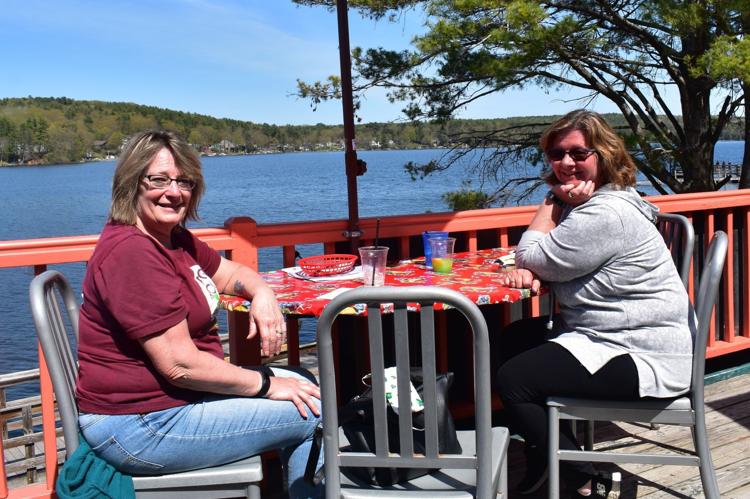 In Meredith, best friends Stacey Gaudet of Nashua and Tina Philbrick of Milford enjoyed an al fresco lunch at the Town Docks in Meredith on Monday.
Philbrick said that she and Gaudet, whose families both have seasonal camps in the area, were practicing social distancing and taking precautions, as were their fellow diners.
"I think for the most part, people are doing an excellent job" of heeding safety measures, said Philbrick.
The pandemic has cost the Town Docks employees, said manager Nicole White, with several "stuck" in Europe where they were participating in study-abroad programs. Others chose not to return out of concern for their safety or that of family members.
She said the Town Docks filled "a few new positions" for people to thoroughly, regularly and repeatedly clean and sanitize the restaurant.
"We're very happy to have our guests and our staff back and grateful for everyone's cooperation and patience as we navigate this new system," White said.