By all means, don't walk through the door. (There probably won't be anyone there anyway.)
If you need something just call.
Unemployment benefits: 271-7700.
Your doctor. Or if you don't have one: 271-4496.
Welfare or other human-services assistance: 844-275-3447.
As the COVID-19 pandemic forces people to stay home and social distance, they are turning to the old fashioned telephone for information and consolation in a world that is rapidly disconnecting.
"There's a lot of comfort in talking to a person. Our people are helpers," said Patrick Tufts, president and chief executive of Granite United Way.
On Friday, Gov. Chris Sununu made Granite United Way's "211 NH" line the statewide call center for COVID-19.
211 NH calls jumped to 7,000 over a five-day period — normally a month's worth of calls.
Meanwhile, if you need to see a doctor expect a telephone conversation first. At doctor offices the telephone has become essential, with offices instituting "phone visits" in order to screen patients for COVID-19 and provide medical care. Depending on the situation, a telephone call or telehealth, which makes use of telephone and video visits, will be as far as you get.
"It is very emotionally taxing," said Dr. Carolyn Claussen, the medical director of primary care at Catholic Medical Center. "We are used to healing and fixing our patients and it feels horrible to not be able to bring the patient in face to face."
On Monday and Tuesday, the call volume to CMC primary care practices was astronomical but has since tapered off, she said.
People call 211 NH for all sorts of reasons: unemployment benefits and food stamps, COVID-19 test locations and senior citizen shopping hours. And that is on top of normal calls that range from finding free tax preparation service to the location of a nearby food pantry.
"We are getting people who are concerned, people who are very concerned, and people who want to make sure they are doing the right thing," said Chuck Fairfield, an information and referral specialist for United Way.
"With COVID-19 calls, we're doing a lot more supportive listening, trying to put people at ease," he said.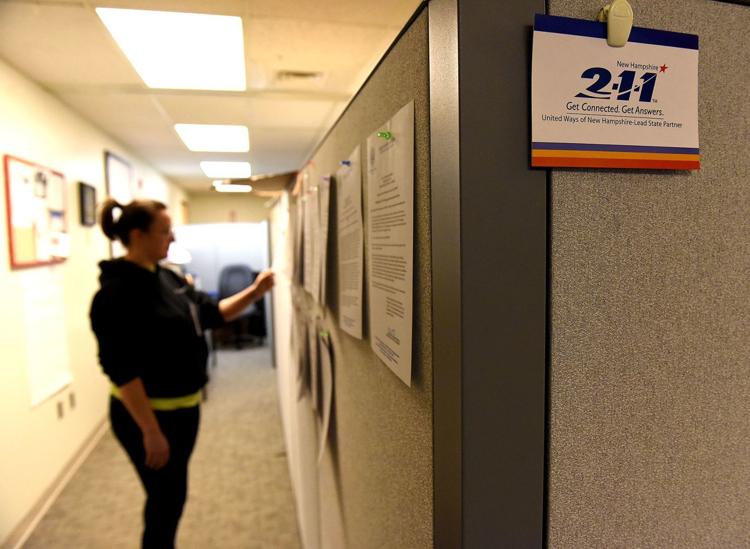 CMC's Claussen said much of the time on the telephone is spent educating and reassuring patients, which is essential work.
"The more people learn about the virus, the less fear there is," she said. Some calls can be complicated: a patient self-quarantining who has to get a sick child to the doctor, or a person who may have the virus but is the primary caretaker for an elderly parent.
Next week, CMC will begin calling patients the day before an appointment to screen for COVID-19 risk factors such as travel and fever. Once patients arrive at the office, they'll be given a mask and be told to wait in their car for their appointment, Claussen said.
Through phone conversations, the Elliot helps provide patients with support, discussing management of symptoms, social distancing, self-monitoring and quarantine requirements, said Melissa Taylor, director of ambulatory nursing at Elliot Health Systems.
At 211 NH, specialists are working overtime, and state workers are also providing backup. They range from troopers to lottery commissioners.
"We're prepared for the long run," Tufts said.
Fairfield said COVID-19 is one of the most common reasons behind the calls that come in. He said the call takers have the state's latest guidelines available on who gets tested — basically health care workers, people in health care settings and the very sick — and this is explained to the callers. The call takers also reassure the callers that most who get the virus will be able to deal with it at home.
"A lot of people are completely understanding," Fairfield said.
The statewide service, which costs Granite United Way about $750,000 a year to run, includes a translation service.
And for millennials, there is even a text version of 211 — 603-898-211.