EDITOR'S NOTE: Gov. Sununu on Sunday, March 15, ordered public schools closed until at least April 3rd.   See related story.
---
MANCHESTER — City schools will close for two weeks starting Monday in response to what health officials fear could be the state's first case of COVID-19 without clear ties to a confirmed case.
The state's seventh confirmed infection with the coronavirus was announced late Friday. The next day Manchester school officials said they will close all schools until at least March 27.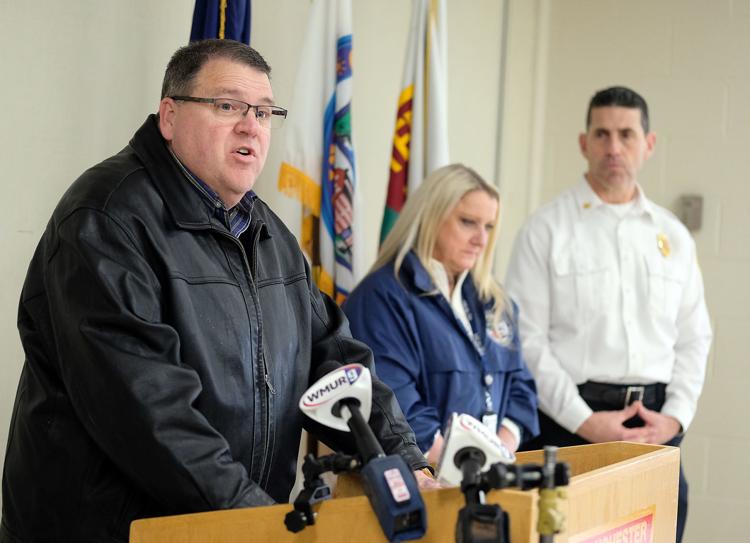 "I don't take closing our schools lightly, and I knew that sometime, with the spread of the virus, that this day would come," said Superintendent John Goldhardt at a Saturday news conference with city officials at the Central Fire Station.
City public health director Anna Thomas said city health officials were erring on the side of caution in assuming that the seventh case of COVID-19 came from "community spread," or transmission when the source of the infection is not known.
If the state Department of Health and Human Services confirms that the case came from community spread, it would be the first such case in New Hampshire.
But Thomas said the state is still investigating the case.
"We don't know how this case developed," Thomas said. "We are speculating at this point."
Goldhardt said he delayed the decision to close city schools for as long as possible. He had said Friday that schools would stay open, but reversed course Saturday.
Manchester's students do not all have access to computers and internet connections that would make remote instruction easy, he said. Many rely on school cafeterias for breakfast and lunch. But Goldhardt said the possibility of community transmission in New Hampshire convinced him that closing the schools was a necessary step.
Students will receive remote instruction, Goldhardt said, through a combination of digital and paper assignments.
Families who need help finding day care for young children can call the school district office on Monday morning, he said.
Goldhardt said he met with the city teachers' union and said teachers will deliver instruction remotely, so they will still be paid through the closure. He said the district would find work for paraprofessionals and secretaries while schools are closed.
Manchester joins a growing list of school districts that are closing in response to the COVID-19 threat. Nashua, Merrimack and Hudson schools are closed this week and the superintendent of SAU 15, which includes Auburn, Candia and Hooksett, announced Saturday that schools would be closing for at least two weeks starting Monday.
Concord's school board is teleconferencing Sunday and is expected to close schools for the next two to three weeks, according to a letter sent to school staff and parents on Saturday.
Most districts plan to offer remote learning beginning this week.
Meanwhile, Department of Education Commissioner Frank Edelblut will join Gov. Chris Sununu and Lori Shibinette, commissioner of the Department of Health and Human Services, at a rare Sunday news conference in Concord, it was announced Saturday evening.
Manchester Mayor Joyce Craig also announced Saturday that the William B. Cashin Senior Center would close, too. The city library will stay open, but library programs and events have been postponed and canceled.
Police, fire and public works departments will operate as normal. Craig asked anyone with business at other city departments to call before coming to City Hall. Other departments may close or city employees may be working remotely.
Tuesday's meeting of the Board of Mayor and Aldermen has been postponed, Craig said, and the board will try to find a way to meet without all being in the same room.