First responders, health care workers, and others on the front lines in the fight against COVID-19 across New Hampshire will be the main beneficiaries of a shipment of 91,000 pounds of protective equipment that arrived at Manchester-Boston Regional Airport Sunday.
Inventor Dean Kamen facilitated the shipment via FedEx cargo plane from Shanghai, China to the Granite State. The state is purchasing the entire shipment of medical supplies, which state officials said includes 6,140 boxes of protective equipment containing 6.6 million masks, 50,000 face shields and 24,000 Tyvek coveralls.
"The state of New Hampshire got a great Easter present this afternoon," said Gov. Chris Sununu. "When we got word that the plane had actually taken off from Anchorage and was truly airborne and on its way to Manchester, a huge sigh of relief went up from a variety of folks. This was an incredible team effort. Today is a jumping-off point not just for the state, but for all the health care facilities and all the individuals who can actually start benefiting from getting this PPE."
"I talked to Dean Kamen a couple of weeks ago,and he had a whole list of things he was working on for the state that was going to help make a difference," said Sen. Jeanne Shaheen, D-NH. "He said he had an opportunity to bring all this PPE to the state, but he may need a little help. I said, 'Don't worry Dean — the governor has your back, I've got your back and Sen. Hassan's got your back.' Dean Kamen is the hero today."
In response to the coronavirus pandemic, Kamen had reached out to his DEKA Research and Development Corp. employees who live in China to ask for help in acquiring masks, gowns and other medical supplies for health care providers here in New Hampshire.
"Anybody that knows me knows I rarely have a plan. I never have a plan — I react to opportunities," said Kamen "A few weeks ago when I found out we had the opportunity to get high-quality PPE that I knew we desperately needed through our connections in China, I called a few of the people at CMC and Elliot to see what was needed. Every day I thought I had enough stuff, the list kept growing and growing. I called Fred Smith (chairman and CEO of FedEx Corp) and said, 'I might need a whole airplane.'"
Kamen said he put up the money for the equipment because the state couldn't "pre-buy" it without inspecting the equipment first.
"It's too risky for the United States government and the New Hampshire government, so I put it up," said Kamen. "I trust the governor, I trust the senator, and we had a long-distance handshake. I hope the state makes good use of this to help the health care workers. There's enough there for the police, first responders, for people in all sorts of places besides the major hospitals."
Health officials last week said health care workers continue to make up 25-30% of COVID-19 cases.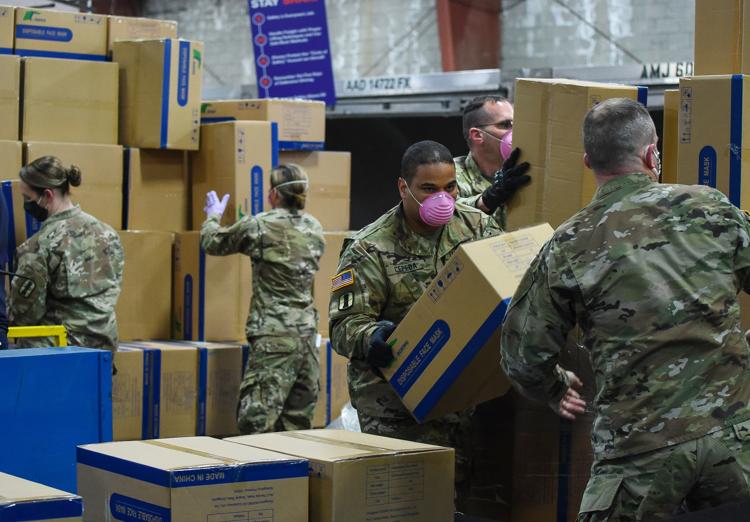 Sununu said the state will pay $5 million for the equipment and distribute it for free to those fighting the coronavirus pandemic.
"One month ago New Hampshire wasn't even in the business of PPE procurement, and today we secured 41 metric tons of this critical lifesaving equipment for our state," said Sununu.
"This major shipment of personal protective equipment will help save lives and make a huge difference for our state," said Sen. Maggie Hassan, D-NH, in a statement. "We passed the CARES Act to ensure that supplies like these could get to the front lines, and I want to thank Dean Kamen for his round-the-clock efforts to deliver these supplies to New Hampshire. While today's shipment is great news, it's essential that the administration addresses ongoing supply chain issues and ramps up the production and distribution of vital medical supplies."
Asked about how the protective equipment will be distributed, Sununu said state officials have put out a census to health care facilities across the state to learn who needs what.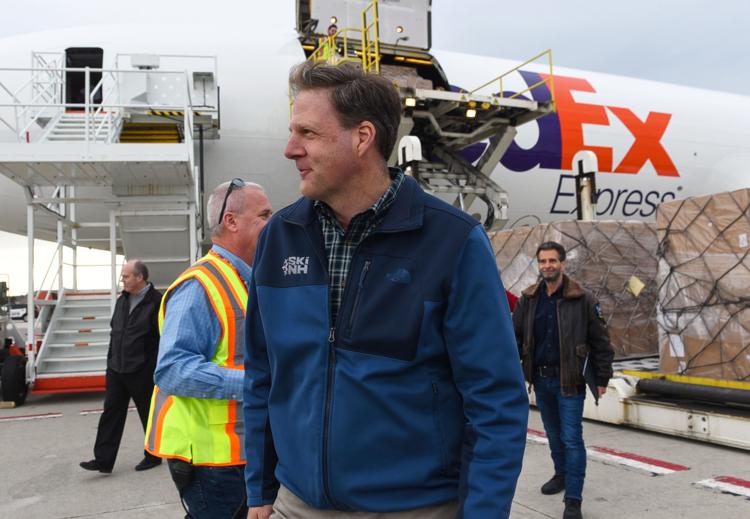 "Everyone needs something," said Sununu. "No one's out, but everyone needs something."
Sununu said as much as a shipment this large helps, "we're still going to need more."
"You might think as big as these shipments are, they would last a year," said Sununu. "They won't, because the burn rate is so high. Protecting our health care workers is paramount, because as much as we've plateaued, if we see a spike in short order we need to be prepared."
On April 3, Kamen's DEKA Research and Development Corp. delivered thousands of surgical masks and hundreds of coveralls to Catholic Medical Center, Kamen told the Union Leader. DEKA employees also delivered dozens of face shields they've been manufacturing themselves in Manchester to Catholic Medical Center and Elliot Hospital.
Kamen's other Millyard venture, the Advanced Regenerative Manufacturing Institute (ARMI), is also joining the fight against the pandemic.
"We're not doing vaccines, but we're working on the equipment to help develop a test," Kamen told the Union Leader. "New kinds of cells and new kinds of systems, everything from diagnostics to therapeutics. We don't build your house; we build hammers and saws. We're building the tools for the people that will make the vaccines."