A Hillsborough County man over the age of 60 has died from COVID-19, state officials said Monday during a press briefing.
The Hillsborough County man was over age 60 and had other health problems, officials said.
New Hampshire now has 101 reported cases. 
Gov. Chris Sununu said the numbers will "dramatically increase." 
National Guard, SNHU mobilize for COVID-19:
The New Hampshire National Guard had mobilized activated 15 members for COVID-19 related matters, the Guard said on Monday.
Lt. Col. Gregory Heilshorn said the 15 are a fraction of up to 1,800 Guard soldiers and airmen who can be activated if necessary.
Past in-state activations focused on weather emergencies such as the 2005 Mother's Day flood and 2008 ice storm and involved at most 500 Guard troops.
Over the weekend, the National Guard assisted various state and local agencies in preparing the Stan Spirou Field House at the Southern New Hampshire University into a clinical flex area, said Manchester Fire Chief Dan Goonan.
The gym will be able to hold as many as 250 overflow patients from Manchester hospitals, he said.
"We want to keep the space in both hospitals available for people who are really critically ill," Goonan said.
Meanwhile, Keene State College acknowledged that it is working with local officials and public health experts to provide "additional space for care on our campus" if necessary, said college spokesman Kelly Ricaurte.
She said preparation work will begin once nearly all students have been moved out, which should be by the end of the day tomorrow.
Twenty or fewer students will be left on campus, and they will live together in the same building, Ricaurte said.
Heilshorn said the activated Guardsmen and women can be used for a number of activities.
"Right now, for this one it's planning, logistics, command and control are some of the bigger (activities)," he said. Other duties could include ground transportation of food, water and medical supplies as well as roadblocks and other enforcement measures, he said.
Among the National Guard ranks are about 65 medical personnel: 10 doctors, five nurses and 50 medics.
---
Sununu: Restrictions likely to last longer than planned
Gov. Chris Sununu advised citizens to expect that the restrictions on public access in New Hampshire caused by COVID-19 will likely extend beyond the expiration date of existing executive orders.
"I don't think it would be smart to say this will all be done April 7," Sununu said during an interview Monday on the NH Today Show with Jack Heath.
The two-term governor said he's working on setting up a volunteer network that will help support citizens are shut in their homes especially the elderly.
Sununu said he's working with Volunteer NH, Granite State United Way and the New Hampshire Charitable Foundation to develop this new service he'll announce later this week.
"Thousands of people want to volunteer their time," Sununu said. — Kevin Landrigan, Union Leader
---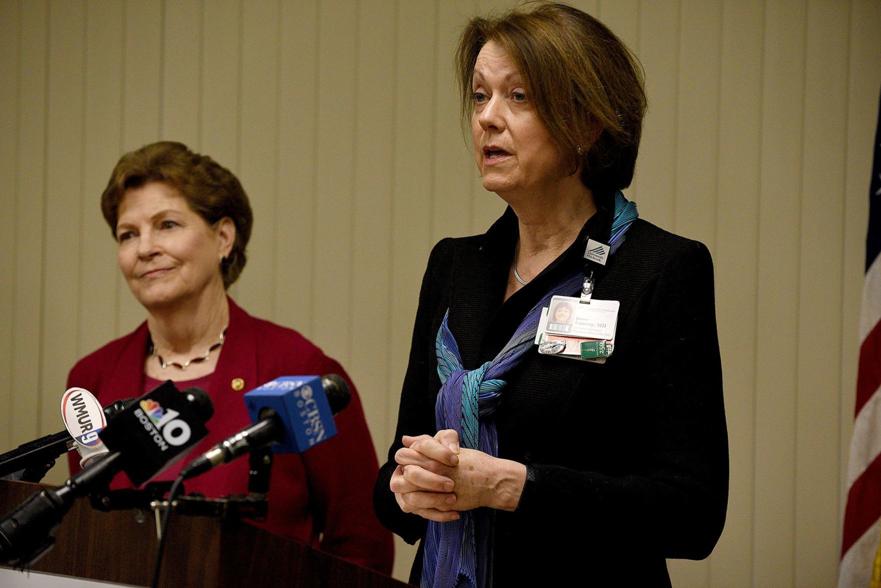 D-H develops coronavirus test
Dartmouth-Hitchcock Medical Center announced Monday that its laboratory is now able to test for the coronavirus that causes the COVID-19 respiratory illness.
The testing became available on Wednesday, Dartmouth-Hitchcock said, but implementing it required testing and validations of new protocols set by the FDA and the Centers for Disease Control.
Because of the shortage of supplies and equipment, the medical provider is reserving the tests for hospital patients, health care workers and first responders. It expects the turnaround time from tests to results should hit 24 hours or less within a week to 10 days once the testing is fully operational.
"Our testing capability continues to grow and evolve, and being able to test here at DHMC allows us to more rapidly screen patients and make best use of our resources," said Dartmouth-Hitchcock Health Chief Clinical Officer Edward J. Merrens, M.D., in a news release. "We also believe the ability to test here will help relieve pressure on the New Hampshire state laboratory, enabling the state to assist other hospitals. Our priority remains to care for our sickest patients and support those who care for them." — Staff Report
---
Advocates celebrate 10 years of Obamacare, seek special enrollment to deal with COVID-19
CONCORD — Health care advocates and the state's all-Democratic congressional delegation urged the Trump administration to drop its lawsuit to repeal Obamacare as it marked its 10-year anniversary Monday.
Texas officials filed a lawsuit to dismantle the Affordable Care Act in February 2018 and 19 other states have joined on its behalf.
Gov. Chris Sununu decided earlier this month to join in defense of the lawsuit over concern that its repeal would erase coverage for 50,000 low-income adults allowed under the expansion of Medicaid.
"We should all take a moment to celebrate this important milestone and renew our commitment to fight to protect the ACA. With everyone working together, I know that we will continue to enjoy the protections of the ACA for years to come," said U.S. Sen. Jeanne Shaheen.
Protect Our Care NH spokesman Jayme Simoes urged the Trump administration to grant a special enrollment period that would allow younger, healthier workers to sign up to get covered and not have to wait until annual enrollment begins this November.
"Now is the time to reopen the open enrollment for everyone," Simoes said.
Last week, Gov. Sununu asked federal officials to approve a "60-to-90 day" special enrollment period to help those without insurance get coverage while dealing with COVID-19.
The traditional enrollment period under Obamacare is each year from Nov. 1-Dec. 15.
The Affordable Care Act does permit citizens to purchase health insurance at other times if they have a "life-changing event" such as a wedding, the birth of a child or losing their job.
Dr. Randy Hayes, a retired physician and spokesman for the liberal Kent Street Coalition, said New Hampshire and other states that expanded Medicaid have had better outcomes for their citizens than states that have failed to do so.
"It would be irrational to continue the lawsuit and end health care to the millions who have received it," Hayes said - Kevin Landrigan, Union Leader
---
Fed plan fails to stop stocks' dive
Wall Street's slide deepened further on Monday as the rapidly spreading coronavirus forced more U.S. states into lockdown, overshadowing unprecedented moves by the U.S. Federal Reserve to shore up credit across the economy.
After cutting interest rates to near zero recently, the Fed will now lend against student loans and credit card loans, as well as back the purchase of corporate bonds and make direct loans to companies.
The unprecedented steps briefly lifted U.S. stock index futures more than 3% earlier in the session, but the mounting death toll from COVID-19 and a tide of lockdowns quickly sent the main indexes back into the red, putting the S&P 500 on pace for its worst month since World War Two.
"What the Fed did is important because it does help in the credit markets. But it's not enough from an equity market perspective," said Willie Delwiche, investment strategist at Robert W. Baird in Milwaukee.
"What we now need is leadership out of Congress to pass some sort of stimulus bill, because what the Fed's doing is relieving some problems, but it doesn't do enough to solve to solve what's out there."
Investors had hoped the U.S. Senate would clear a $1 trillion-plus coronavirus stimulus package over the weekend, but Democrats and Republicans were still scrambling to come to an agreement.
Maryland, Ohio, Louisiana and Delaware joined New York and California in asking people to stay home, foreshadowing a near halt in economic activity and more pain for U.S. equities and prompting several analysts to slash their growth forecasts.
Goldman Sachs expects an outright contraction in global real GDP in 2020 on the back of a 24% plunge in U.S. real GDP in the second quarter: two-and-a-half times as large as the previous post-war record.
The Fed's stimulus measures failed to reassure investors jolted by a $9 trillion wipeout in the benchmark S&P 500's value since a record high hit last month. A rush for safe-haven assets like government bonds caused U.S. Treasury yields to fall on Monday.
At 12:46 p.m. ET the Dow Jones Industrial Average was down 380.84 points, or 1.99%, at 18,793.14 and the S&P 500 was down 42.00 points, or 1.82%, at 2,262.92. The Nasdaq Composite was down 3.25 points, or 0.05%, at 6,876.27.
The energy sector dropped more than 5%, the most among the 11 major S&P 500 sectors, tracking a plunge in oil prices.
The defensive utilities and real estate sectors also dropped about 4% each.
Boeing was among the top gainers on the Dow, rising 4.44% after Goldman Sachs upgraded its rating on the planemaker to "buy."
Declining issues outnumbered advancers for a 3.63-to-1 ratio on the NYSE and a 1.87-to-1 ratio on the Nasdaq.
The S&P index recorded no new 52-week high and 203 new lows, while the Nasdaq recorded two new highs and 450 new lows. — Reuters
---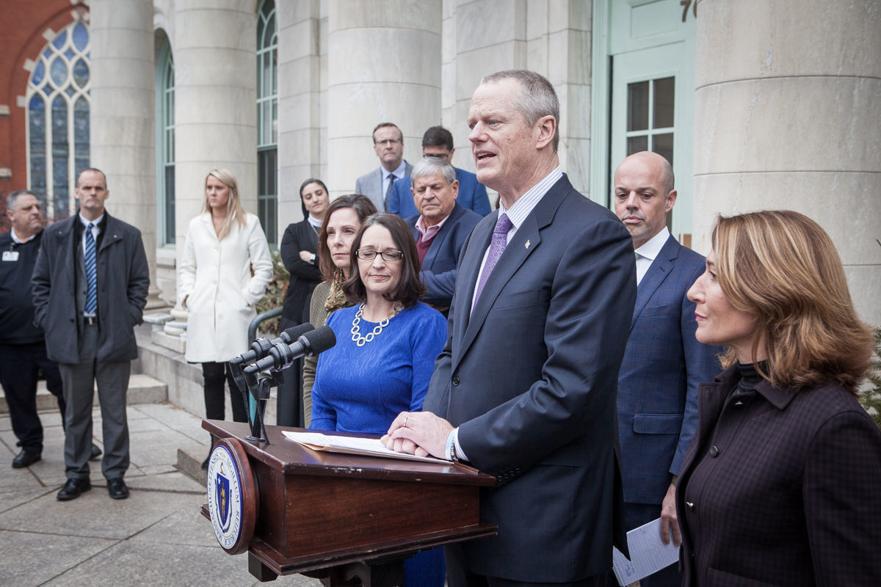 Mass. Gov. Charlie Baker to issue stay at home advisory, closing all non-essential businesses
As more states issue shelter-in-place orders, Gov. Charlie Baker said Massachusetts would also shut down to non-essential operations to prevent the coronavirus outbreak from growing.
Baker announced the order would take place Tuesday at noon. The order closes all non-essential businesses to workers and the public.
Baker said the state would "always allow" grocery stores, pharmacies and other essential operations to continue.
Also, businesses offering take-out food should continue to do so, Baker said.
Baker also issued a stay at home advisory but stopped short of ordering it.
"I don't believe I can or should order U.S. citizens to confine to their homes for days on end," Baker said.
Baker said the advisory shouldn't stop people from being out of their homes or "taking a walk in the park," but said citizens should use common sense to avoid congregating in groups.
Baker also said that recreational marijuana shops are not among essential businesses, but medical marijuana shops are.
"Every single act of distancing has purpose," Baker said. "There is purpose in these drastic changes to the way we live."
Baker said he'd reviewed closely what was happening in other states and decided this was the right time to make this move.
The governor said there has been a significant spread of the virus in every county in Massachusetts and that was one of the reasons prompting his decision.
Baker said the order to close all non-essential businesses would be enforced on the local level.
More than 300 people in the United States have died from the virus, including five in Massachusetts.
At least 646 people in the Bay State have tested positive, according to figures from the state Department of Health. Of those, 357 are under the age of 50.
At least 99 cases have been tied to a Biogen employee conference that was held late February in Boston.
Connecticut, New York, New Jersey and have announced some form of a shelter-in-place order in their states, instructing residents to remain at home except for certain exempted workers.
The World Health Organization declared the coronavirus outbreak a pandemic on March 11 after more than 4,250 people died worldwide. The death toll has more than tripled since: More than 15,000 people have died worldwide, according to the tracker by Johns Hopkins University researchers. More than 100,000 people who were infected have recovered.
Massachusetts officials started restricting public life last week as the number of coronavirus cases climbed nationwide.
This is a breaking news story and is being updated with more information as the governor talks. — masslive.com
---
Walmart raises entry wages in response to demand surge
Walmart said on Monday it has temporarily raised entry wages for workers in its e-commerce warehouses by $2, following similar moves by rivals, as it attempts to manage a shopping surge brought about by the coronavirus outbreak.
Walmart said the hike will increase entry wages for workers in e-commerce fulfillment centers or warehouses to between $15 and $19 an hour effective immediately through Memorial Day, a holiday in the United States that falls on May 25 this year.
The world's largest retailer, which employs 1.5 million people in the United States, has struggled to keep store shelves stocked and fulfill online orders amid panic-buying by shoppers spooked by the outbreak.
The virus has infected over 32,000 people in the United States leading to more than 415 deaths, a Reuters tally showed.
Last week, Walmart said it would pay special cash bonuses totaling $550 million to hourly staff and hire 150,000 temporary workers through the end of May in its stores and fulfillment centers.
Workers in distribution centers, which primarily help stock stores, start at $17 to $18 an hour. The starting wage for store workers in most locations remains $11 an hour, with the average wage among full-time hourly workers at $14.26.
Rivals such as Amazon and Target have also boosted pay and gone on a hiring spree to manage a surge in orders while many clothing and mall-based retailers have been forced to shut stores. — Reuters
---
U.S. Attorney urges public to report COVID-19 related schemes
U.S. Attorney Scott W. Murray of the District of New Hampshire on Monday urged the public to report suspected fraud schemes related to COVID-19. Some schemes could include: 
• Individuals and businesses selling fake cures for COVID-19 online and engaging in other forms of fraud.
• Phishing emails from entities posing as the World Health Organization or the Centers for Disease Control and Prevention.
• Malicious websites and apps that appear to share coronavirus-related information to gain and lock access to your devices until payment is received.
• Seeking donations fraudulently for illegitimate or non-existent charitable organizations.
• Medical providers obtaining patient information for COVID-19 testing and then using that information to fraudulently bill for other tests and procedure.
Assistant U.S. Attorney Matthew Hunter has been appointed as the coronavirus fraud coordinator for the District of New Hampshire. 
"There are reports of fraudsters selling counterfeit products and fake cures or setting up malicious websites in order to take advantage of people who are attempting to protect themselves from the virus. Such criminal exploitation will not be tolerated and will receive the full attention of federal law enforcement," Murray said in a statement. 
Fraud can be reported by calling the National Center for Disaster Fraud (NCDF) hotline (1-866-720-5721) or to the NCDF e-mail address disaster@leo.gov. The public also can report fraud to the FBI's Internet Crime Complaint Center at www.IC3.gov. — Staff Report