Twenty-nine additional New Hampshire residents have tested positive for COVID-19, the largest single-day surge in confirmed cases in the state since the global pandemic began, health officials said Wednesday.
The total number of confirmed cases in the state now stands at 137.
State officials are quietly developing projections of how many people in New Hampshire will eventually become infected with COVID-19, with one hospital epidemiologist predicting the number could reach 50%.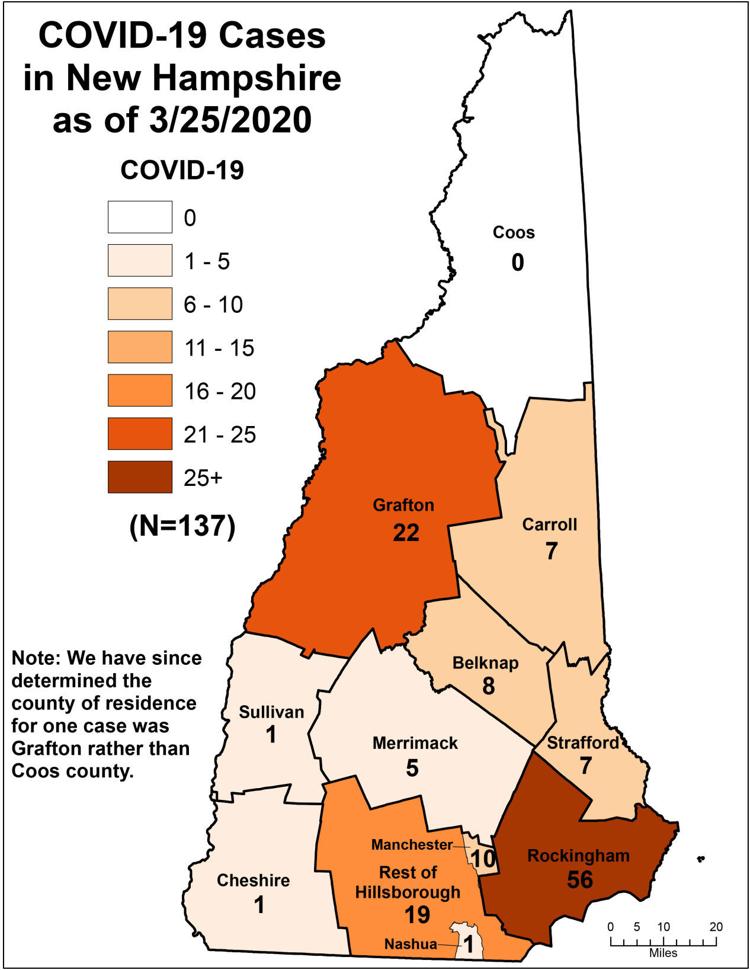 "Based on preliminary figures, we are planning for an additional 1,700 to 1,900 surge beds statewide. That estimate is based on what hospitals anticipate they will need in the weeks ahead," said Jake Leon, director of communications with the New Hampshire Department of Health and Human Services.
Leon said it is still too early to know what the ultimate need will be, but the additional beds will be a good start. Health officials will continue to look at the most recent data models and work with hospitals to reevaluate their needs and address any potential surge in patients, he said.
Nashua Mayor Jim Donchess told city officials on Tuesday that "there is some modeling down out of the University of Pennsylvania suggesting that the Nashua region could get 2,500 cases of people who need to be hospitalized because of severe symptoms, mostly pulmonary distress."
The 29 new confirmed cases of COVID-19 include a teenage girl, 12 adult males, and 16 adult females. Fourteen live in Rockingham County, two in Manchester, eight additional cases in Hillsborough County (outside of Nashua and Manchester), two in Strafford County, and one each in Belknap, Grafton and Merrimack counties.
Thirteen of the new cases can't be linked to known risk factors.
Officials said 19 of the 137 positive cases in the state — or 14 percent — have been hospitalized. Six of the new cases are currently hospitalized.
According to state health officials, 712 COVID-19 tests are pending. In all, 3,001 tests performed at state public health laboratories have come back negative. About 650 people haven't been tested but are being monitored. One person has died in New Hampshire from the disease.
"When you think of who's at risk of getting COVID-19, the answer is everyone," said Dr. Michael Calderwood, an infectious disease physician at Dartmouth-Hitchcock Medical Center.
He said that as much as half the state could eventually be infected with the coronavirus. Some CDC projections are calling for 2.4 million to 21 million Americans requiring hospitalization, with 1 million to 2 million dying, a worse-case scenario, according to news reports.
"This is a moving target," said Calderwood about projections, noting that a number of people are developing models, including the Harvard School of Public Health.
Dr. Timothy Scherer, chief medical officer at Southern New Hampshire Medical Center, shared with Donchess some of the research findings from the Penn Center for Research on Coronavirus and Other Emerging Pathogens and the possibility of about 2,500 hospitalizations in this area.
Penn data scientists have established the CHIME model — COVID-19 Hospital Impact Model for Epidemics.
"We are all looking at the CHIME model," said Stephen Norton, chief strategy officer with SolutioNHealth, which was founded by Elliot Health System and Southern New Hampshire Health.
The Penn data model, however, cannot provide a precise number of cases for New Hampshire, said Norton, explaining factors such as social distancing and other recommendations create a wide range of potential estimates.
"But I do think, at this point, we need to be alarmed as a public," he said. While panicking is not the solution, there is a strong possibility that New Hampshire will experience a significant spike in cases, and the health care community is planning for the worst-case scenario, said Norton.
In Manchester, where 10 confirmed cases of COVID-19 have been reported, city health officials are reviewing data as they hope for the best while preparing for the worst.
"There are countless scenarios with countless variables, and we're continuing to look at the whole picture to change and adjust our services," Lauren Smith, chief of staff for Manchester Mayor Joyce Craig, said in a statement.
Nashua High School South was converted Tuesday into an alternate care facility in case the city's two hospitals, St. Joseph Hospital and SNHMC, are over capacity; an alternate care facility has also been set up in Manchester.
Donchess said Nashua High School North will also be utilized as an alternate care site, if necessary.
While there is still only one positive COVID-19 case in Nashua, Donchess said a number of people from that patient's family were tested on Thursday and are still waiting for results.
Before it was announced Tuesday that a passenger on a Concord Coach Lines was infected with the virus, Nashua had already decided to suspend the Nashua Transit System fixed route bus system; NTS is continuing to operate on-call van service for essential services.
Donchess joined Manchester Mayor Craig this week in urging Gov. Chris Sununu to issue a stay-at-home order for all nonessential workers in an effort to contain the spread of coronavirus.