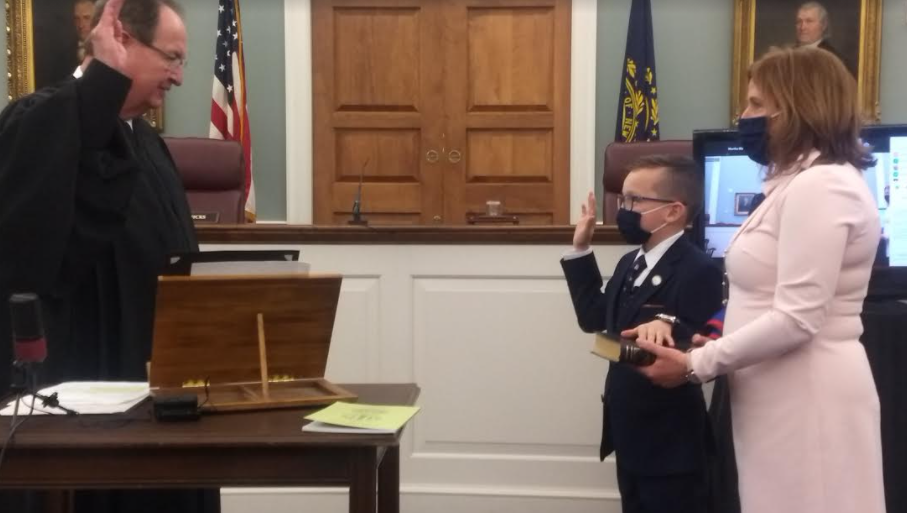 CONCORD — When it comes to publicizing the importance of students learning in-person at public schools during the COVID-19 pandemic, Gov. Chris Sununu has a new ally: the state's third "Kid Governor," Charlie Olsen, 10, of Auburn.
"I think it makes a huge difference attending school in person than remotely because you get to see your friends, face-to-face, and school through the computer can be very glitchy," said Olsen, a fifth-grader at the Auburn Village School.
"I'm so happy the Auburn Village School has been in person so much."
Olsen took the oath of office as Kid Governor from Supreme Court Acting Chief Justice Gary Hicks at the New Hampshire Supreme Court on Friday.
Olsen won this competition last November from among 1,000 students from schools in all 10 counties.
And in his inaugural address, Olsen told his own story about how the virus caused him to suffer "situational depression," a condition so debilitating he couldn't eat and "worried about everything."
"Some would say I have the perfect life but in mid-March all of that changed," Olsen said.
The new Kid Governor wants to promote public service announcements and other ways to give children like himself the courage to come forward and share their predicaments.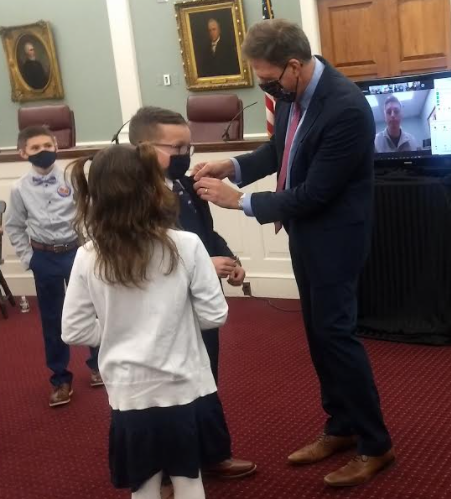 "You don't have to do this alone, and you don't have to be afraid to talk about it," Olsen said.
The boy of the hour credited his sister, Lilah, 8, with helping refine his seven-minute speech.
Justice Hicks said Olsen's speech was inspiring.
"There have been a lot of great moments in this room; we've had (late civil rights leader and U.S. Rep.) John Lewis speak here," Hicks said.
"Charlie's speech was as good as it gets."
Sununu to propose Charlie plan
Sununu said Olsen's story moved him so much that when he presents his proposed, two-year state budget in two weeks he plans to offer an initiative worth "a few million dollars" to answer the call of his kid counterpart.
"I'm going to call you next week to go over my idea because I want to make sure it meets what Charlie's calling for," Sununu told his parents.
Olsen's father, Erik, said his son got interested in running after his teacher asked him to give a presentation in class about his own suffering.
"A week after his talk, the campaign for youth governor started and he just made that narrative a central theme," his father said. "Everyone tells me you've got such a brave son; for sure, we're proud parents of both our kids."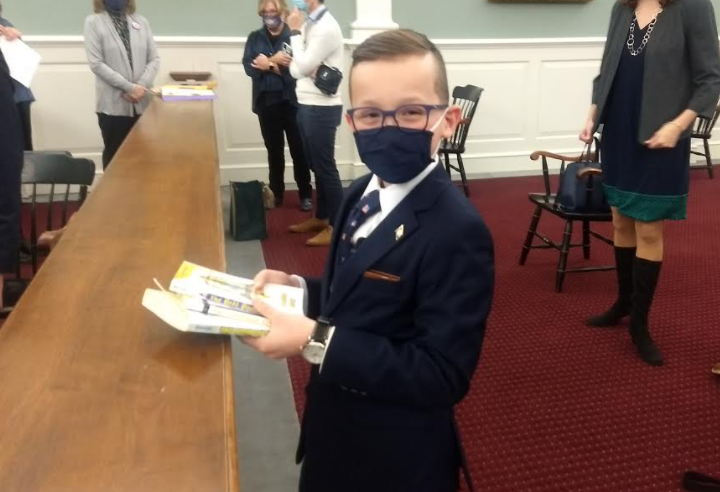 Charlie credited his mother, Cheryl, with coming to his rescue, She came up with the idea of putting Charlie "in quarantine" with his best friend, Conner Molen, which meant they could meet and play together every day.
"They are like two adult friends; they tell each other everything," Erik Olsen said.
State Rep. Jess Edwards, R-Auburn, said his constituent has a future in politics such as running for his seat.
"If you can run for any office, I think you need to take your time," Edwards quipped.
The Kid Governor program is a joint project of the New Hampshire Institute for Civics in Education and the New Hampshire Institute of Politics at Saint Anselm College.
"It's not just ceremonial; it's not just one day," said Martha Madsen, executive director of the civics institute.
After taking his oath, Olsen swore in the six kid executive councilors: Grace Mullen of Beaver Meadow Elementary School, Concord; Marek Allen of Sant Bani School, Sanbornton; Olivia Triani of Pollard Elementary, Plaistow; Shayla Walsh of Sunapee Central Elementary School, Sunapee; Matthew Belanger of Unity Elementary, Newport; and Brie Bell of James Faulkner Elementary, Stoddard.