Thanks to the pandemic and our turbulent times, the first actions of the New Hampshire House of Representatives and of Gov. Chris Sununu last week were restrictive, scripted and potentially uncontrollable in unprecedented ways.
Yet each ended peacefully and non-violently, in utter contrast to last week's riotous upheaval in Washington, which claimed five lives, including a Capitol police officer.
Furious congressional leaders demanded — and received — the resignations of the Capitol Police chief and top security officials in the U.S. House and Senate.
Many in New Hampshire were left wondering whether intolerant discourse in the midst of the COVID-19 pandemic will make 2021 a year of less — rather than more — transparency and openness, even as all New Hampshire adults get access to the vaccine in the coming months.
The debate over access vs. danger has greater significance and implications here.
New Hampshire is one of a handful of remaining states that do not require citizens to walk through metal detectors to enter the State House and permit people to carry firearms in the House chamber.
It's believed to be the only state capitol building that permits anyone to walk in and visit any office — including the governor's suite — without an appointment.
"The world has really changed, and I don't see how it fails to affect us," said Neil Levesque, executive director of the New Hampshire Institute of Politics at Saint Anselm College.
"Whether it's threats against the governor or legislators flaunting a state mask mandate, this change has been coming for a while. It did not begin with COVID-19 or President Trump. Both simply accelerated it," Levesque said.
"So now how do we reverse it, or at least stop it from going to warp speed?"
No lockdown after 9/11
Greg Moore, state director of the Americans for Prosperity chapter, said the atmosphere of fear is overwrought.
"We saw this after 9/11. All manner of states, including Massachusetts, in response locked down access to their State Houses and we said no, that's not us. We said no in 1995 after the Timothy McVeigh bombing of the federal building in Oklahoma City," recalled Moore, a former House chief of staff.
"What makes public access here unlike any other place in America is our citizen Legislature. This gives our people the belief that these we have elected are our equals, not our superiors, so they have to be responsive and accountable. As long as that's our form of government, I don't see that changing."
Moore pointed to criticism heaped upon then-House Speaker Shawn Jasper, a Hudson Republican, after he led an effort three years ago to bar public access to the State House via two rear entrances because they were the only ones without security officers sitting at posts inside.
Against the backdrop of national events, it's worth looking at the extraordinary steps taken behind the scenes at the University of New Hampshire in Durham and at the State House in Concord to ensure events last week proceeded in an orderly way while disorder reigned in Washington.
On Dec. 2, the House held its Organization Day outside on UNH's field hockey field.
The new House Speaker, Merrimack Republican Dick Hinch, had wanted the first 2021 session in January to take place outside as well.
With a spike of COVID-19 cases in New Hampshire, however, Hinch was concerned about greater risk, especially while a few dozen members refused to wear face masks in defiance of Sununu's executive order.
Eight days after taking the gavel, Hinch died after contracting the virus.
State Rep. Timothy Horrigan, D-Durham, said as "wacky" as the format for last week's opening legislative session seemed, the concept of having House members sit in their cars in a University of New Hampshire parking lot — as though they were at a drive-in movie — worked because legislative leaders let university officials draw it up.
The assignment fell to UNH Chief Operating Officer Chris Clement, a UNH grad who was New Hampshire transportation commissioner for four years before he returned to the Durham campus.
"I kept thinking, it's January, it could be colder and stormier than it was in December. How do we keep people safe and healthy but allow them to congregate? That's when the drive-in idea came to me," Clement said.
"Then I got out the campus floor plan and spotted Lot A. It's nearly seven acres, has almost 1,000 parking spaces. I thought we can do this, have them all in parked cars and give each an extra space so that members could get out and stretch."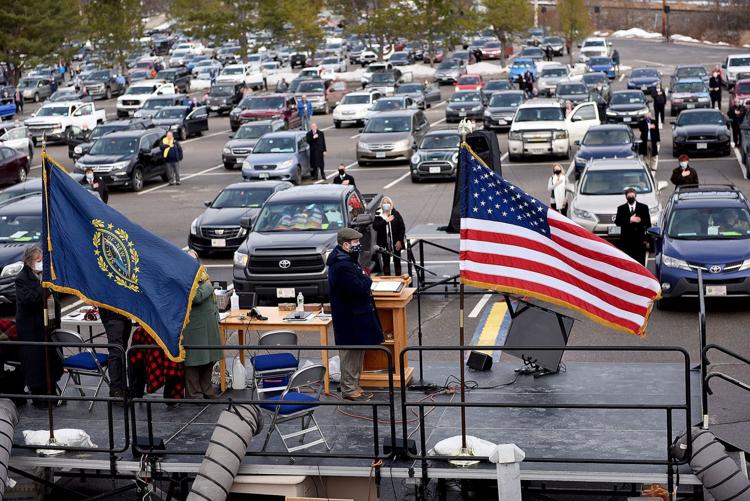 Legislative leaders handed out designated spaces for House members to be arranged in four sections with 25-foot aisles between them.
The grid was similar to the one inside Representatives Hall at the State House, where the 400 sit in five sections of cramped seats.
Former House Speaker Stephen Shurtleff, D-Penacook, played a critical role.
Shurtleff stepped in after the UNH student senate voted unanimously last fall to urge school administrators to ban the House from ever coming back.
"They were very upset that while students faced restrictions on campus, legislators were allowed to flaunt them, like drinking alcohol inside the Whittemore Center last summer or refusing to wear masks," Shurtleff said.
"I went to their next meeting and pleaded with them that we'd be better, to give us another chance. They graciously came around to letting us return."
Still some surprises
However, the drive-in movie starring the New Hampshire House didn't always stay on script.
The session started an hour late. House members, organized by their county of residence, were assigned staggered times to arrive on campus.
But like the opening of an all-you-can-eat buffet to a hungry horde, about 60% of House members pulled up at the same time, half an hour before the start.
"We should have had more than one entrance," said Terry Pfaff, the Legislature's chief operating officer. "You hope for the best, plan for the worst. If that's the last problem we have, we'll be fine."
All arriving House members were given key cards or "clickers" that recognized their locations and allowed them to cast votes.
The key cards didn't work for some driving newer cars with onboard Bluetooth recognition software, which jammed the clickers. Others, who had set up mobile hot spots on their phones, had similar problems getting the signal.
"I had to get out of the car to get it to make my connection," said State Rep. Michael Yakubovich, R-Hooksett.
Lawmakers used hazard lights or honked their horns to get the attention of staff.
"We got it worked out," Clement said. "There were about three dozen with these clicker issues."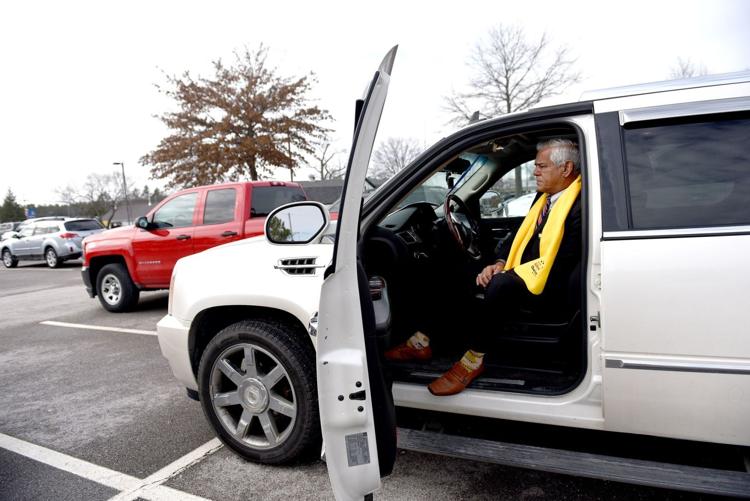 House condemns riot
The New Hampshire House on Friday adopted a resolution condemning the mob violence at the U.S. Capitol.
"This was a senseless and tragic event for our nation, and I hope that we can all move forward from this with a better appreciation for each other despite political differences," Speaker Sherman Packard, R-Londonderry, said in an address to House members.
In Concord on Thursday, state officials weren't about to be caught with an inadequate law enforcement presence, as was the case in Washington the day before.
Sununu's security detail brainstormed in real time about how to keep the State House quiet. At least two dozen state and local police officers walked around outside or watched the scene from inside the State House.
The 200 people marching in front of the State House in protest of Sununu's COVID-19 restrictions got loud but never out of hand.
"We do things passionately but respectfully," said former state Rep. J.R. Hoell, who organized the rally. "This showed the best of what we are about."
Democracy, not a cult
Sununu's team took no chances.
The private inauguration ceremony in the State House had a few dozen witnesses.
To avoid the image of visitors opening State House doors in the presence of protesters, many were directed to park at the Legislative Office Building across the street out of view of the protest.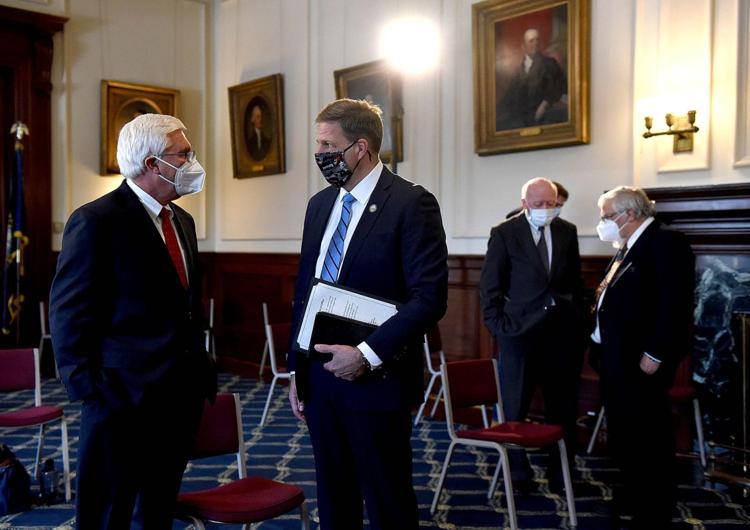 They then were whisked into the State House through an underground tunnel that links the two buildings.
In the inaugural address for his third term, Sununu, 46, urged citizens to continue to insist on transparency by keeping elected officials like him grounded.
"We see individuals trying to cut in line to get a vaccine, or demand that their job is more important than others and therefore they need to be first," Sununu said in reference to elected officials in Washington and elsewhere. "That is all a function of the cult-like status we give them, but it isn't real."
"Let's remember we are elected to serve those we represent, not the other way around."