CONCORD — New Hampshire will follow the lead of federal regulators and pause its own use of the Johnson & Johnson vaccine for COVID-19, after six women across the country developed blood clots within two weeks of getting the shot.
Gov. Chris Sununu said Tuesday this move will not affect vaccine delivery here, because shipments of J&J doses had already dropped significantly due to unrelated supply issues.
"This news will not slow down New Hampshire," Sununu said in a statement Tuesday.
"While the federal government has directed a brief pause in the J&J vaccine, the state is already working with our partners to ensure that they have an alternative supply of Pfizer or Moderna to help continue their efforts today."
Last week, Sununu said the weekly allotment of J&J vaccine was being reduced from nearly 10,000 doses to 2,500.
Last month, nearly 10 million doses of this vaccine were destroyed because of quality control issues at a Maryland manufacturing plant.
In a joint statement Tuesday, the Centers for Disease Control and Prevention and the Food and Drug Administration said they were investigating unusual clots in six women that occurred six to 13 days after vaccination. The clots occurred in veins that drain blood from the brain and occurred together with low levels of blood platelets. The six cases were in women between 18 and 48.
The reports were similar to those of a rare type of clotting disorder European authorities said might be linked to another COVID-19 vaccine not yet cleared in the U.S., from AstraZeneca.
More than 6.8 million doses of the J&J vaccine have been administered in the U.S., the vast majority with no or mild side effects.
One woman died after developing blood clots, and another was reported to be in critical condition, officials said.
To date, the blood-clotting risk from the vaccine is 1 in 1 million.
Past studies have concluded the risk of getting a blood clot after being infected with COVID-19 can be as high as 1 in 5.
The risk of blood clots associated with use of birth control among women is 1 in 1,000. Federal officials said they have not identified a connection in the affected women between birth control use and the vaccine.
The Advisory Committee on Immunization Practices of the federal Centers for Disease Control will meet Wednesday to review these cases and assess their potential significance, officials said.
This federal pause is expected to last only a "matter of days" unless further study reveals a much larger incidence than presently known, a federal official said.
Governors push back
But governors from both political parties, during a private conference call with the White House later Tuesday, pushed back at the federal decision to pause the vaccine, according to ABC News.
Network officials said they obtained an audio of that call that was not released to the public.
"I think what has to be appreciated is the ability for governors to reinstill confidence after something like this, is 100 times harder than putting the pause on in the first place," Sununu said, according to the audio.
In response, Dr. Anthony Fauci, the nation's leading infection control expert, told Sununu the U.S. response was proper to ensure the incidence was not more than one in a million.
The pause also allows federal officials to advise health care providers not to treat these reactions with heparin, a blood thinner that can worsen symptoms, Fauci said.
Alternatives
Currently, no state-managed fixed sites are scheduled to administer the Johnson & Johnson vaccine, the governor said.
Sununu, 46, received the J&J vaccine last Saturday during the third mass vaccination clinic at the New Hampshire Motor Speedway in Loudon.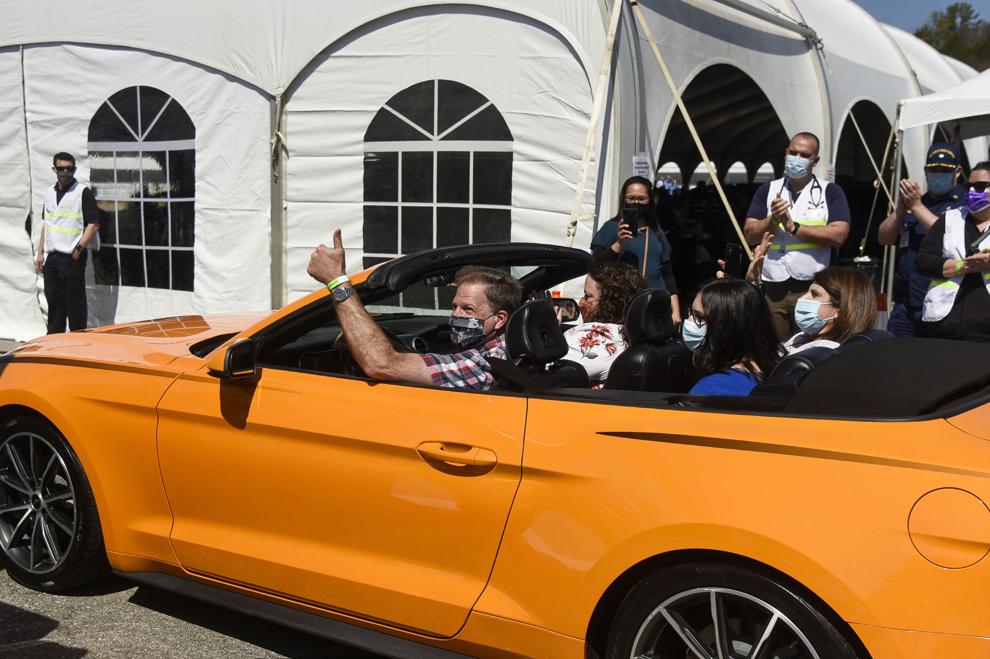 Workers at some regional public health networks were to provide J&J vaccine at clinics and to homebound populations Tuesday, Sununu said. State officials were working to provide those people with Pfizer or Moderna vaccine.
According to the CDC, New Hampshire is the first state to give at least one dose of vaccine to more than half its residents.
Walmart had planned to give J&J vaccine at some locations under the federal pharmacy program Tuesday.
All these Walmart locations were to have an alternative vaccine by 1 p.m. Tuesday, Sununu said.
"COVID-19 vaccine safety is a top priority and all reports of health problems following COVID-19 vaccination are taken very seriously," Sununu said.
"The CDC has indicated that those who have received the Johnson & Johnson vaccine who develop severe headache, abdominal pain, leg pain, or shortness of breath within three weeks after vaccination should contact their health care provider."