LACONIA — Closed since March because of the coronavirus pandemic, a rainy day reopening meant a busy day at the FunSpot family entertainment center on Monday.
In fact, there were so many people that family patriarch Bob Lawton, 89, was pressed into service.
"We thought we'd pick a quiet Monday to open so we could kind of ease into it," said Dave Lawton of the first day venues such as amusement parks, movie theaters and performing arts center were allowed to open.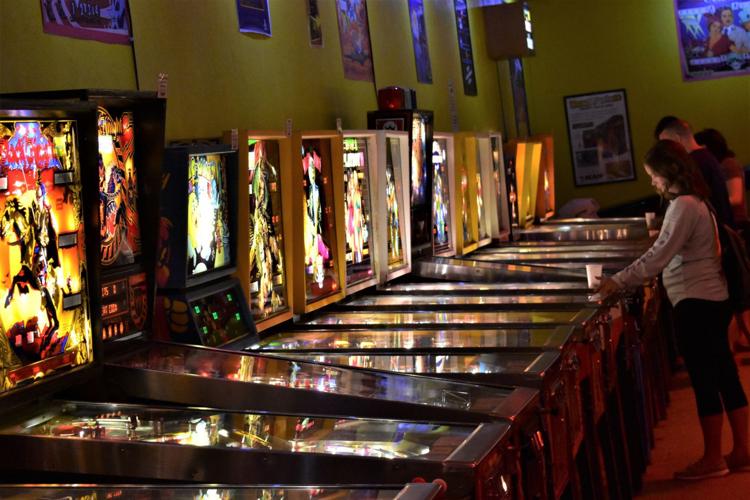 At the bowling center, Mike Liappes, who keeps the pinsetters and other mechanicals running, said social distancing was the order of the day.
A party of five or less is assigned one lane, and the abutting lane is kept vacant, he said. If more than five are in the party, they can use two lanes and the third lane is skipped.
Braedon Clifford, another FunSpot employee, was wiping down the candlepin bowling balls between uses; other workers were regularly sanitizing the control panels of hundreds of video games and pinball machines.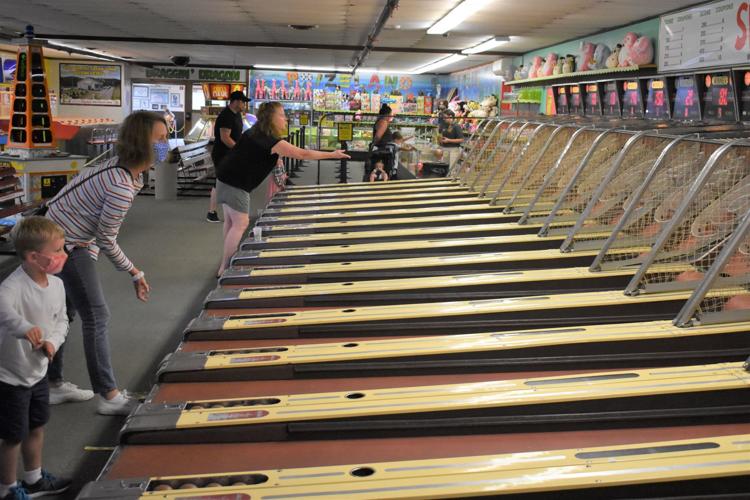 Liappes, who has worked at FunSpot for 14 years, said he wasn't surprised to see a good-sized crowd turn out for opening day.
"Rain is our big-ticket day during the summer because people can't go to the beach," he said of FunSpot, which holds the Guinness Book record as the largest arcade in the world.
Bob Lawton founded the business with his late brother, John, in 1952. After securing a $750 loan from their maternal grandmother, the brothers built a nine-hole miniature golf course in rented space on the second floor of Tarlson's Arcade on Lakeside Avenue in Weirs Beach. They grossed $2,900 in their first year of operation at a time when Lawton said they were paying the help just 35 cents an hour.
In 1964, the business relocated to Endicott Street North and eventually expanded into a 7,000-square-foot family entertainment venue featuring a 20-lane candlepin bowling alley, the D.J. Long Tavern, Skee-Ball, kiddie bumper cars and rides, a replica of the 1952 original indoor mini-golf course, a 400-seat bingo parlor, a free party room, prize games and more than 500 video games.
The defining moment in FunSpot's history came in 1977 when video games began coming on the market.
"We knew pretty quickly to go with video games if we wanted to stay in business," Bob Lawton recounted.
Today, on the second floor some 300 of FunSpot's video games are housed in the American Classic Arcade Museum, which features games from 1987 or earlier, all of them working and available for customers to play, including such favorites as Donkey Kong, Space Invaders, and Pac-Man.
"People can't believe it when they walk in and see 300 games that they used to play and are hearing the music that they used to hear in the 1980s when they were playing them," Bob Lawton said.
Killian Levering, 5, of Virginia Beach, Va., was enjoying himself on a motorcycle kiddie ride in the company of his parents and siblings.
His father, Brian, recounted that he remembers coming to FunSpot with his own parents at the same age as Killian, during yearly camping trips, and his delight in riding the bumper cars.
"It still smells the same," he said.
Suzanna Milano of Pittsfield was holding an armload of tickets spit out by a variety of games after racking up a certain score.
"He won them," she said, nodding to her son, Nikolai, 4, who was piling them into her arms, his hopes set on having enough tickets to get a red tractor toy at the prize counter.