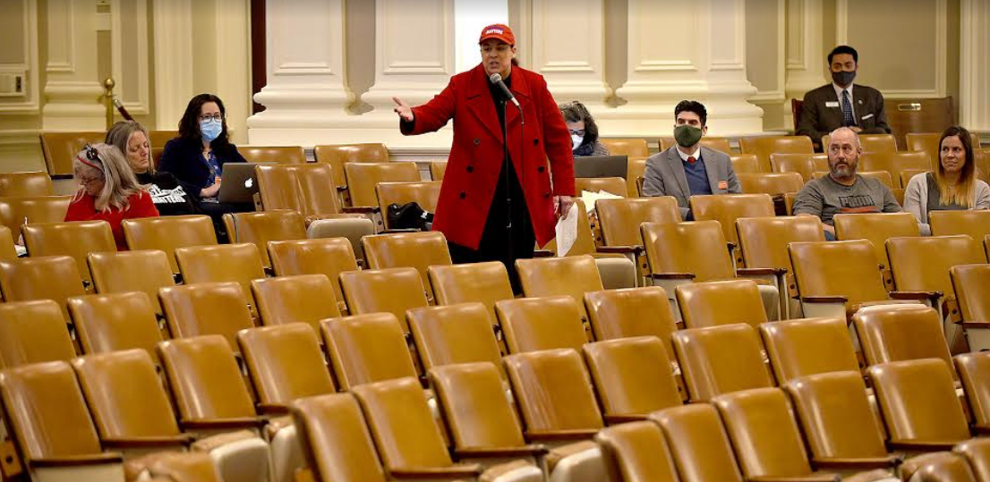 CONCORD — An anticipated overflow crowd of anti-COVID vaccine mandate activists did not materialize at the State House on Thursday, but those who did were passionate in their backing of a bill that would ban any requirement that children in schools and child care facilities get the shot.
About 20 people turned out to support the bill, SB 288.
Kelley Potenza of Concord, one of the organizers of anti-vaccine mandate protests over the past year, warned Republicans on the Senate Health and Human Services Committee that they better support the bill.
"This is an experimental injection. This is not a vaccine; this is gene therapy," Potenza said.
"Kids are not lab rats. You three Republicans, you had better vote correct. We know how (Democratic State Sen. Tom) Sherman is going to vote. You have all taken an oath."
Gov. Chris Sununu has said all school districts need to fashion their own vaccine policies for students and staff and he would oppose a statewide COVID-19 vaccine mandate for all children.
Meanwhile, state Rep. William Marsh, D-Wolfeboro, a retired ophthalmologist, has proposed a competing bill that would include the COVID-19 vaccine in the state's regimen for all schoolchildren (HB 1633).
Currently, parents can seek a medical or religious exemption from vaccines for their children.
Many who spoke at the Senate committee hearing in cavernous Representatives Hall claimed that the rising number of children coming down with COVID-19 included those over 5 who were vaccinated.
Christine Vigneault of Concord said she recently took her children out of public schools and enrolled them in private religious schools because of fewer restrictions, like mask requirements.
"I don't understand how we can be sitting here talking about a requirement that doesn't even stop transmission," Vigneault said.
Sen. Kevin Avard, R-Nashua, said he proposed the bill because, unlike other school-mandated vaccines, there hasn't been enough time to determine the long-term side effects of COVID-19 shots.
"This isn't right. It's draconian, and it is serious," Avard said of a vaccine mandate.
"For the state to say you must inoculate your children with a vaccine that hasn't had 5-, 10- or 15-year studies as to the outcome of what could be the side effects is dangerous and unacceptable."
The New Hampshire Hospital Association, New Hampshire Medical Society and New Futures, a health care advocacy group, all opposed the bill.
"This unnecessarily limits and damages the child care market in New Hampshire," said Kate Frye with New Futures.
But Priscilla Morrill of Peterborough cited recent data that showed that fewer than 50% of those hospitalized with COVID-19 were unvaccinated.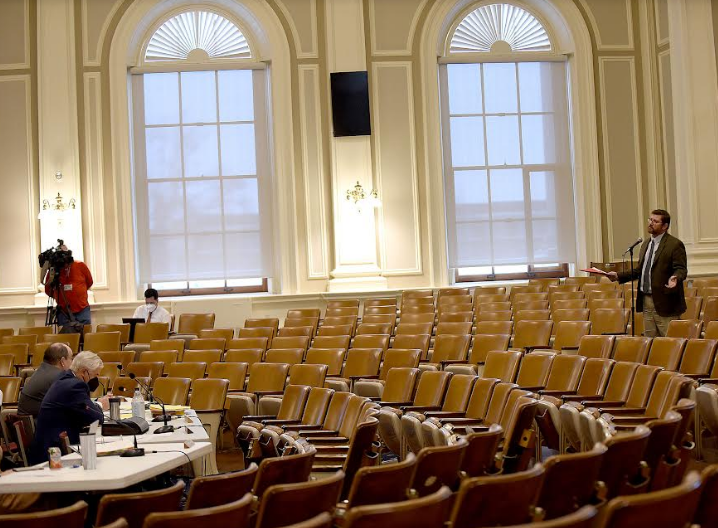 "These figures demonstrate that getting this experimental medical procedure does not protect you from hospitalization," Morrill said.
According to the latest New Hampshire Hospital Association report on Wednesday, 46.5% of hospitalized patients were unvaccinated.
But the same analysis noted that the vaccination status of another 18% of patients was unknown.
Almost 23% were fully vaccinated, and 13% were partially vaccinated.
Paula Minnehan, executive vice president with the hospital association, said the overwhelming number of patients in intensive care units with COVID were not vaccinated.
The committee also took testimony on legislation (SB 319) to require all state-regulated health insurance companies to offer some wellness incentive for members who have been vaccinated.
Sen. Cindy Rosenwald, D-Nashua, said she wanted to create the wellness program and leave it to insurers to set the financial bonuses they wish to offer.
"This simple policy has the potential to provide tremendous cost savings to our hospitals and insurers while enhancing our state's public health efforts," Rosenwald said.
Vaccine mandate opponents at the hearing referred to Rosenwald's bill as a "bribe."