A gym at the Southern New Hampshire University campus was converted over the weekend to a "clinical flex area" with beds for as many as 250 overflow patients from Manchester hospitals, officials said Monday.
The effort, undertaken by a handful of activated New Hampshire National Guard troops, illustrates steps communities are undertaking to prepare for a surge of COVID-19 cases. Keene State College acknowledged Monday that it is working with local officials and public health experts to free up space on campus if necessary.
Gov. Chris Sununu announced the SNHU facility during a news briefing and said seven other locations around the state are being eyed for such facilities. Six Guardsmen are part of the assessment team developing the hospital surge units, the Guard said.
Officials stressed the SNHU location — the Stan Spirou Field House — would be used by Elliot Hospital and Catholic Medical Center, most likely for COVID-19 patients who have improved or are not facing complications.
"We want to keep the space in both hospitals available for people who are really critically ill," said Fire Chief Dan Goonan, who leads emergency operations for the city.
He said the hospitals will operate the SNHU clinical flex area and determine which patients will go there and how they will be treated.
Officials are taking such measures as data point to a likely shortage of hospital beds in the state once the COVID-19 pandemic progresses.
The Harvard Global Health Institute recently projected shortages of hospital beds based upon infection rates of 20%, 40% and 60% over the coming 18 months.
At the middle prediction, 285,900 adults in the Manchester hospital referral region would be infected and almost 59,800 would require hospitalization over the next 18 months.
The Institute found that hospitals in the Manchester region will need three times as many beds as they will have ready in the first six months of the pandemic, and that is if hospitals are successful in efforts to free up beds.
Goonan said the Manchester Fire and Health departments have been working with the hospitals as well as state health officials, the National Guard, the Veterans Administration and SNHU to plan for the space.
He did not rule out the use of school gyms if necessary, but the city will eventually be limited in the number of supplies such as cots.
"We don't want to be caught flat-footed through this whole thing," Goonan said. He credited the National Guard for doing the hands-on work needed to convert the gym to the medical flex unit.
The New Hampshire National Guard recently activated 18 members for COVID-19 related matters, the Guard said on Monday.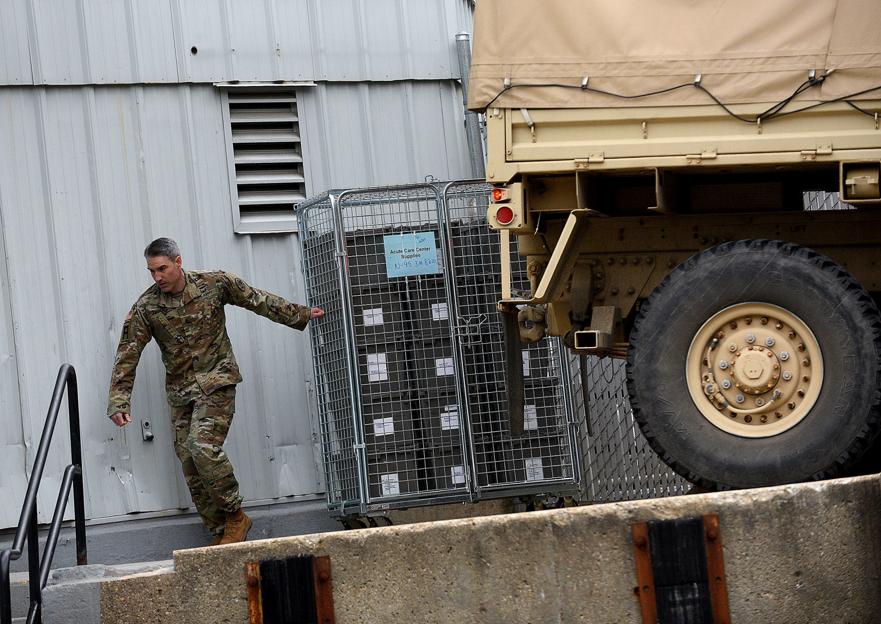 Lt. Col. Gregory Heilshorn said the 18 are a fraction of up to 1,800 Guard soldiers and airmen who can be activated if necessary.
Past in-state activations involved weather emergencies such as the 2005 Mother's Day flood and the 2008 ice storm. The most activated at one time was 500.
Heilshorn said the activated Guard members can be used for a number of activities.
"Right now, for this one it's planning, logistics, command and control," he said.
Future duties could include ground transportation of food, water and medical supplies as well as roadblocks and possible enforcement actions, he said. Among the National Guard ranks are about 65 medical personnel: 10 doctors, five nurses and 50 medics.
Keene State College acknowledged that it is working with local officials and public health experts to provide "additional space for care on our campus" if necessary, said college spokesman Kelly Ricaurte.
She said preparation work will begin once nearly all students have been moved out, which should be by the end of the day Tuesday.
Twenty or fewer students will be left on campus, and they will live together in the same building, Ricaurte said.
Second homeless shelter
Also in Manchester, local officials and non-profits will soon open the St. Casimir School building as a second homeless shelter in the city, Goonan said. The Union Street building was used last year as a shelter on a temporary basis while remodeling was underway at New Horizons homeless shelter.
He said the building has not opened yet, and efforts are underway among churches to find volunteers to staff the facility.
The second shelter is needed because of the tight space at New Horizons, which allows a maximum of 138 people a night to sleep there. That makes social distancing and self-quarantines a challenge, he said.
"They really need to start spreading people out," Goonan said.
Union Leader reporter Kevin Landrigan and photographer David Lane contributed to this article.