CONCORD — The five-month-old state requirement that people in New Hampshire wear masks to prevent the spread of COVID-19 ends today (Friday).
Gov. Chris Sununu announced the move Thursday, pointing to declining fatalities and the rising rate of immunizations.
In another major move, Sununu said that on May 7 he will end all industry-specific restrictions, such as seating limits and plastic barrier requirements, and replace them with a universal set of "best practices."
"There is a big difference between what the state is requiring, sending in the COVID police as folks like to call it," Sununu said Thursday, referring to the mask order he issued last Nov. 19.
"We had to issue restrictions during those extreme times, but we aren't in those extreme times now."
The mask mandate was the last major statewide restriction Sununu imposed. Sununu said it was logical for it to be the first one lifted once circumstances changed and enough people were vaccinated.
"We know how to keep ourselves, our friends, our neighbors safe now without a mask mandate," he said.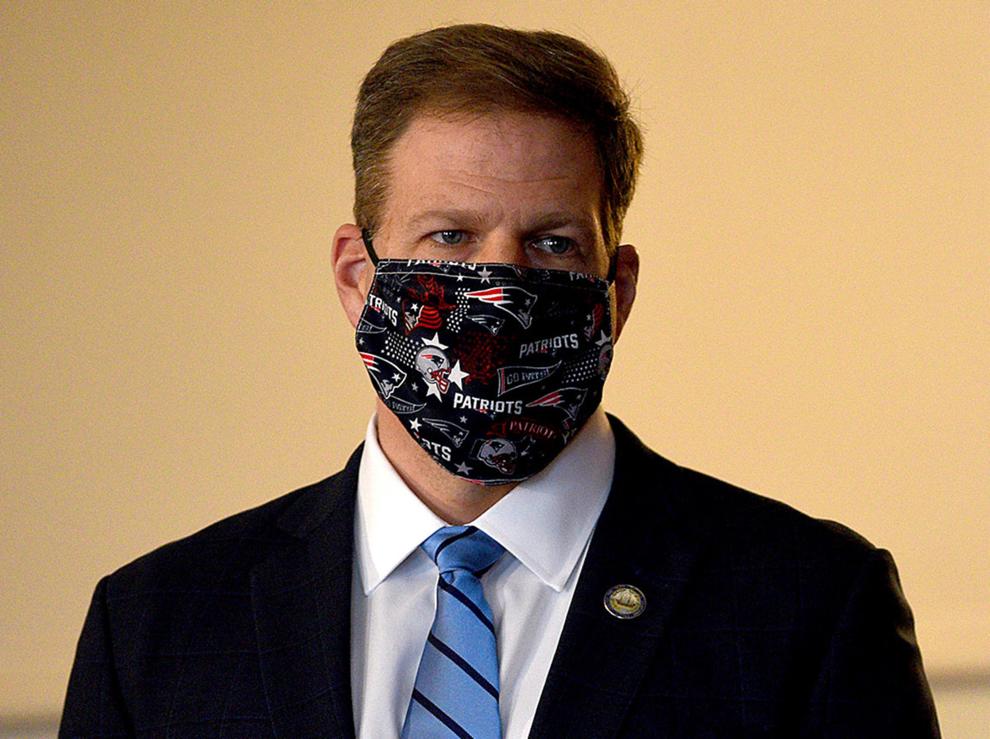 But wearing face coverings in public remains the proper practice when people can't maintain social distancing, Sununu said.
"Wearing a face covering when we are unable to maintain social distancing is just a good idea," he said.
Individual communities and private businesses are free to retain their own mask mandates and other specific operating restrictions after May 7, Sununu said.
Towns that currently require masks in public include Manchester, Concord, Nashua, Portsmouth, Durham, Exeter, Keene, Hanover and Lebanon.
The state was averaging just over a dozen deaths a day last December when the mask mandate was imposed.
The latest seven-day average for fatalities is 0.6, or less than one per day. That's the lowest since last October, before the worst of the fall surge of COVID-19 hit the state.
Hospitalizations and new cases, however, are similar to what they were when Sununu issued the mask order.
Last Nov. 20, the average daily number of new cases of the virus was 477. On Thursday it was 445, according to the state's COVID-19 dashboard.
Similarly, the number hospitalized with the virus last Nov. 20 was 116. On Thursday, that number was 130.
Vaccine the difference
Sununu said the game changer has been the vaccine, with 70% of those over age 65 having gotten shots and "95 to 97 percent" of those over 16 now eligible to be immunized.
"Hospitalization really hasn't changed dramatically," Sununu said. "There isn't any indication that the system will be overrun.
"The vaccination rate is the huge variable that didn't exist back in November."
According to the latest surveys, the average age of those hospitalized now is younger than last fall, with much better odds of surviving and quickly recovering from the virus, according to state officials.
The average hospital stay also is shorter, Sununu said.
State Epidemiologist Dr. Benjamin Chan was on vacation Thursday, but he issued a statement endorsing Sununu's decision.
"Throughout the pandemic, we have advised people to wear face masks to protect themselves and prevent COVID-19 from spreading, even when there was no mask mandate. The lifting of the mandate does not diminish the importance of wearing a face mask," Chan said.
"The threat to health from COVID-19 is real. Even as restrictions are reduced, we are still in a pandemic and levels of COVID-19 remain high across the state. Therefore, we ask that people continue to take steps to protect their own health, the health of their family and friends, and the health of their community."
The May 7 date for relaxation of other restrictions is timed to give business owners and public agencies time to change practices as they wish.
Sununu said by that date, more than 60% of those over 16 will have received at least their first shot. About 15,000 already are scheduled to get their first dose after that date, he said.
Monday milestones
Monday will mark two other milestones in the state's COVID-19 recovery efforts.
Beginning next week, all public schools will be required to offer five days of in-classroom learning for eligible students.
Sununu said he has granted waivers to Manchester and five other school districts to delay their full-reopening date because of "staffing and other limitations."
Parents remain free to keep their children home and learning remotely if they are still concerned about the risk of infection.
Also on Monday, non-residents, including college students from out of state, will be eligible to register for vaccinations in New Hampshire.
About 120,000 open appointments remain available before Memorial Day, which Sununu expects will be more than enough.
Sununu bumped up his latest expectation of how many eligible residents will end up getting the shots.
Earlier, he predicted it would be "55% to 60%" of those over 16. On Thursday he said it could be more like "65% to 70%."
"I think it's an amazing testament to the citizens of New Hampshire. Everyone is really doing their part to stare down COVID," Sununu said.
As word of Sununu's moves circulated, Colleen McCarthy of Littleton said she thought the governor should have considered waiting to end the mask mandate until after school vacation.
"Families are going to be going all over the country, and then coming back, not wearing masks," she said. McCarthy is still waiting to be vaccinated, and plans to keep wearing a mask for now.
Martin Toe of Concord said he still worried about older Granite Staters, and would have preferred the state wait until more than 60% or 70% of residents had been vaccinated.
Sununu said the current state of emergency will remain in place at least through the end of the year, which will keep New Hampshire eligible to spend more than $1 billion in additional federal grants already awarded to the state.
"The pandemic is not over and we are not declaring victory on all of this, by any means," Sununu said.
"We are going to see higher cases of COVID potentially for years."
Reporter Josie Albertson-Grove contributed to this story.