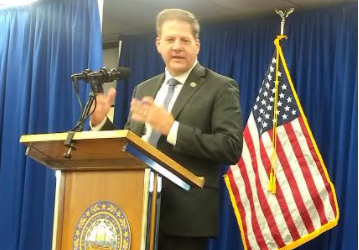 CONCORD — Reacting to six ongoing COVID-19 outbreaks among hockey teams that spread to two dozen public schools, Gov. Chris Sununu on Thursday ordered a two-week shutdown of all indoor ice rinks in New Hampshire.
Sununu stressed he was optimistic this would only be an "intermission" or a "pause" in the sport.
Amateur youth, high school and college rinks should be able to reopen Oct. 29 after they are extensively cleaned and the state likely comes up with more rigorous ground rules, Sununu said.
"This is not a decision taken lightly by any means. We have been working with this community for a couple of months. It is not getting better," Sununu said Thursday at the outset of his weekly briefing on the COVID-19 pandemic.
"It is not a crisis situation yet, but my job is to respond and continue to work with people so it doesn't get into a crisis situation."
The move comes as state officials announced that average daily cases of COVID-19 have shot up in past weeks from 53 to 73. Increased testing has exposed more cases, but state officials said there are growing signs the uptick is also linked to indoor gatherings where people aren't always wearing masks or staying socially distanced.
More than 150 cases
Over the past two months, the state has identified 158 cases of players and staff contracting COVID-19, including 117 linked directly to eight different outbreaks from youth hockey and another 41 cases tied to that activity, according to Dr. Benjamin Chan, the state's epidemiologist.
"Hockey has been one of the high-risk activities where we have seen substantial spread of COVID-19," he said.
The cases have occurred at 23 different youth hockey clubs and sports teams, Chan said.
The state's contact tracing team has found instances of COVID-19 starting in ice hockey programs and spreading to 24 schools.
"We haven't seen a lot of spread and transmission from other sports," Chan said. "It appears to be associated with hockey."
Sununu said it's still not known how the virus has spread among this sport — on the ice, in locker rooms or through social gatherings of players, staff or family members before or after games.
"It seems to be a variety of things," Sununu said.
Many parents and supporters of youth hockey programs have urged state officials to act.
"We have had a lot of outreach from parents asking us to take a closer look," Sununu said. "I think we have six official outbreaks now related to hockey and over 40 cases. We want to nip it in the bud."
Sununu said he has no evidence of COVID-19 spread in college hockey programs, which are in the midst of practicing for the winter season, but he said this is the prudent step to take.
"I know two weeks can sound like an eternity considering how many have seasons coming up," Sununu said. "It is a small sacrifice to make sure we are saving the rest of the season."
Last week, the Union Leader reported the Rinks at Exeter was shutting down three of its amateur hockey teams after a dozen players and one staff member tested positive for the virus.State officials conferred with that program's managers after COVID-19 cases were first linked to it last summer.
Earlier this week, Vermont officials said they believe 12 players and one staff member got the virus at a rink in Montpelier.
Maine officials said hundreds of players in their state and New Hampshire may have to quarantine because of their contact with a referee who worked an Oct. 3 game at Merrill Fay Arena in Laconia and at two rinks in Maine.
New Hampshire health officials have advised players and anyone attending that game that they should watch for symptoms that could emerge in the coming days.
Sununu said he can't legally prevent New Hampshire youths from playing hockey in out-of-state rinks that have not been closed.
"We can't tell folks they aren't allowed to go to another state," Sununu said, noting current travel is permitted to any New England state without having to quarantine.
Mixed public reaction
The governor's decision received mixed reaction on social media.
"My kids are forced to stay home from school as a direct result. They don't play hockey but a kiddo who did was on their bus... now we're home schooling for 2 weeks," Kristen Baker Milks posted on Facebook.
Nicole Sullivan said it was a shame.
"This just took away a small slice of normalcy for so many kids in this state. I am so sad for the kids and their programs who followed the rules. My son dresses in the parking lot or at home, wears a mask on and off ice, we fill out an info form every time anyone enters the rink, but here we are because a few people got greedy and couldn't follow the rules," Sullivan posted. "Shame on those people for robbing our children of a sport that they love. I truly hope this only lasts two weeks and our kids can return to the ice."
Laura Condon of Bedford said the fear is overblown.
"Yet no one is actually sick. Enough with the hysteria. Let these youths get back to life and living," she posted.
Sununu and state health officials did not describe how serious the symptoms were for those who contracted COVID-19 through ice hockey programs.