Lebanon police say a Vermont man caused a public scare on a bus when he started telling fellow passengers he had COVID-19 on Tuesday.
David Landeau, 65, of Hartford, Vt., is charged with creating a false public alarm and disorderly conduct. Police say the bus was evacuated because of his statements.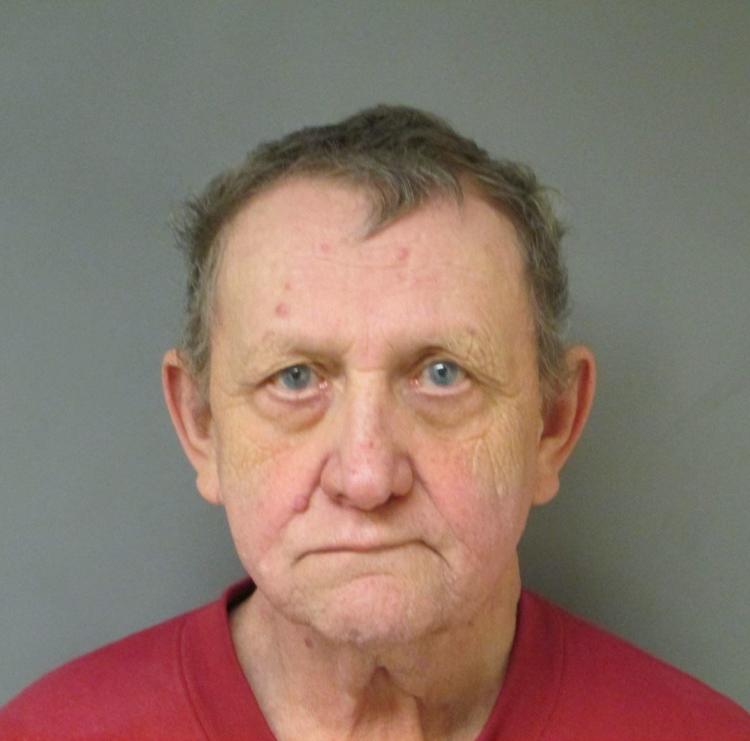 Police were called Tuesday morning about a man on a bus claiming to have the viral infection which has killed thousands of people globally and caused New Hampshire schools to empty and many businesses to shut down.
The bus company evacuated all of the passengers and driver from the bus, but left Landeau on board until police arrived, according to police.
Under questioning from officers, Landeau told them that he did not have COVID-19 and that his statements about having the illness were false, police said. It is not known why he claimed to be infected with the coronavirus.
Landeau is free on personal recognizance bail and due in court in July to face the charges.
Actions taken to protect consumers who can't pay bills
Gov. Chris Sununu announced the state is blocking utilities, landlords and mortgage companies from taking actions against consumers for nonpayment of bills as long as the state remains under its emergency declaration due to COVID-19.
The action means residents can't be evicted, have their electricity or heat turned off or be the subject of foreclosure for failing to pay their bills.
Dartmouth graduate student among new confirmed cases
A Dartmouth College graduate student is confirmed to have tested positive for COVID-19, according to Joseph Helble, Dartmouth's provost, and more positive tests among the college community are expected in the coming days.
The adult male was among the four new cases announced by the state Monday. Currently, New Hampshire has 17 confirmed cases of COVID-19.
Helble sent an email Monday night to members of the Dartmouth community stating that the graduate student is presumed positive after taking a test for the virus. He does not live on the Hanover campus, but resides in off-campus housing.
"We have been in touch with this person and their roommate to make sure they are comfortable and that they have everything they need while the person who tested positive recovers," Helble wrote.
Two other Dartmouth students are also being tested for the viral infection and those test results are pending, according to Helble.
"As stated earlier, the students undergoing testing are following protocol by staying in their homes and will be working with the New Hampshire Department of Health and Human Services to determine if any other close contacts also need to quarantine," he said in the email.
Helble said in the email that given the transmission rates of the illness that more cases of infection within the school's community are coming. The college is taking steps to stem the tide of the infection, he said. Dartmouth has announced remote learning for students through to May, and faculty and staff have been directed to work from home. International learning opportunities have been canceled for the spring and maybe further.
Helble is urging students and staff to stay in their homes as much as possible.
"Please make the modest personal sacrifice of remaining at home whenever possible and avoiding parties and other social gatherings," he said. "We can help to slow the spread of this virus and protect our friends, families, and neighbors if we limit our physical interaction and continue to practice good hygiene."
The path of this individual infection is not yet known. Last month Grafton County saw the first COVID-19 infection when a Dartmouth-Hitchcock Medical Center employee returned from a trip to Italy with the illness. That employee reportedly refused to comply with a self-isolation recommendation and attended a social gathering for students attending class at Dartmouth's graduate Tuck School of Business. That gathering reportedly had approximately 200 people in attendance.
"I know that news reports can be discouraging, but please remember that we have the ability to slow the transmission of this virus by putting the safety of all members of our community first," Helble wrote.
License and registration extension options
Driver licenses and and non-driver identification cards that are expired or set to expire between March 1 and April 30 will now be eligible for a six-month extension, according to a news release.
The extension does not apply to commercial driver licenses.
Customers who would like to take advantage of this option can call 603-227-4020 to complete the six-month extension and do not need to visit a DMV location. An applicable renewal fee will be due at the time of the call.
The following conditions apply to driver license and non-driver identification cards extensions:
• The six-month extension will not apply to customers with Commercial Driver Licenses.
• The DMV will verify eligibility and customer identity with the driver or identification card holder on the phone.
• Once the transaction has been completed, a six-month driver license or identification card will be mailed to the customer to the address on record.
• At the expiration of the six-month extension, the customer will be required to visit a DMV to obtain a new license for the remainder of the license period (4.5 years) at no additional cost.
The DMV is also offering extensions for 20-day plates for customers who don't want to go to a DMV location. NH DMV 20-day plates as well as NH authorized dealer 20-day plates, issued on or after March 1, 2020, will now be given an automatic extension through April 30.
Nashua takes steps against coronavirus
With one confirmed case of COVID-19 in Nashua, the city's public health director says that Nashua hospitals are not ready to handle a surge in potential cases.
Bobbie Bagley, director of Nashua's division of public health and community services, told city officials this week that Nashua, along with the rest of the country, is facing a serious health threat.
"Our hospitals right now are as prepared as they can be, but we are not prepared for a surge. We don't have enough (intensive care unit) rooms if we need to have people in ICU, especially those most vulnerable populations," she said. "We don't have enough negative air pressure rooms in the emergency rooms or on the floors if we have a spike in the area — we just don't have that."
Residents must be socially responsible while the city works to enact preventative measures on a daily basis, said Bagley.
"We want to spread this out so that it remains manageable for us here," she added.
Bagley said the measures that are being taken in Nashua will be helpful, including the closure of schools, the closure of Nashua City Hall beginning on Wednesday, the decision for all nonessential city employees to work remotely starting on Friday and the suspension of interior inspections as part of Nashua's revaluation process.
Justin Kates, the city's emergency management director, has helped to create five task forces that will be addressing COVID-19 concerns for the Gate City, as well as a city hotline to call for assistance.
"There are going to be a number of major issues, major problems that we are going to be dealing with in the coming weeks, the coming months — everything ranging from the distribution of medications and food, all the way through economic recovery and how we are going to deal with the fallout …," said Kates, explaining community organizations and businesses will need to have resources in place to reopen after the crisis.
The task forces created include a municipal continuity task force to keep city services operational, a public health response task force focused on current testing issues, a collaborative city and school task force, an economic recovery task force that will also deal with supply chain issues and a community distribution task force to help distribute supplies throughout the city.
"The city government is not going to be able to handle this. We have identified that the state government is unable to handle this and frankly, the federal government is unable to handle this," said Kates, stressing the need for volunteers and donation management for potential initiatives such as digital classrooms and meal delivery.
Aldermen approved the expenditure of $100,000 to help with various COVID-19 responses, including remote licenses for city employees and software equipment to assist with remote working.
In addition, city employees who cannot work because of childcare issues will not need to utilize vacation or sick time, and if city workers are out sick because of COVID-19, they also will not need to utilize their sick time; these measures will be in place at least until April 3, said Mayor Jim Donchess.
Only 4 NH ski areas still in service
Vail Resorts, which operates Attitash, Wildcat, Mount Sunapee, and Crotched Mountain ski areas, on Tuesday announced that the resorts will remain closed for the season.
The company had said it was suspending the operation of its alpine ski areas in North America from March 15-22.
"Given the current situation involving the impact of coronavirus (COVID-19) on our communities, we have now made a decision that our North American resorts and retail stores will remain closed for the 2019-20 winter ski season," Vail Resorts said in a statement.
As of Tuesday, there were four Granite State alpine ski areas still in service, albeit in limited ways: Cannon, Bretton Woods, Waterville Valley and Gunstock.
Jessyca Keeler is president of SKI NH, an industry group that represents 31 alpine and cross-country resorts. She called the coronavirus-related suspensions and closures "unprecedented."
"We have ski areas that have closed upward of four weeks earlier. March can often be a busy time of year for us. Resorts rely on their spring events to draw crowds and a lot of people prefer to ski when it's warmer and the days are longer," said Keeler.
Drive-up only at St. Mary's Bank
Effective Thursday, St. Mary's Bank will temporarily limit service at all branch locations to drive-up only. The Perimeter Road office in Manchester does not have a drive-up and will be temporarily closed. Bank officials said they plan to reopen branch locations on April 2.
Hours have been temporarily extended at all drive-up locations: Monday to Wednesday, 8 a.m. to 6 p.m.; Thursday and Friday, 8 a.m. to 7 p.m.; Saturday 8 a.m. to 1 p.m.
St. Mary's has five Manchester branches and locations in Nashua, Hudson, Londonderry and Milford.
Safe deposit boxes can be accessed by appointment only, the bank said in a statement. All ATMs and night drops continue to be available.
Legislative activity suspended through April 10
New Hampshire House and Senate leaders announced Tuesday they would extend the suspension of legislative activity due to COVID-19 through Friday, April 10.
Last week, Senate President Donna Soucy, D-Manchester, and House Speaker Steve Shurtleff, D-Penacook, had canceled all legislative meetings through this week.
Last week, the Legislature had passed an emergency rule that permitted Soucy and Shurtleff to extend deadlines for legislative action due to the pandemic.
Until this decision, the House and Senate were required to finish action on their own bills by March 26.
This announcement means that deadline will be extended at least until the end of next month.
Closings
Following is a list of closures sent to the Union Leader due to COVID-19.
AMHERST: Until further notice, St. Luke's Anglican Church, 3 Limbo Lane, will only have one Sunday service at 9:30 a.m.with music, followed by a Bible Study which will focus upon one of the lessons read during the service. All other midweek services and activities will be suspended during the crisis.
LONDONDERRY: The Aviation Museum of New Hampshire will be closed to the public beginning through the end of the month. The museum will resume its regular schedule of public hours on Friday April 3, subject to further evaluation of the situation. Updates and information will be sent by email as well as via the museum's Website at nhahs.org and at facebook.com/nhahs. 669-4820, jrapsis@nhahs.org.
MANCHESTER: The Franco-American Centre will be suspending activities until the week of April 6, 2020. For updates, go to FACNH.com.
PORTSMOUTH: Albacore Park Submarine and Museum to close temporarily. Albacore Park is joined by the Seacoast Science Center, Strawbery Banke and The Children's Museum of Dover in temporarily closing or suspending operations. We will post updates on our Facebook page at: tinyurl.com/wr3xx7p. Call 436-3680 or email albacoremailcall@gmail.com with questions.