Since the first COVID-19 vaccines were approved, people across New Hampshire and the nation have been asking that question.
The promise of an end to the pandemic has made people impatient.
There have been reports nationally of people jumping the line ahead of health care workers and vulnerable seniors to get their shots. Many Americans were outraged at photos of young, healthy members of Congress getting vaccinated.In New Hampshire, the first round of two-dose vaccines was reserved for about 110,000 frontline health care workers, first responders, and staff and residents of nursing homes. Those groups are expected to have received both doses by the end of this month, if the state receives the amount of vaccine it's supposed to, officials say.
After that, the state is using a simple metric to determine who gets vaccinated when: Those most likely to die if they get COVID will be at the front of the line.
So how long you'll have to wait for the vaccine depends on your age and what medical conditions you have.
"Those at highest risk get the vaccine first," Gov. Chris Sununu said at his weekly COVID briefing last Tuesday. "It's really that simple."
If you're 75 or over or have two or more serious medical conditions — such as cancer, coronary artery disease, pulmonary disease, diabetes or obesity — you'll be in the next group to be vaccinated, as soon as this month.
Teachers and residents age 65 to 74 will begin receiving their shots in March.
It likely will be springtime before most others get shots.
And if you're young and healthy, count your blessings and be prepared to wait until May or later.
Elizabeth Daly, chief of the bureau of infectious disease control at the Department of Health and Human Services, said New Hampshire residents will be able to get their vaccines at a variety of settings, including hospitals, medical providers, pharmacies and state-run vaccination sites.
"If supplies allow, we want this vaccine to be as easy to get as the flu shot," she said at last week's briefing.
'They'll call you'
Providers will determine which patients should be vaccinated first.
Dr. Michael Calderwood, associate chief quality officer at Dartmouth-Hitchcock Medical Center, said health care systems are reviewing patient records and coming up with their own lists.
"There will be direct notification of patients," he said. "You don't need to call them. They'll call you."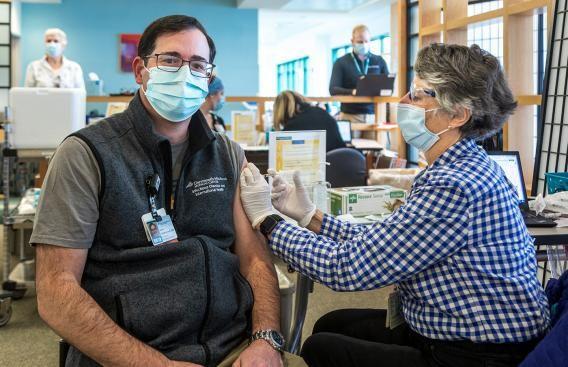 What if you don't have a doctor you see regularly? Calderwood said the state health department will offer clinics "to make sure everyone has access to this vaccine even if you don't regularly get health care."
Many health care systems, including Dartmouth-Hitchcock, plan to set up their own clinics as well, he said.
Calderwood said he is most concerned about residents in rural areas who have to drive long distances to see a doctor. He said health officials are working on plans to get vaccines to such people, especially those who are homebound but who are at risk because of age or illness.
If you live in the Concord area, you might be getting your COVID vaccine where you used to buy tires.
At the Steeplegate Mall, 2nd Lt. Stuart Burycka of the New Hampshire Army National Guard is in command of a former Sears auto shop that has been turned into a drive-through COVID-19 vaccination clinic.
In his civilian job, Burycka, 39, who lives in Manchester, works as an operations manager for Amazon in Hooksett. He was called up on Dec. 7 to run DHHS's Concord clinic. It's not like anything he expected to be doing when he joined the Guard, he said, but he's passionate about the mission.
"This is really why I wanted to get involved, why I enlisted, was to serve," he said.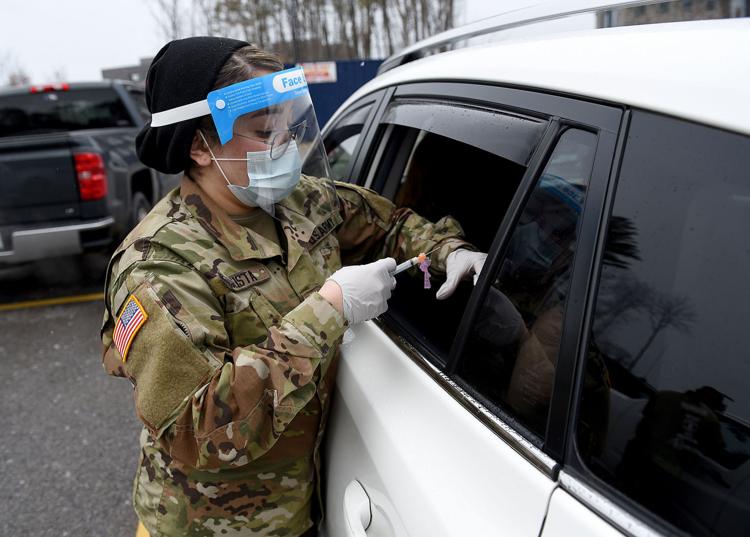 About 150 New Hampshire National Guardsmen are working at 13 vaccination sites around the state. So far, they have been inoculating first responders, but at-risk members of the general public soon will be lining up to get their shots.
Maj. Gen. David Mikolaities, adjutant general for the Guard, said 10 of the sites operate at a time, with teams of 11 soldiers and airmen deployed at each. Guardsmen with medical training are dispensing the vaccines, while others handle traffic control and technical issues.
The sites have each been averaging 180 to 200 vaccines a day, Mikolaities said. This week, the six busiest locations (Concord, Manchester, Exeter, Nashua, Londonderry and Rochester) will add lanes to increase the number of people they can serve.
The soldiers and airmen doing this work have "a real sense of purpose," Mikolaities said. "They are ecstatic to be helping their families, their neighbors, their communities and their state."
Other guardsmen are deployed to help at the state veterans' home, the state prison and the 211 call center. "We're almost like the state's utility knife," Mikolaities said.
'People are excited'
Last fall, Dartmouth-Hitchcock held a series of drive-through flu shot clinics, a dry run for the COVID-19 vaccination clinics to come.
"We learned a lot through that," Dr. Calderwood said.
They worked out traffic patterns to maximize the number of people coming through the line and tested the feasibility of vaccinating multiple people in the same vehicle so that families can get their shots together.
There are other logistical challenges for the COVID-19 vaccines. Everyone must be entered in the state's new vaccine registry, and after getting their vaccines, patients have to wait for 15 minutes to make sure they don't have negative reactions — 30 minutes if they have had allergic reactions to vaccines in the past, or have any history of anaphylaxis, a severe allergic reaction.
The Centers for Disease Control and Prevention last week announced 21 confirmed cases of anaphylaxis among the first 1.9 million doses of the COVID-19 vaccine administered. The average onset of symptoms was 13 minutes after vaccination.
Anyone who is vaccinated in New Hampshire gets a card detailing which vaccine they received and noting when they should get the second dose. Those cards may be very important as people start resuming their regular activities later this year, Calderwood said.
"Some people call them a passport," he said. "Eventually people who are fully vaccinated … might not need to quarantine, for instance, after they travel or after they have exposure.
"I've got mine sitting in front of me," he said.
Calderwood received his first dose last month. He said the side effects were what he expected: fatigue, chills and muscle and joint aches.
By the next afternoon, "'I actually was out hiking with my family and climbing a tree with my son," he said.
Getting the first COVID-19 vaccines has been an emotional experience for health care providers, Calderwood said.
"People are just so excited to get this vaccine because of the horrible toll this is having on people's lives and what they're seeing in the clinical spaces," he said. "It's been a very tough year, and I think people are very hopeful."
He has mixed emotions himself. "I know that this is the beginning of the end, but at the same time we have such a long road ahead to make sure everyone else in the community gets this vaccine," he said.
Calderwood is wary of proposals from some health experts to get vaccines to more people more quickly by cutting doses in half, extending the length of time between doses, or mixing and matching vaccines. British health authorities recently announced plans to stretch out the interval between the two doses in order to get more people vaccinated sooner.
In response, the Food and Drug Administration last week issued a statement stressing the importance of following the dosing protocols established through randomized vaccine trials. "Without appropriate data supporting such changes in vaccine administration, we run a significant risk of placing public health at risk, undermining the historic vaccination efforts to protect the population from COVID-19," the FDA said.
Calderwood said he will be watching the British results closely, but he agrees with those who warn that veering from vaccine protocols "would amount to mass experimentation."
"These are all things that are worth studying, but to do them writ large is essentially breaking from the science as we know it, and has the risk of actually ending up in a spot where we don't have sufficient immunity," Calderwood said.
"So we will have quickly gotten everyone vaccinated to a degree, but no one vaccinated to a sufficient level to help end this pandemic."
Studies showed about 50% effectiveness after the first shot for both the Moderna and the Pfizer vaccines, he said. "And you didn't get up to that 95% effectiveness until after the second shot," he said.
The good news is that the existing vaccines seem to protect people from the new COVID-19 variant, first seen in Britain and now in the United States, Calderwood said.
He understands the public's impatience.
"All of us want this to be over, and to be able to go back to our lives," he said.
By this summer and the next school year, he said, "We are going to be in a much more positive place." But, he warned, "We have some tough times to get through first."
Case numbers are projected to continue to rise in New Hampshire through March and not plateau until April, even with the rapid rollout of vaccines, he said.
"What will make that worse is if we begin to pull back on all of the mitigation efforts that have been put in place."
So for the foreseeable future, the same safety measures remain critical: wearing masks, socially distancing and avoiding travel and gathering, Calderwood said.
Even if someone gets the vaccine, it's still possible for them to spread the disease to others, he said.
"We're not yet out of the woods, and what people do over the next two months is going to make a huge difference," he said.