Patients at hospitals throughout New England who are in need of intensive care can now turn to the Dartmouth-Hitchcock Center for Connected Care's Tele-Intensive Care Unit (TeleICU) Program.
Located in a newly renovated, technologically innovative and dedicated space at Dartmouth-Hitchcock Medical Center in Lebanon, the TeleICU hub is staffed with critical care nurses and board-certified physicians who have undergone advanced training in providing care for critically ill patients.
According to a news release, the TeleICU team collaborates with bedside clinicians in rural hospitals to provide real-time care, support, monitoring and clinical consultations, allowing even the most critically ill patients to receive care close to home. The clinicians communicate using state-of-the-art, two-way, interactive audiovisual technology.
In addition to serving partner facilities such as Cheshire Medical Center, a member of Dartmouth-Hitchcock Health, in Keene, and Southwestern Vermont Medical Center in Bennington, Vt., DHMC has wired its own Medical, Surgical and Neurological Intensive Care Units into the system.
"We've incorporated TeleICU in our own medical center because we recognize its ability to support our physician and nursing staff, mitigate burnout and improve satisfaction, while at the same time reinforcing the culture of safety and our commitment to quality patient care," said Stephen Surgenor, MD, MS, medical director for Dartmouth-Hitchcock's TeleICU.
According to the news release, through bedside support, standardization of care and early intervention, TeleICU improves patient outcomes — including reduced mortality rates, fewer complications and reduced lengths of stay, both in the ICU and in the hospital after discharge from the ICU.
TeleICU also enhances the patient and family experience while decreasing the risks and costs of hospital transfer, said Kevin Curtis, MD, MS, medical director of Dartmouth-Hitchcock's Center for Telehealth.
"Our critical care clinicians work in tandem with the outstanding care teams at rural partner hospitals, reducing the number of patients requiring transfers to high-acuity hospitals, such as Dartmouth-Hitchcock Medical Center — this is beneficial not only to patients, but also to their loved ones," Curtis said.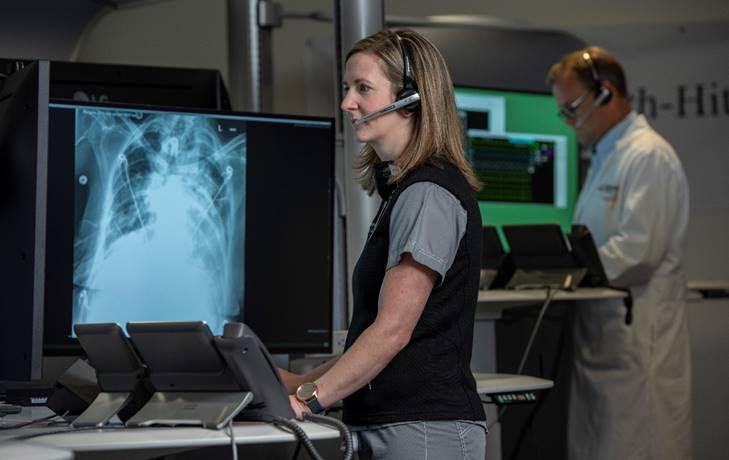 TeleICU can help hospitals increase access to evidence-based care by providing their in-house clinical teams with expert support, as well as 24/7 monitoring of critically ill patients through advanced predictive analytics software.
At Dartmouth-Hitchcock, software called "eCareManager" allows the TeleICU team to monitor patient conditions minute-to-minute and detect clinical issues before they become more serious events.
With nearly 2 million people residing in rural communities across northern New England, telemedicine will play an increasingly vital role in providing patients with access to the care they need within their own communities, the news release states.
"Dartmouth-Hitchcock TeleICU facilitates excellent care for patients at ICUs across the region, and allows us to ensure that DHMC's ICU beds are available for the most critically ill patients who require a level of care and access to specialists and other resources that can only be provided here," Surgenor said. "This stewardship of all resources in the region makes sense for our patients and their respective communities."
The Dartmouth-Hitchcock Center for Connected Care was founded in 2012 with a primary objective of helping to deliver outstanding health care to the region independent of a patient's physical location.
The Connected Care telehealth program currently serves more than 20 hospitals in New Hampshire, Vermont and Maine, providing services such as TeleEmergency, TeleICN (Intensive Care Neonatology), TeleNeurology, TelePharmacy, TelePsychiatry, TeleSpecialty and TeleUrgent Care in addition to TeleICU.