DEAR DOCS: My grandmother developed Parkinson's disease after she turned 70, so I was going to go online and get one of those DNA testing kits to see if I was at a heightened risk of getting it, too. What do you docs think?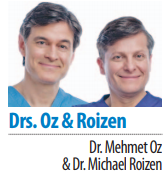 DEAR THALEESA: Well, there's genetic testing and there's genetic testing. If you are going to have it done, hire professionals. That means going to a certified health care provider such as a licensed physician, a nurse practitioner or a genetic counselor. They'll tell you which test to take and send your DNA sample to a lab where a full genetic profile can be generated. Some labs only look for a few of the many mutations that might signal a predisposition to a disease. Then when the results come back, they will go over them with you. Your health insurance might cover this.
If you use a direct-to-consumer DNA testing service, you also run the risk of getting back a false positive (you don't really have the gene, but they say you do), or a false negative (they tell you that you don't have the gene when in fact you do), according to researchers from University of Southampton in the U.K. Plus, you'll have your DNA out there in marketing land, where your information isn't secure, no matter what they say. Most of the time, even a direct-to-consumer paternity test isn't admissible in a court of law.
Just by taking a quick look at one of the more popular direct-to-consumer sites we found this in small print on the last page of its website: "The test is not intended to tell you anything about your current state of health, or to be used to make medical decisions."
So go with the pros. They will also be able to tell you if there's something that looks amiss in the results and what to do with your new knowledge to protect your health.