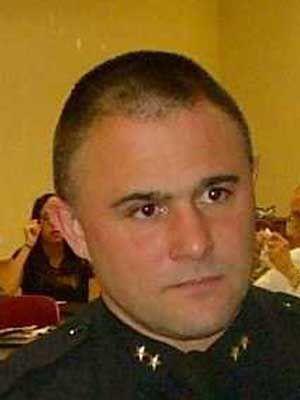 NASHUA — Elevated levels of lead have been discovered in the blood of four city police officers, likely caused by an inefficient air ventilation system within the Nashua Police Department's gun range.
"We have had to go through extensive cleaning," said Deputy Chief Michael Carignan.
He said the air flow that exists within the gun range, which is located inside the police station, is not properly designed for how range officers currently train.
All of the heating, ventilation and air-conditioning (HVAC) equipment that controls the pistol range is original to the 1979 building, and is in poor condition and beyond its useful life, Carignan told aldermen recently. The system pushes the air down and across the range and then back into the faces of the officers, he explained.
"We do use lead-free ammunition, however there is still lead fragments in the primers and in the bullets as they are hitting into the back wall," the deputy said.
The department currently has three full-time range officers, and a fourth officer recently left.
"Each of the four had elevated lead levels," said Carignan, adding that one officer had such high levels of lead in his blood that he almost had to be pulled out of his position and out of the range.
Since that discovery, Carignan said, several steps have been taken to reduce the amount of lead inside the gun range. Experts were hired to deep clean the range facility, repaint the walls, install new flooring, pull down the ceiling and install more stainless steel surfaces, according to Carignan, who is hoping those actions will reduce the amount of lead exposure to officers.
However, he said the airflow level is still a concern.
Carignan said many of the windows are original to the building and have to be duct-taped to prevent wind, rain and snow from entering the building. Even then, he said, the nearby sheetrock has been damaged because of repeated moisture.
The building's mechanical room and fleet maintenance garage system is old, outdated and in continuous disrepair, he said, explaining the building has been operating at a 15 percent energy efficiency rating since 2011.
"So basically we are wasting taxpayer money running a very inefficient system and we are potentially affecting the health of our officers who are practicing their aim," said Alderman Tom Lopez.
On Tuesday, the Board of Aldermen approved a $2.8 million bond to install a new HVAC system at the police station, and to replace nearly 50 windows in the building.
"We need to do this for them and give them conditions they should be working in," said Alderman Richard Dowd.
Alderman Ben Clemons agreed, saying the money should have been spent a long time ago to fix these issues.
Dowd said the project will result in significant energy savings.
"This money will be well spent on a very tired and worn building, and probably not a very healthy building either," said Alderman Lori Wilshire, president of the board.