At 95 years old, Francis Smith had the chance of a lifetime – to take part in a World War II Honor Flight to Washington, D.C. Only problem was, he couldn't walk the 100 yards required to go on the trip.
That was before he had valve replacement surgery at Catholic Medical Center.
"The first time they asked me if I'd like to go, I had to say no," he recalled with a sharp memory. "I couldn't walk without huffing and puffing. After my operation, I breathe easy. They asked me again if I'd like to go and now I could say yes."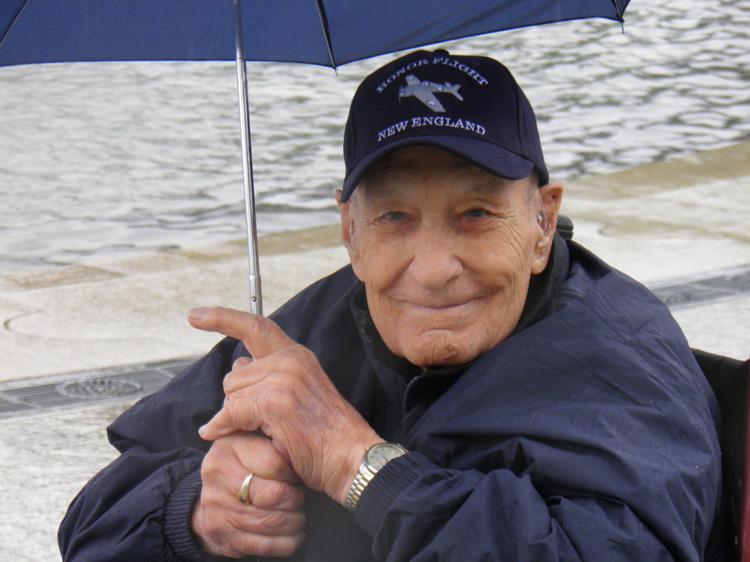 Honor Flight Network helps transport veterans and their guests to Washington, D.C. so they can visit and reflect at various memorials. According to their website, honorflight.org, top priority goes to World War II survivors. An estimated 640 of them die each day.
For Smith, the trip was made possible thanks to the new heart valve he received in a minimally-invasive procedure known as TAVR – transcatheter aortic valve replacement. The team at CMC's New England Heart and Vascular Institute implanted the valve through a catheter in his leg.
"Before, I would go to appointments at the VA and they would send me to the emergency room every time because I couldn't breathe. It happened three or four times."
A TAVR candidate
Prior to surgery, Smith was not doing well. James Flynn, MD, FACC, Director of the Cardiac Catheterization Laboratory and Interventional Cardiology Departments recalls, "When I first saw him, Francis was suffering from severe aortic stenosis and it was clear he would need a valve replacement. He was having trouble breathing during simple tasks, like walking down the street. Thankfully, he was a great candidate for TAVR. At his age, open heart surgery would have been difficult for him, but we were able to perform a much less invasive procedure."
Aortic stenosis (AS) occurs when the heart's aortic valve narrows, reducing blood flow from your heart to the rest of your body. Severe aortic stenosis causes symptoms that greatly limit a person's quality of life and is fatal if the valve is not replaced. In the past, valve replacement always required surgery, however in 2011, the FDA approved the use of TAVR for high risk surgical patients with severe AS, giving patients a less invasive option.
The procedure was first performed at CMC's New England Heart and Vascular Institute in 2013.
"It's a great option for patients who are at high risk for traditional open heart valve surgery," Flynn said. The minimally invasive procedure helps improve both quality and length of life for patients who previously had few treatment options. TAVR patients are often in their 70s, 80s, or even older, like Smith.
TAVR candidates are evaluated by a multidisciplinary team of interventional cardiologists and cardiac surgeons to make sure the treatment is right for them. Smith was deemed ideal. On Nov. 2, 2017, his procedure was performed by Flynn, interventional cardiologist Jeffrey Bleakley, MD, FACC, and cardiovascular surgeon David Capparelli, MD, FACS. Smith's procedure was performed in about an hour; he spent the night in the hospital and went home the next day.
Living proof
Smith's son, Hugh Smith, saw immediate improvement in his dad's health. "Before the operation, when the weather was warm, he couldn't catch his breath. Following Dr. Flynn's handiwork, on a 98-degree day, Dad was running around Home Depot picking out plants like he was 39 years old. Dr. Flynn was so good to him. It really changed the quality of his life."
In December, CMC celebrated five years of TAVR procedures.
"Our experience with TAVR has provided a great opportunity for our patients with valve problems," said Flynn. "For our older patients, 40 to 60 percent of them weren't candidates for open heart surgery in the later phase of their lives, so TAVR represented an amazing breakthrough and many have benefitted as a result. Most patients recover quickly and they usually go home the next day."
With over 550 TAVRs performed at CMC, the team is now expanding to other valves and procedures. These include MitraClip, a catheter-based mitral valve repair, and patent foramen ovale (PFO) closure, a procedure that repairs a small hole in a patient's heart that has been present since birth.
"Our TAVR experience has been the foundation of our Structural Heart program," Flynn said. "It's opened up other therapies and we have gained a lot of expertise in this area. We are now considered one of the leaders in northern New England in this field."
Patients are living better lives as a result.
The younger Smith sees his dad as proof. "With his Honor Flight and TAVR in his rear view, (dad's) got a lot of living left to look forward to."
Smith is cheerfully looking forward to other milestones. "Dr. Flynn told me he wants to be invited to my 100-year-old birthday party. He's in!"