CONCORD — Health and Human Services Commissioner Jeffrey Meyers has confirmed he will step down in December at the conclusion of his four-year term running the state's largest agency.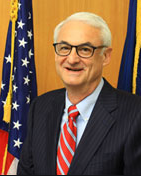 In an email to staff Monday, Meyers said he told Gov. Chris Sununu "some weeks ago" that he was not seeking reappointment and would end his work for HHS on Dec. 6.
"I leave with mixed emotions. I have formed close professional relationships with so many of you. I will miss working with you and will miss the department but this is the right decision for me and my family," Meyers wrote to the staff.
"The future is yet to appear. I will be exploring opportunities in the private sector after I leave."
The move will end 13 straight years of Meyers working in state government, first in 2006 as the legal counsel to the state Senate and then as former Gov. John Lynch's office lawyer before going to work at HHS.
"Jeff has been a tireless advocate for New Hampshire's vulnerable children and helped usher in new reforms that are rebuilding DCYF (Division of Children, Youth and Families) from the ground up," Sununu said in a statement. "From overseeing our fiscally conservative Medicaid expansion program to prioritizing key areas of need in our mental health system, Jeff has been a strong voice and advocate for many, and will be missed by all in state service."
During an interview, Meyers, 64, said he decided recently this was the right time to leave if he was going to pursue other career opportunities.
"My hope is to be able to work nationally in the private sector," Meyers said.
This departure leaves Sununu with one of the most significant personnel decisions of his second term.
Widely considered one of the toughest jobs in New Hampshire state government, the HHS commissioner runs an agency that consumes about 40% of the budget, employs more than 3,000 full-time staffers and manages hundreds of human-service contracts with private, non-profit vendors.
Meyers said while the job is "24/7," he rejected proposals to break HHS up into small parts and thought each commissioner should serve one, four-year term and then move on.
"I don't see how you save administrative costs if you break it up and having it integrated together really does maximize the state's ability to leverage more federal money," Meyers said.
Senate President Donna Soucy, D-Manchester, said Meyers was an important partner with the Legislature in crafting his agency's budget.
"It has been a pleasure working with Commissioner Meyers to advance the best interests of New Hampshire citizens — whether in private practice, as Legal Counsel for the Senate and Governor's office, or most recently in his position at Health and Human Services," Soucy said.
"I am grateful for Jeff's dedication to our state and his work to improve access to mental health care, combat the opioid epidemic, and implement the New Hampshire Health Protection Program."
His tenure has been a busy one and he's tackled the agency's toughest problems, from the opioid epidemic to divisions providing mental health and child protection services that were under-financed and had systemic mismanagement issues.
"Over these past four years, we have been presented with unprecedented challenges involving our child welfare system, mental health and substance misuse crises, and managing our department with scarce resources," Meyers said.
"We have made real and measurable progress in each of these areas, as well as others."
Meyers said he was proud that his management team during the first four or five months after his taking the job was able to send out $26 million in state and federal grants to build capacity in the community to treat addicts.
"This was before we got the large federal opioid response grant. We had to move quickly but competently and I believe we did," Meyers said.
He asked the public to be patient as the department worked with more resources in this new state budget for both mental health and to fight child abuse and neglect.
"We've had great bipartisan support for these initiatives and that's great but at the end of the day it's the agency's job to implement the vision and that takes time and a lot of work," Meyers said.
Meyers has been with the agency for six years, the first two as head of intergovernmental relations, which many observers saw as his opportunity to become familiar enough with the department to eventually run it.
Then-Gov. Maggie Hassan nominated Meyers as commissioner in January 2016 and the Executive Council that included now-Gov. Chris Sununu unanimously confirmed him.
"I was humbled and grateful for the confidence that Governor Hassan and the council placed in me," Meyers said.
"I have enjoyed close working relationships with both Governor Hassan and Governor Sununu and I value their collaboration and their friendship."
The highest HHS officials serving under Meyers are Associate Commissioners Lori Weaver, Ann Landry and Chris Tappan.
"I think one of my greatest legacies is the leadership that I built in the department and that group will be there making positive change long after I leave," Meyers added.
A search for a new HHS commissioner will begin immediately and Sununu said all interested candidates should send a letter of interest and resume to Governor Sununu's director of appointments, Jonathan Melanson, at Jonathan.Melanson@nh.gov.
Along with the associate commissioners, other possible replacements could include Labor Commissioner Ken Merrifield, State Rep. Jesse Edwards, R-Auburn, and State Sen. John Reagan, R-Deerfield.
Any nomination by GOP Gov. Sununu to replace Meyers would have to get past the council that has a 3-2 Democratic majority.
Meyers is married to Amy Ignatius of Concord, a superior court judge and past chairman of the state Public Utilities Commission.