More than two dozen homeless people camped at the Hillsborough County courthouse in Manchester traded their tents for warm beds on Thursday, with most of them headed to a Derry recovery center, state officials said.
According to a statement from the state Department of Health and Human Services, 27 people accepted offers of supportive housing.
Meanwhile, Republican Gov. Chris Sununu said protesters at the site have urged some there to refuse housing.
"I can't tell you how dangerous and frustrating that is," said Sununu, noting the overnight low temperature was 15 degrees.
He said Manchester city officials have not offered any assistance to the state.
"They've been very brazen and vocal about that," Sununu said.
But, Sununu said, the state is working with Manchester nonprofits directly, and nonprofits from other parts of the state are offering to help.
Fire Chief Dan Goonan said Sununu is lying. Firefighters are at the courthouse encampment as well as camps throughout the city every day. Most of their work involves addressing immediate needs such as physical injuries or illness or mental illness. He said they line up people for housing when beds are available.
When he approaches state officials, "they're constantly angry that we've come to them to ask for help," Goonan said. "The politics of this is absolutely nauseating."
On Thursday, Granite Recovery Centers founder Eric Spofford said he had 22 beds at a Derry location and a few more in Effingham in Carroll County.
"This is a warm place, food included," Spofford said. The state Department of Health and Human Services called him Wednesday night asking if he could help, he said.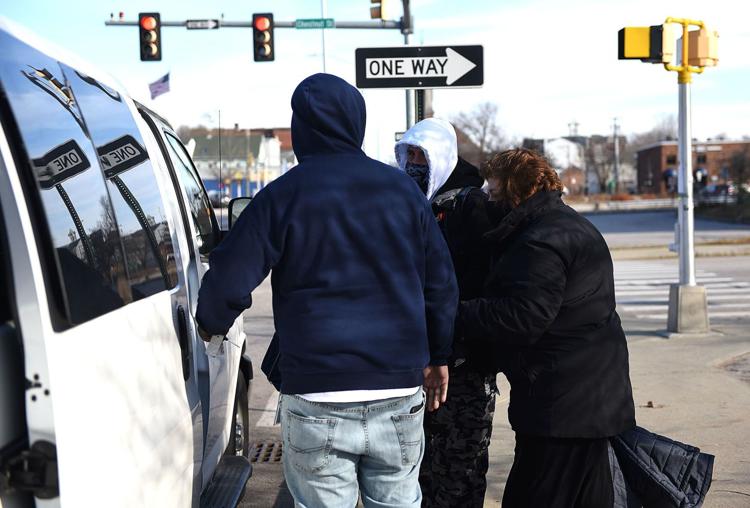 People will sleep one or two to a room. Substance abuse and mental health counselors will be available, and Granite Recovery will offer transportation to appointments or to visit family, he said.
He said the state told him to expect the beds will be needed until March. He said open drug use wouldn't be tolerated, but several campers said workers told them that people in recovery would be segregated from active users.
Granite Recovery represents the most high-profile effort to relocate the courthouse homeless since Monday, the deadline the state set for them to evacuate the property.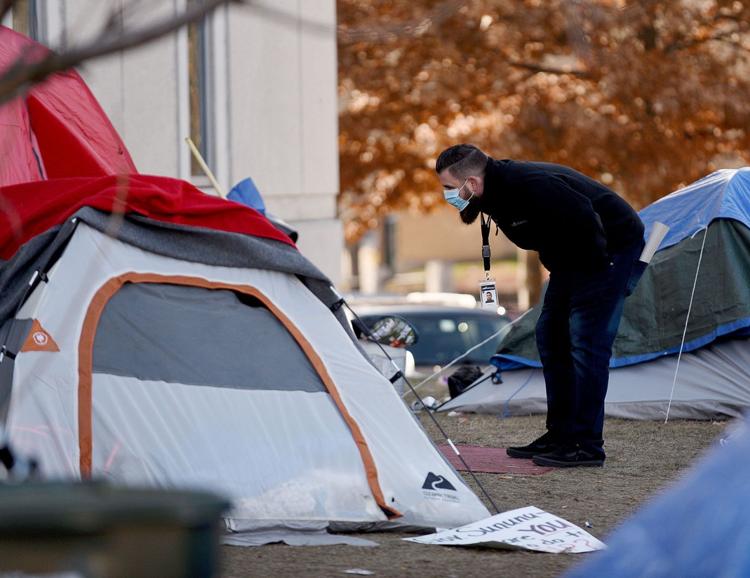 As a plain-clothes trooper looked on, state workers and Granite Recovery volunteers tried to coax people into leaving the courthouse for shelter. The overtures came after two frigid nights in which temperatures dipped into the teens.
A buoyant Nicholas Crawford accepted the offer in the early afternoon. Crawford, 26, said he has been at the camp since the summer after getting kicked out of a recovery program for missing a urine test. He said he lost his job because of the coronavirus pandemic.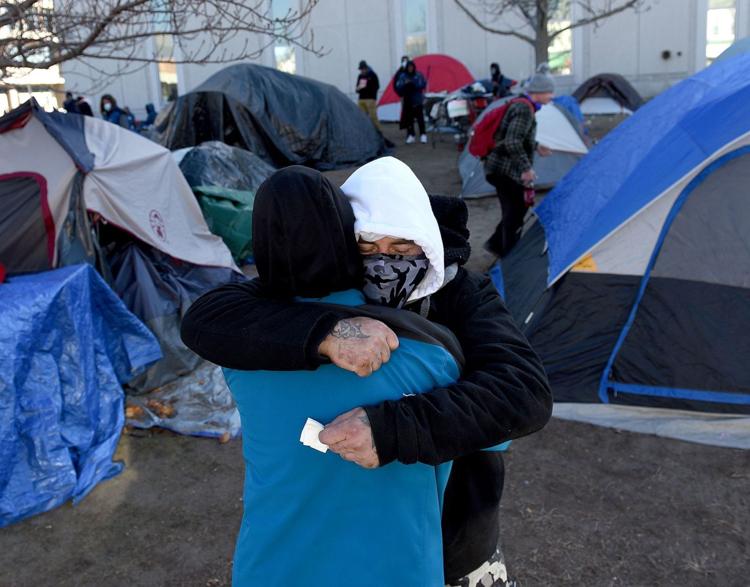 The first two vans filled up quickly and took off with 15 between them. But volunteers struggled to fill a third van.
"They complain about being in the cold, and then they don't take the help to get out of it. It makes no sense whatsoever," Crawford said. He described the camp atmosphere as hectic.
"People here would steal from their own mothers," he said.
A man who gave his name as Edward said he first agreed to the housing but later turned it down.
"Change messes me up," said Edward, 27, who said he had a job but lost it to mental illness.
In a statement, state officials said the number of people camping on the courthouse lawn had been pared from 70 on Monday to 45 by Thursday.
It's unclear how firm that number is. A reporter saw one person get into a van at the courthouse and get out of a car less than a half-hour later and return to a tent.
The homeless on the courthouse lawn are only a fraction of those without homes in Manchester. Throughout the city, about 365 people are homeless and unsheltered, city officials have said.
The camp has drawn media attention and picketers from organizations such as the Mutual Aid Relief Fund and the New Hampshire Youth Movement.
Although the state has promised the homeless will be moved from the courthouse, Mayor Joyce Craig has said she does not want them involuntarily evacuated and end up camping elsewhere in the city.
In a lengthy letter Wednesday, Sununu detailed state spending on homelessness across the state.
About $6.5 million in state and federal dollars has been budgeted for efforts in greater Manchester to address homelessness, according to the letter.
"Any attempt to politicize, scapegoat, or otherwise undermine efforts to help individuals and families who are experiencing homelessness is reprehensible and will not be tolerated," he wrote.
In a statement Thursday, Craig said she was glad to see people get housing.
"This is a perfect example of what can happen when the State engages in the fight against homelessness and uses its superior resources to work toward a solution," said Craig, a Democrat.
Sununu said the highest levels of success entail Housing First, a recovery effort that emphasizes providing housing before addressing root problems such as addiction, mental health or chronic joblessness.
Sununu also created a Council on Housing Stability of about 40 members. He has given them until Dec. 14 to come up with strategies and legislative recommendations to address homelessness.
The first phase of the work, due in three weeks, will focus on what he can accomplish by executive order and possible legislation.