In a Manchester park, not far from downtown restaurants and shops, evidence of drug use is in plain sight.
Needles, a pipe, glass tubes and a square of tinfoil are scattered on a blanket. A man lies sprawled nearby, asleep on concrete steps.
Since 2017, New Hampshire's Department of Health and Human Services has invested about $150 million in combating the opioid epidemic. But more than 400 people a year are still dying from drug overdoses, most involving synthetic fentanyl.
In the state's largest city, the health and police departments have joined forces to try something different.
On a warm fall morning, three men in a Ford Fusion pull up to Victory Park. One is a community health worker in dark clothes and a baseball cap. The others are police officers, wearing jeans and sweatshirts. They're looking for five individuals who overdosed on drugs in the previous 72 hours.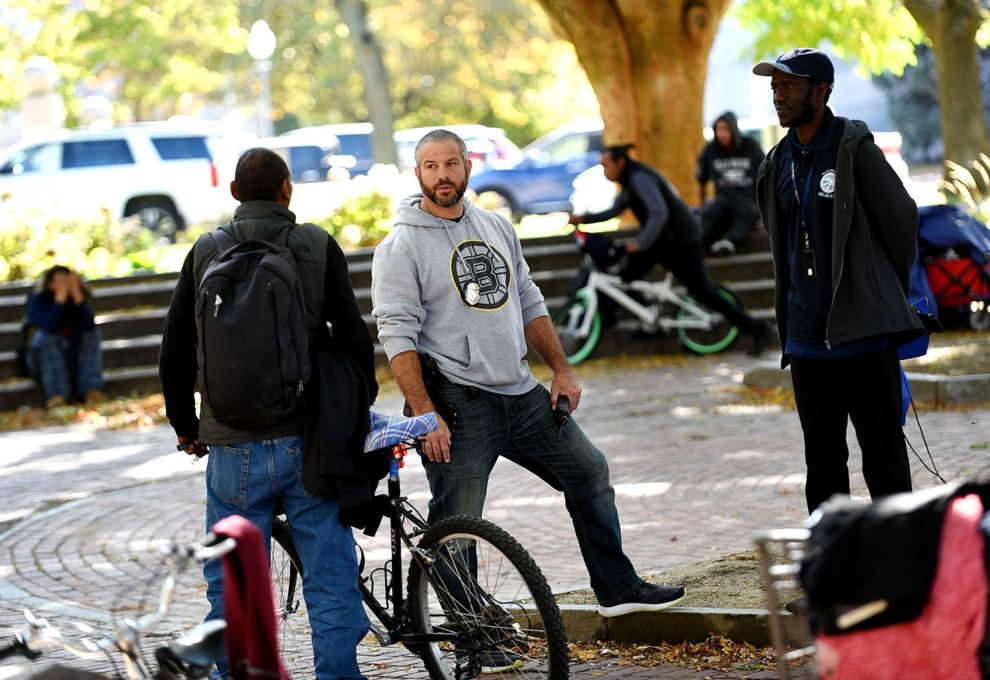 This is Manchester's Community Response Unit — a grant-funded initiative to try to reach those enslaved by addiction, offering help instead of punishment. The program, which also includes a peer outreach worker from Better Life Partners, focuses on harm reduction, trying to keep drug users safe until they're ready to seek treatment.
Stacey Lazzar, behavioral health coordinator for the city's health department, likens the new unit to "a mobile Safe Station" — the Manchester Fire Department's drop-in program that recently ended after five successful years.
The idea is to meet people where they are and try to connect them with support services, whether that's shelter, warm clothes, mental health care or treatment options, Lazzar said.
"Let's not wait for people to fall in the river," she said. "Let's find out why they are falling in the river in the first place."
The teams give out "leave-behind" kits containing plastic gloves, alcohol wipes and naloxone, the overdose reversal drug, packaged in boxes printed with information about The Doorway, the state's treatment and recovery program, which opened in early 2019.
"You are not alone," the boxes read.
The teams also hand out backpacks with supplies: warm gloves, hats and socks, handwarmers, a mylar blanket, a flashlight.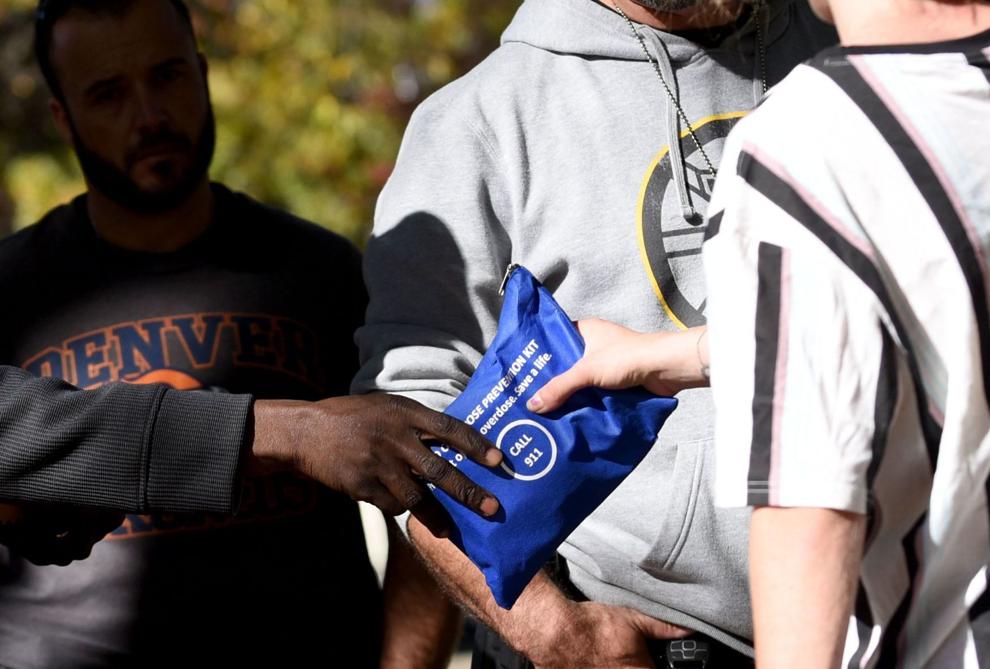 On the front lines
In the city park, Sgt. Morgan Lovejoy, officer Brian Karoul and Biram Saidybah, the program's care coordinator from the health department, approach a young woman. Clearly high, she's yelling and joking, jittery and elated.
Her feet are bare this October morning. "These are my glass finders," she says brightly, laughing.
"Am I funny or am I crazy?" she asks of no one in particular.
The young woman, who said her name is Hunter, grew up in Manchester and went to high school in Goffstown.
Her face darkens when she talks about her 3-year-old son. Her mother is caring for him.
Where's the boy's father? "He never stayed," she said.
Somehow she manages to look both very young and much older than her 22 years.
Hunter said she likes the new approach the cops are taking with people with substance use disorders.
"I think it works out best," she said. "When you're nice to us, we pick up our own mess. And the kids won't pick up our needles."
"If you come yelling at me, I'm going to drop my stuff and run," she said.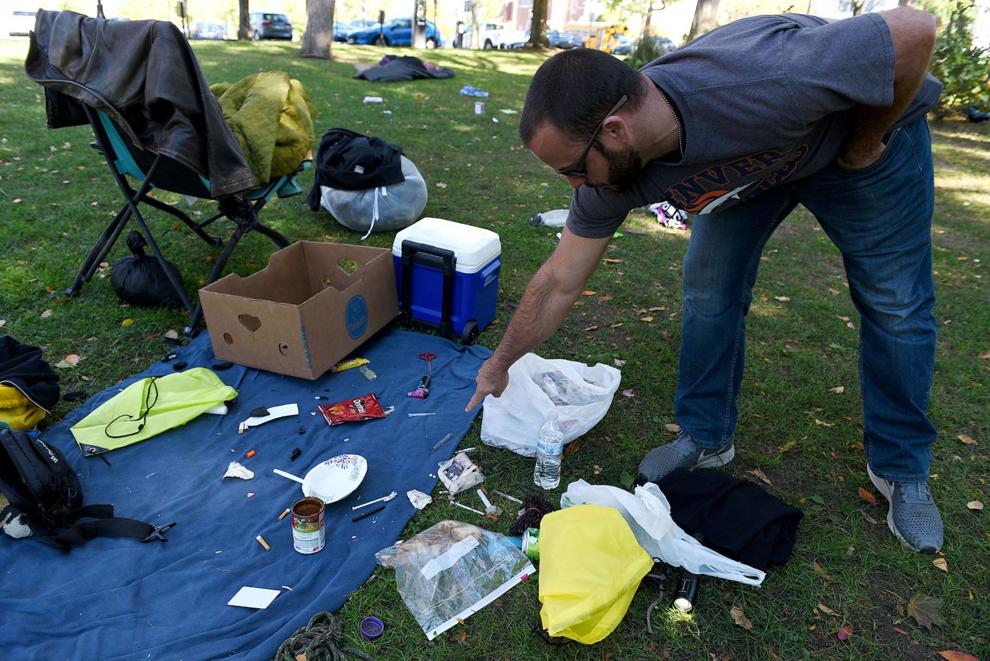 A different approach
The Community Response Unit takes a data-driven approach, said Lt. Matthew Barter, the police department's chief of staff and the program's coordinator. Police reports from overdose incidents generate a list of recent overdose victims, and a team seeks them out in person to try to connect them with available resources.
The data also track social networks for overdose victims — not the social media kind, Barter explained, but their personal connections with others. That could be individuals who were at the scene of an overdose, for instance, or friends, family members or others who might be in a position to influence users to seek help.
When Barter sent out a notice asking if police officers might be interested in joining the unit, "the response was really overwhelming," he said.
"This opioid crisis has impacted everybody, and a number of officers have real-life experiences with family members or friends who have been victims of this crisis," he said.
Police officers are also the ones who have to notify family members of an overdose death. "That's tough stuff and that weighs on you," he said.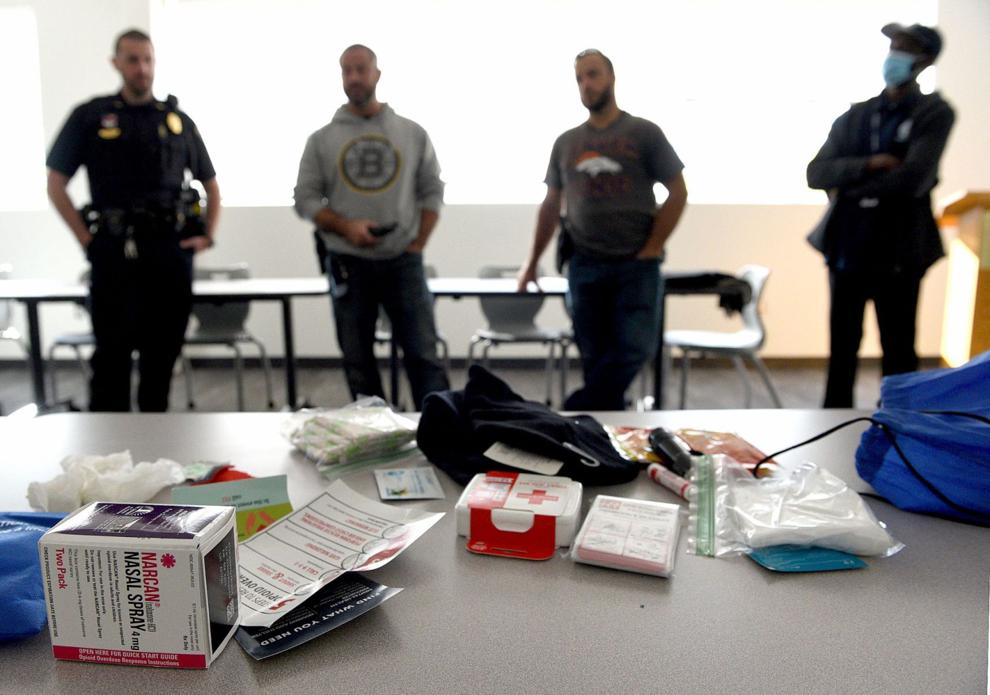 Since the unit began working in June, it has about a 40% success rate for contacting people, Lt. Barter said.
Initially, people were apprehensive about talking with the officers, but that has changed, he said.
"We have numerous stories of family members who have broken down crying when we provide them with a leave-behind kit," he said.
Drug users aren't always ready to seek treatment when the team contacts them, but Barter said he hopes the kindness, concern and offered supplies create an opening. "And maybe next time we come, they're that much closer," he said.
"There's certainly value in showing that we care and that we want to try to make things better," he said.
'In a bad space'
After the park, the team makes two more stops at the last known addresses for recent overdose victims. The first is a second-floor apartment on Pearl Street.
Karoul, who's wearing a Bruins sweatshirt, knocks on the door. A young woman answers, but when they ask for a man who used to live there, she says sleepily, "I don't know any Matthew."
Most of the people they're looking for are transients, Sgt. Lovejoy said. "They don't stay in one place very long."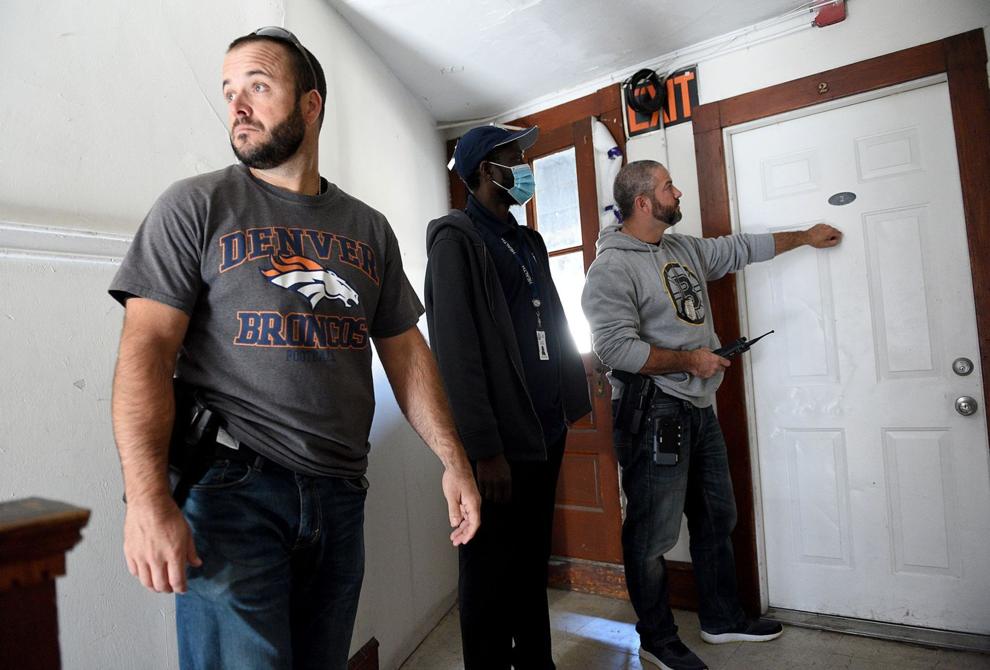 Back on the street, a man with a tabby cat in a carrier stops them. "Are you looking for Matt the Rat?" he asks. That person hasn't lived here for six months, he tells them.
The cat has diabetes, he says. "If I run out of needles, I just go out in the alley," he says.
"Just kidding," he says quickly. "Fresh needles for him."
Karoul has been a police officer for 20 years. This is something different, he said. "It's rewarding to go out and help the people we work with every day," he said.
Lovejoy said he likes this "low-profile" approach. It's less intimidating for the people they're trying to help, he said.
"They're usually pretty decent people to deal with, " he said. "They're just in a bad space right now."
Lovejoy said he thinks the state still needs to expand treatment services. "I've seen people who want to go," he said. "They're waiting on a bed for days or weeks."
One man's mission
The team's next stop is a multi-family home in a quiet neighborhood on the city's West Side. Pink roses are blooming next to the outside steps the team climbs to the second floor. Their knock goes unheeded.
The woman they're looking for may be at work; they'll leave word for another team that works the evening shift.
They don't give up on looking for someone, because sometimes surviving an overdose can be the moment that drives someone to ask for help, said the health department's Saidybah. "They are just so tired of being in that situation," he said.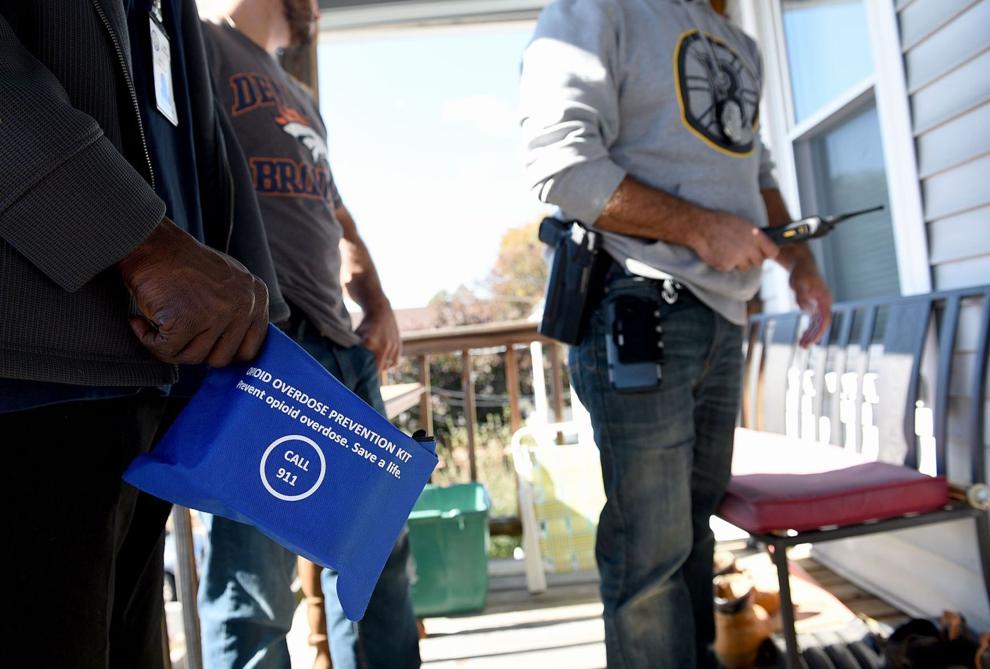 Saidybah, who has an undergraduate degree in public health and is pursuing a graduate degree in health care administration, said this fight is personal for him.
He moved his family first from New York to New Jersey "for the kids," and then from New Jersey to New Hampshire in 2014, he said.
He has lost two friends to overdoses in Manchester.
But he's not moving again.
Instead, he's committed to doing what he can to get people into treatment and connect them with other social services.
"Every time somebody comes to a point where they are ready to go, that's success for me," he said.
Saidybah tells people, "If I win the lottery, the first thing I'll do is build a big complex where all the homeless people will have a place to go."
Drug deaths on rise
New Hampshire was one of only three states that saw its drug overdose deaths decrease in the 12-month period ending this past March, according to a recent analysis by the National Center for Health Statistics at the Center for Disease Control and Prevention.
But some on the front lines say the numbers are going up again.
Chris Stawasz, Northeast regional director of government affairs for American Medical Response, which provides ambulance services in Nashua and Manchester, said the number of overdose calls is back up to 2019 levels after dropping last year during the pandemic.
Many of those calls involve people using other drugs, such as cocaine or marijuana, that have been tainted with synthetic fentanyl, he said.
"Then they end up unconscious and have no idea why," he said. "They get woken up with Narcan, which tells us it's an opioid."
Kim Fallon, chief forensic investigator for the state Medical Examiner's Office, said New Hampshire overdose deaths in 2021 are tracking last year's 417 deaths, perhaps a bit lower. There were 415 overdose deaths in 2019.
Here's the thing about those overdose numbers: There's no way to quantify how many people would be dying if the state had not created The Doorway.
Typically, two-thirds of overdose victims here are male, Fallon said. But the age range may surprise some.
Of the 201 confirmed drug deaths through mid-September, 57 were in their 30s and 29 were in their 20s. But 39 were in their 40s, 45 were in their 50s and 26 were in their 60s.
Three were teenagers and one was in their 70s.
One was a stillborn baby.
Frequently fentanyl
Fentanyl continues to be the leading cause of overdose deaths, but Fallon said many of those deaths involve more than one drug, including methamphetamine and cocaine.
"Their friends or family will say they never did fentanyl or heroin, they only did cocaine, and their (toxicology testing) comes back with fentanyl in it," she said.
There's a term for such victims: "opioid naive."
"People that do cocaine aren't used to using opioids, so they overdose on the opioids," Fallon said. "But they don't know they're taking it."
AMR's Stawasz said the typical individuals his EMTs see in overdoses are males between 25 and 35 years old. But he said, "they've been as young as infants who have accidentally ingested their parents' methadone, and as old as people in their 70s."
"People are looking for anything to make them feel better, or escape from reality in some cases when they're not in a good position in life," he said. "In the middle of a pandemic, there's a lot of people who probably feel that way."
But Stawasz also has witnessed firsthand the moment when a drug user, revived by paramedics, decides to seek help.
"Those are the people who you want to grab onto, put them in your car and drive them somewhere where they can get some help," he said.
Choosing the cold
Hunter, the young woman in the park, said she's never been in treatment. What would it take to get her there?
"I don't know," she said.
"It's an everyday battle."
But she does know what she'd like to do with her life. "I want to be an addiction recovery therapist," she said.
The community response team leaves Hunter a kit, and officer Karoul urges her to find a place to stay. "It's going to be cold this winter," he tells her.
As he leaves, he makes eye contact with her. "Are you good?" he asks her.
"Take care," he tells her, and walks away.