NASHUA — Although the reasoning behind his death is still not clear, the city's police chief said Thursday that Capt. Jon Lehto committed suicide earlier this week.
"We still don't know why Jon killed himself, but something was going on that he was forced to take his own life," said Chief Mike Carignan of the Nashua Police Department.
Lehto had been with the department since 1999. He died Monday while visiting the West Coast.
"Law enforcement, historically, has not acknowledged suicide as a manner of death for its officers. There has always been this fear or stigma associated with it," said Carignan. The chief said he hopes that being transparent and honest about Lehto's death can prevent it from happening to others.
As National Suicide Prevention Week continues, various studies indicate police officers and firefighters are more likely to die by suicide than in the line of duty.
There is a stigma that when a police officer takes his own life that perhaps they were under investigation, or perhaps they had health problems they could not address through counseling, Carignan said, though that isn't necessarily the case.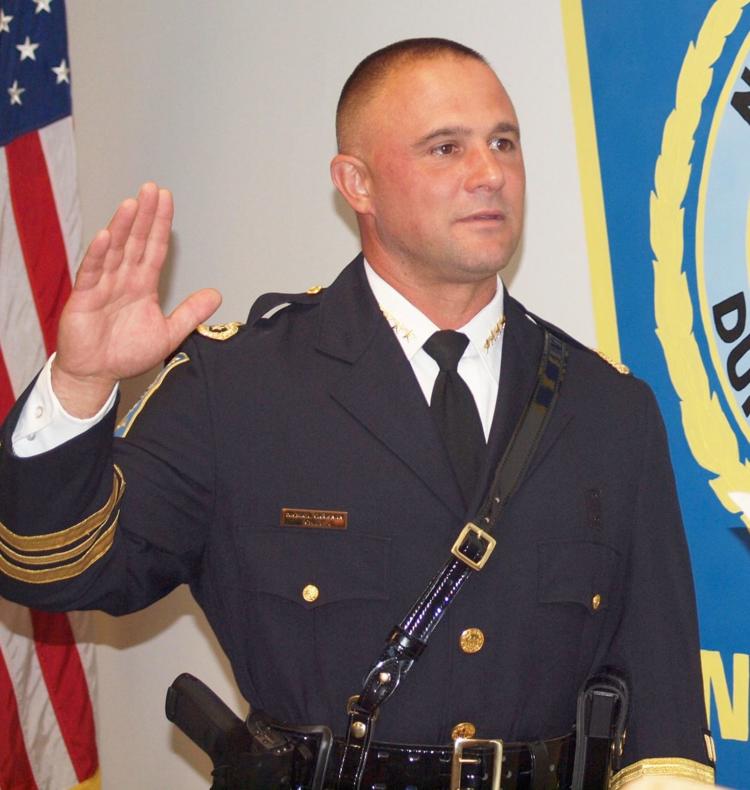 "Jon was such an impactful person in Nashua," said Carignan, who described Lehto as an amazing individual and police officer.
Blue HELP, a Massachusetts-based group, has reports of 578 law enforcement suicides in the U.S. from January 2016 to July 1, 2019. According to its website, three were in New Hampshire.
Still, Carignan said not every suicide is reported. He knows of at least two agencies in New Hampshire that have had members take their own lives in the past couple of years, but those were never made public as suicides.
"In my personal opinion, it is important to acknowledge this and recognize that people are suffering," he said. "We are trying to be respectful, but also understand that by not shedding light on this, it could do more harm than good."
Carignan received approval from the Lehto family before making the cause of death public, he said.
"I explained to them that this is an epidemic with first responders and suicide rates. There needs to be awareness. There needs to be discussion," the chief said. "The family agreed that if going public about it prevents any other officer from taking their life, that Jon would have wanted that."
Being honest about how Lehto's suicide has impacted the city's police force is a critical piece of the healing process, Carignan said.
"It brought home a reality for us and we want to be open about how that affects our agency and first responders. And we want to get the word out that this is not acceptable and we want to help people," he said. "We are going to try to be a driving force to make sure there are no stigmas associated with suicide."
There is more mental health awareness now than ever before, Carignan acknowledged. This week, the Washington Post released a story with a new survey that shows the heavy psychological toll that first responders in Virginia are facing. The same thing is happening everywhere, said the chief.
Handled difficult cases
Lehto, who grew up in Nashua, was hired by the Nashua Police Department in 1999. He was promoted to sergeant in 2010, lieutenant in 2015, and captain in 2019.
The majority of his career was spent with the former Youth Services Division, which is now known as Special Investigations. Lehto handled many cases involving crimes against children and sexual assault cases, and also served as a police prosecutor.
"Right now there is a lot more awareness of mental health and PTSD and people dealing with trauma," said Carignan.
Throughout the past four years, the city's police department has formed relationships with other law enforcement agencies to develop management teams that will debrief officers handling cases with major trauma. That support network has been in place and has been successful, according to the chief, who said those 24 members of the team also offer one-on-one peer assistance and keep frequent tabs on each other.
Other resources, such as volunteer professionals, are available for counseling — a process that is completely anonymous and confidential, Carignan explained.
"I have been told that officers have reached out, sought help and get back on track. It makes me feel good that as an agency, people are willing to seek help," he said.
Lehto was a member of the department's SWAT team and the 2007 Nashua Exchange Club Officer of the Year. A year later he was honored with the Dr. Roger M. Fossum Award by the New Hampshire Attorney General's Task Force on Child Abuse and Neglect.
For anyone in need, the National Suicide Prevention Lifeline is available at 800-273-8255.