HAMPSTEAD — The state is in final negotiations to purchase the privately owned Hampstead Hospital and make it a "center of excellence" for treating youth with behavioral health issues, Gov. Chris Sununu announced Thursday.
The plan is to use federal American Recovery Act dollars to acquire the 110-bed psychiatric and substance abuse treatment hospital, which sits on 100 rolling acres in the rural community. The purchase price was not disclosed.
The state Executive Council and Joint Legislative Fiscal Committee would have to approve use of the federal grants for this purchase, which Sununu said he'd like to complete before year's end.
"At the end, just as negotiating this deal, I have no doubt it is going to be a win for everybody," Sununu said at a news conference outside the hospital.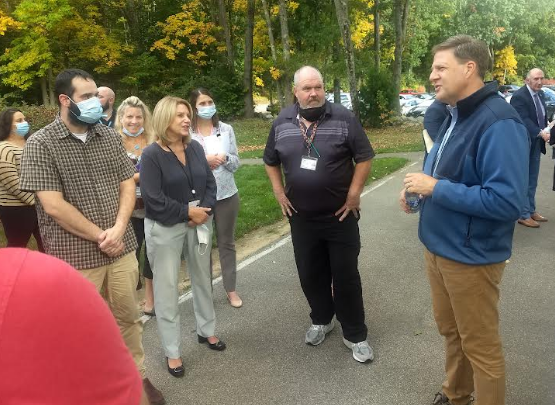 Health and Human Services Commissioner Lori Shibinette met with the private hospital's employees before the announcement.
"Our mission for this campus and Hampstead Hospital is to create a center of excellence for youth behavioral health," Shibinette said.
"This campus has the potential to do that because there is such a great foundation at Hampstead."
Kathleen Collins, chief operating officer at the hospital, said talks have been ongoing about the potential purchase for about a year.
"We are very excited to see that happen," Collins said. "I think it's been a great partnership."
Built in 1974, Hampstead Hospital is licensed to provide inpatient and outpatient care for adults and children.
The hospital has psychiatric and substance abuse dependency services for children, adolescents and adults.
It is authorized for a 15-bed locked unit for adults undergoing detox from opioid and other drug dependency and a 10-bed residential unit for those once they complete detox.
Since the start of the COVID-19 pandemic, the census has been in the "low 40s" with only one adult currently residing there, Collins said.
In a legislative presentation last spring, state officials said the census of youths staying at Hampstead has remained lower in part because so many needed their own room.
More referrals in COVID
In the spring of 2020, Shibinette got Executive Council approval to amend the state's contract with Hampstead Hospital to accept more youth behavioral health referrals.
The move came after the COVID-19 pandemic contributed to overcrowding at the state-run New Hampshire Hospital and an increasing emergency room boarding crisis for adults and children waiting in acute-care hospitals for treatment beds.
Shibinette said her goal is to create a longer-term treatment program for children, most of whom stay for up to six weeks.
The state also wants to create a robust, inpatient unit for the care of adults age 18 to 25 facing mental health challenges, she said.
"What I love about Hampstead Hospital is that you walk in the lobby and right away, it doesn't feel like a hospital or institution. This place has such a healing vibe," said Shibinette, who was superintendent of New Hampshire Hospital before Sununu promoted her to become HHS commissioner.
About the purchase price, Sununu would only say it was "fair" to both sides and not a stumbling block to closing the deal.
One of the remaining details left to negotiate is the post-sale management structure, the governor said.
Sununu said he's looking at a "few options for that," which could include contracting with the existing administration to manage the hospital on the state's behalf.
The current management team was most concerned about the future for those who now work at the hospital, he said.
"The employees have to come first, they have to rely on these services and deliver them in such a quality fashion," Sununu said.
Executive Councilor Ruth Stevens, R-Rye, praised the plan and said she's been recently working to help families find a behavioral health treatment bed.
"This would fill a critical need," she said.
Sununu said he's been consulting with legislative leaders during these talks.
The governor said he hopes to be making other announcements in the coming months to further increase treatment capacity in the mental health care system.