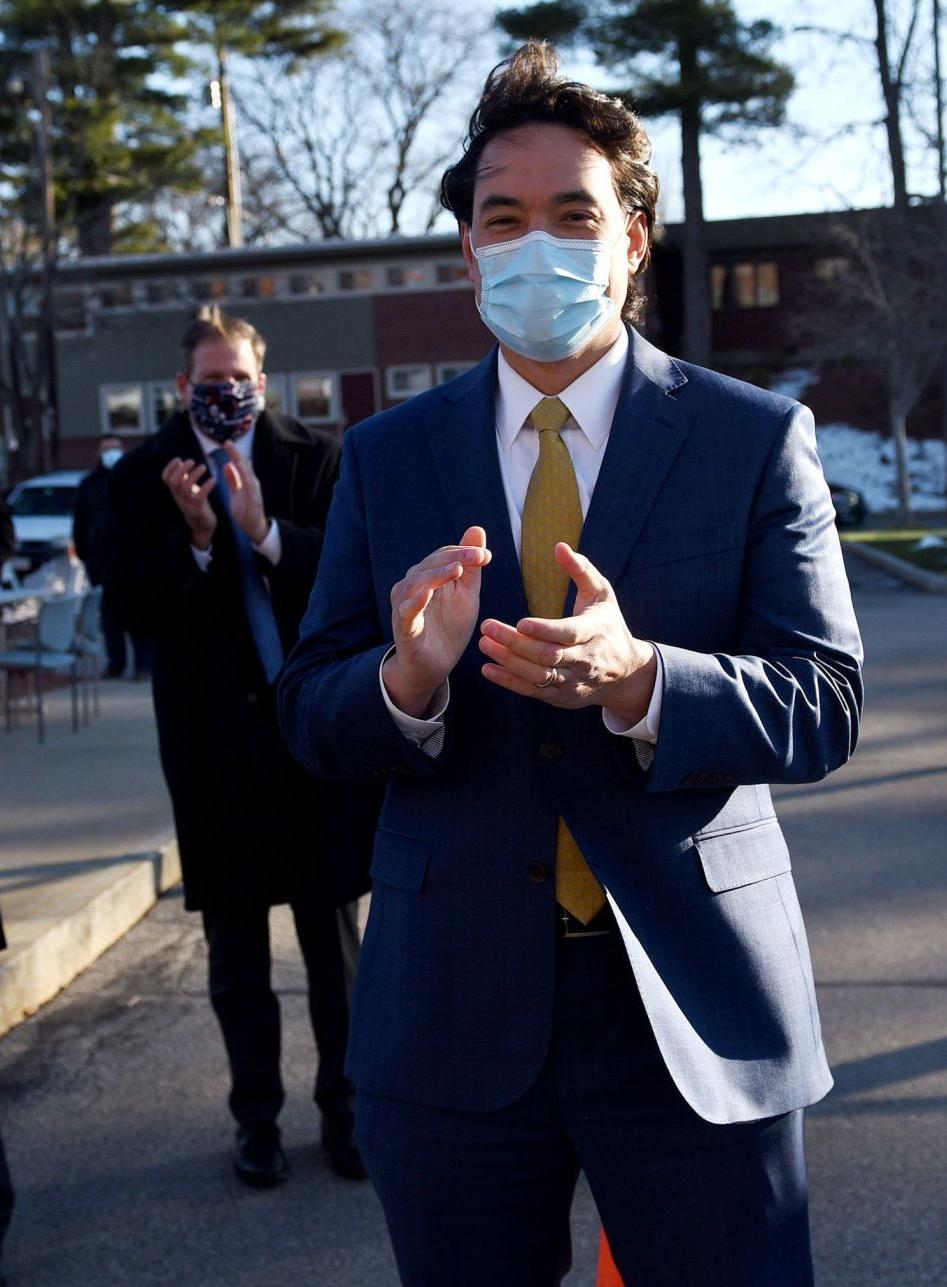 He has been the calm voice of science and reason that New Hampshire leaders and residents have turned to for facts, context and reassurance amid the fear and uncertainty of an unparalleled health and economic crisis.
The Union Leader has chosen Dr. Benjamin Chan, state epidemiologist, as New Hampshire's Citizen of the Year.
While Gov. Chris Sununu has been the captain of New Hampshire's response to the COVID-19 pandemic, Chan has been the navigator, helping to guide the ship of state through treacherous public policy waters.
A New Hampshire native, he has brought the science to closed-door debates among state leaders about shutting — and later reopening — houses of worship, schools, businesses, restaurants and sporting events.
At the governor's weekly COVID-19 media briefings, it's typically Chan to whom Sununu defers to explain the data behind the decisions.
"He is the best person to turn to when I want a calm, dispassionate analysis of a really tough issue," Sununu said in a recent interview. "Any time you deal with really smart people, they can provide great advice, but it is rare to have someone able to boil it down for the rest of us laymen. And Ben does a superb job at that."
State epidemiologists typically work behind the scenes, far from the spotlight. But Chan often has been the public face of New Hampshire's health department during the pandemic.
"It's a role that I've embraced," he said. "It's not something that they train you particularly well for in medical school, or even public health training, but it's actually a really important role for public health in general, to be able to communicate with and engage people.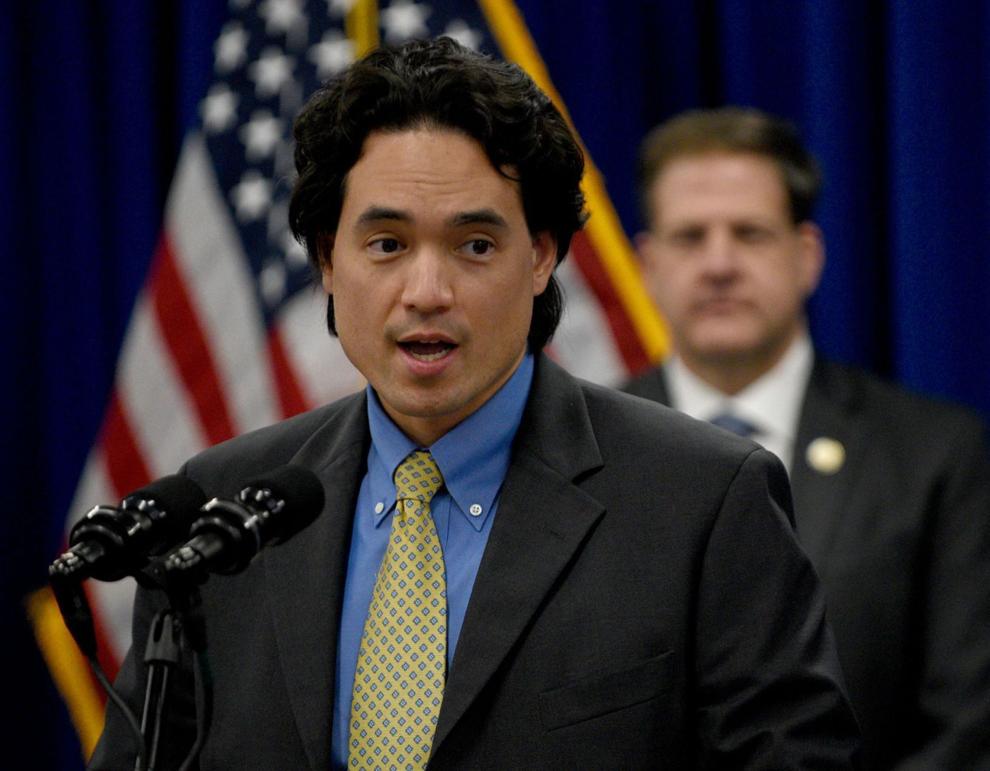 "As we've seen with this pandemic, a lot of what we're asking people to do is change their behaviors, and that doesn't come naturally to most people," Chan said.
Chan joined the Department of Health and Human Services in 2014, just as the state and nation were scrambling to deal with the potential threat of an Ebola epidemic. "A lot of it was responding to the fear and the concern and the possibility of it coming to New Hampshire, which it never did, thankfully," he said.
In the years since, Chan and the rest of the DHHS public health team have dealt with emerging health threats such as Hepatitis A, acute flaccid myelitis and Zika virus; outbreaks of Legionnaire's disease and measles; PFAS water contamination; and a mysterious cancer cluster on the Seacoast. They even trained for a possible pandemic.
Still, nothing prepared them for what 2020 held.
Charting a course
Chan remembers reading the first reports of people being hospitalized with serious respiratory illness in the city of Wuhan in China in late 2019. Then came news that Chinese authorities were implementing a lockdown of Hubei province — and that the illness had spread to other countries, notably Italy.
"It was apparent at that point, well before the WHO declared this as a pandemic, that this was going to spread and it was going to impact our country, and we were preparing for that possibility," Chan recalled.
On March 2, Chan was on his way to a briefing with Gov. Sununu, members of the state's congressional delegation and New Hampshire hospital leaders. Fifteen minutes before the meeting, word came from the Centers for Disease Control and Prevention: New Hampshire had its first case of COVID-19.
That, Chan said, "set off a whole cascade of events which are now history."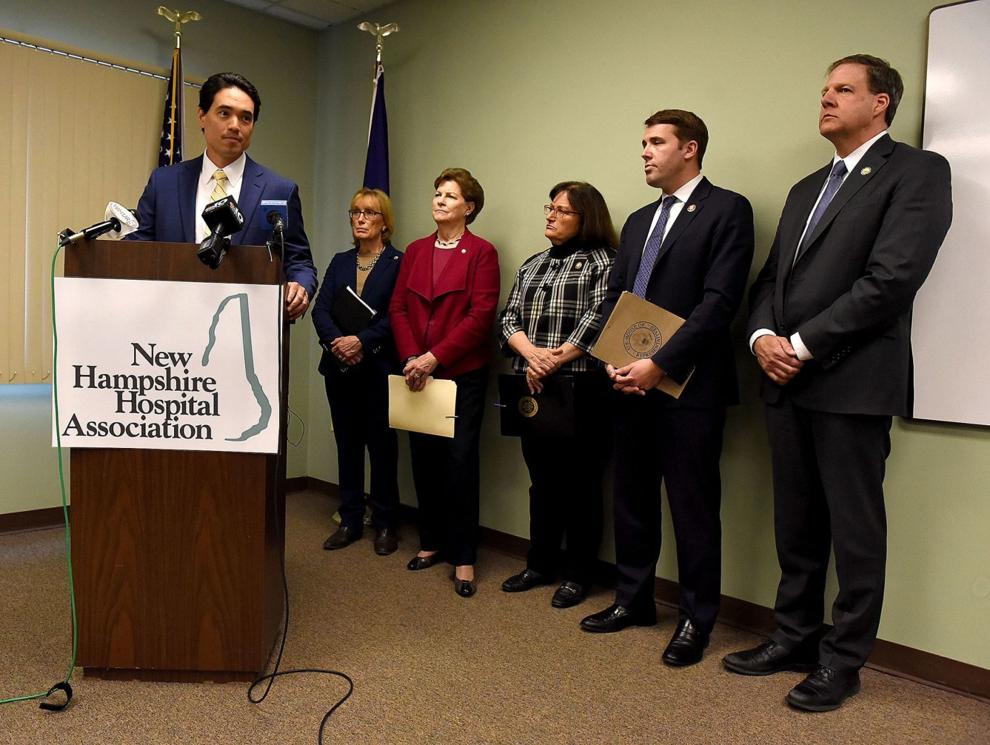 So much was unknown in those early days. "One of the challenges with this pandemic is that it's a new pathogen and our understanding of this virus and how it spread was very limited at the beginning, and we're still learning about it," Chan said.
"We had to take the limited information and limited scientific knowledge we had at the time, and learn how to take that information and apply it to New Hampshire to be protective."
Over time, that would mean rejecting some of the rhetoric coming out of Washington, according to Sununu. After President Donald Trump promoted the widespread use of hydroxychloroquine to fight COVID-19, for instance, demand for the drug rose, causing shortages.
On Chan's recommendation, New Hampshire became one of the first states to limit prescribing the anti-malaria drug for off-label use, Sununu said.
"This took a lot of courage, but he was really a trailblazer," the governor said. "I think by the time it was done, nearly 40 states had followed New Hampshire's lead. There's adequate supply now, but he was ahead of the curve, trying to make certain it was available only to those who would most benefit from it."
Chan said New Hampshire's public health team does not automatically adopt guidance from federal agencies. "We digest it, we review the science, we discuss it as a group and we figure out what should be New Hampshire's approach," he said.
Early on, for instance, the CDC reported that COVID-19 presented primarily with fever, cough and shortness of breath. But health experts here suspected there could be other, milder symptoms, Chan said, so they asked medical providers to report any respiratory symptoms in individuals with a history of travel.
"And that was our way of adapting the limited science at the time to a more protective approach so that we could determine earlier if and when COVID-19 was circulating," he said.
Motivated by faith
BENJAMIN CHAN, now 40, grew up in Concord. He graduated from Concord High, where he took AP physics, chemistry and calculus — and met his future wife, Amy.
They went to senior prom together, and both went to Wheaton College, a Christian liberal arts college near Chicago, where the school motto is "For Christ and His Kingdom."
"My faith was one of the underlying motivating factors which led me to medicine in general and then on to public health," Chan said. "The desire to help people in some way."
Public health was a way to translate that impulse into an occupation: "How do we look out for one another and care for one another and stay healthy as a community?"
After five years in the Chicago area — he worked as an EMT for a year after college — "I was ready to come back to New England." He went to the University of Vermont College of Medicine and then did his residency in internal medicine at Dartmouth-Hitchcock Medical Center.
After practicing for a year at DHMC, Chan combined a fellowship in infectious disease with a master's degree in public health through DH's Leadership Preventive Medicine Residency program.
That training has proven invaluable, as Chan has advised the governor and other leaders on when and how to safely reopen key sectors of the economy.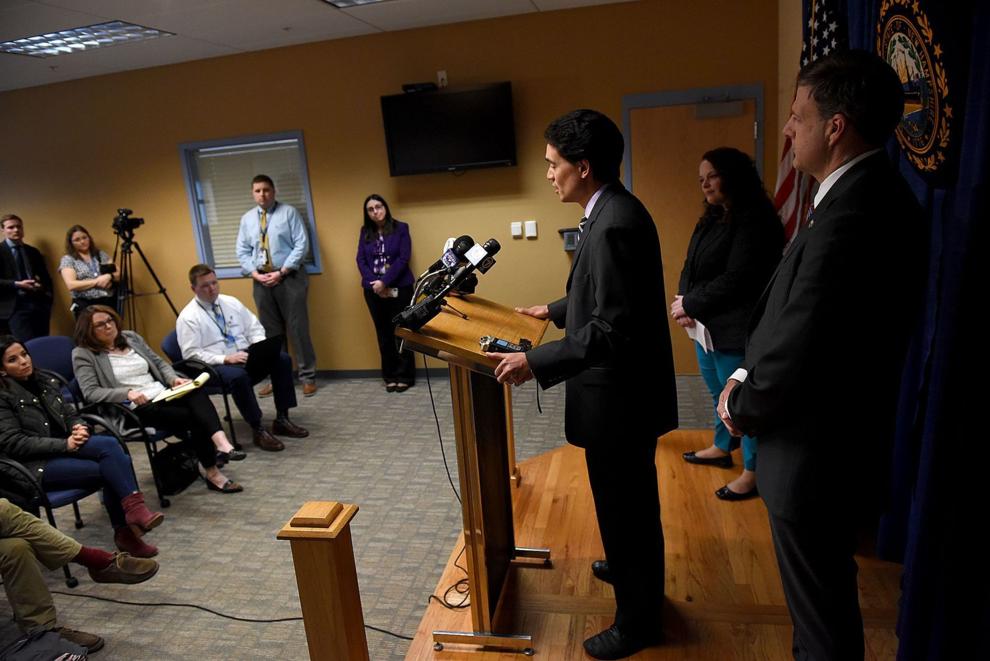 Dr. Edward J. Merrens, chief clinical officer for Dartmouth-Hitchcock Health, said of Chan last week, "We can think of no one more perfectly poised to help lead New Hampshire's efforts in addressing the COVID-19 pandemic."
One of the first plans Chan and others developed addressed New Hampshire's summer camps, which draw youngsters from out of state.
"We created a very aggressive testing strategy, requiring people to be tested with PCR tests before showing up, on arrival and seven days after," Chan said. "There was no federal recommendation at that point to implement this kind of testing strategy."
It worked. The state went on to apply the same approach with colleges and universities in the fall. "And since then, CDC has come out with some additional guidance that promotes that kind of testing strategy," Chan said.
Again, New Hampshire was ahead of the curve.
Recognized nationally
Sununu said he appreciates Chan's "questioning mind."
"He reads an enormous amount, and he will see something on a topic that he and I don't agree on, and he'll come in with the latest study or progress report to continue the debate," Sununu said. "Things are changing by the moment, and he always remains open to new data, and I appreciate that as well."
DHHS Commissioner Lori Shibinette said Chan comes to leadership team meetings armed not only with expertise and the latest research, but with a grasp of the broader impacts their decisions could have.
"He knows that COVID-19 is not just about COVID-19," she said. "He is still a fierce advocate for public health, but he understands and acknowledges that it is multi-factored."
Chan "genuinely cares about the citizens of New Hampshire," Shibinette said. "He is compassionate, and he's always advocating for the well-being of our citizens."
Steve Ahnen, president of the New Hampshire Hospital Association, said Chan has built relationships with hospital leaders over the years, connections that proved crucial as the pandemic arrived in New Hampshire.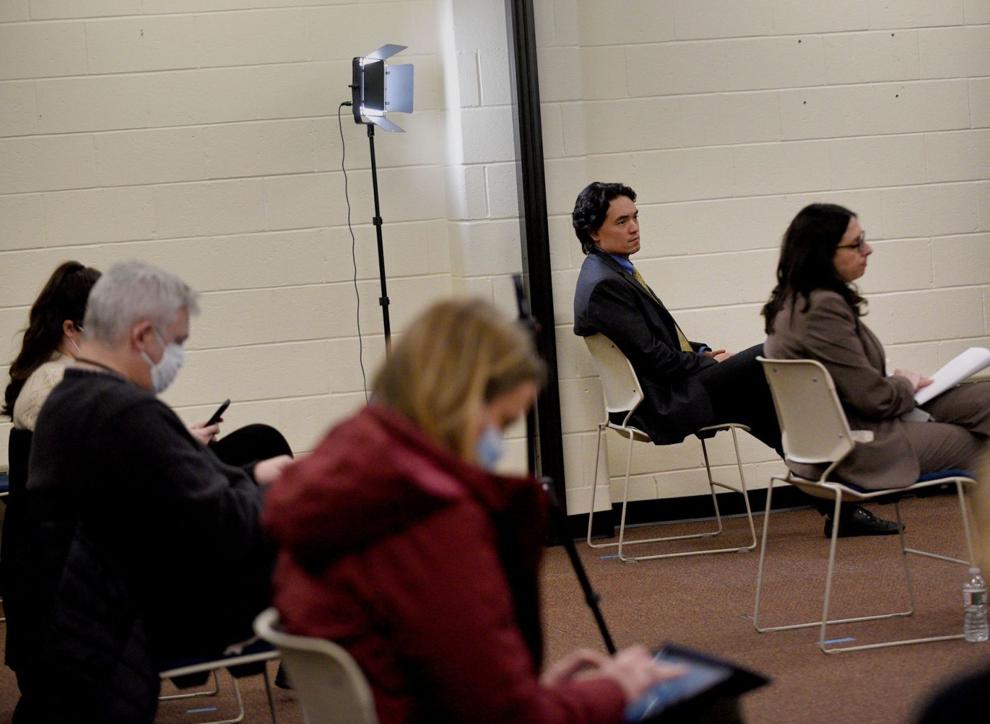 "People knew him, and they have a tremendous amount of respect for him, for the work that he's done and really the approach that he brings to that work," Ahnen said. "He's a collaborator, and he's obviously very knowledgeable. People truly do value his opinion and his judgment."
Chan's skills are recognized at the national level as well.
Janet Hamilton, executive director of the Council of State and Territorial Epidemiologists, said Chan has been "an incredible leader" in that professional organization.
"He is so highly respected by his peers, so I'm really just thrilled to see you all recognizing his important work and his contributions not only to New Hampshire but the contributions he makes through CSTE more broadly nationally," she said.
Chan co-chairs CSTE's COVID-19 core work group, which provides input to the CDC on what the states are experiencing, Hamilton said. "He has a wealth of scientific knowledge and expertise but also is really able to communicate to people and listen and share information in a way that's meaningful," she said.
NHHA's Ahnen also praised Chan's communication skills.
"He's very calm, he's very reassuring in terms of the way he presents himself, and I think that's been very helpful as the public has been confronted with this challenge," he said. "He's been a very reassuring voice and steady hand throughout all this."
Politicizing science
Chan said the state's COVID-19 guidelines are not about trying to eradicate the disease — "that's what we need a vaccine for" — but about limiting its spread while addressing people's financial, emotional and mental health needs.
Sununu said he and Chan don't agree on everything. But he said, "I think we both agree finding that middle ground is so important in the state. And once the discussion is done inside the room, we come out with a unified, clear, reassuring voice."
Chan admits to frustration at how science has been politicized during the pandemic. "I think what we're seeing at a national level and in other states is a lot of discussion around the extremes in response to this," he said. "I think that we do better when we can find sort of the balanced, more moderate approach to this pandemic.
"And that's something that I think New Hampshire has done very well with."
Still, New Hampshire has not been immune from dissension, as some residents have pushed back against mask requirements and business restrictions, arguing such measures infringe on people's rights.
In Chan's view, "Individual rights and freedom do not allow somebody to infect someone else and put another person at risk."
Here is where his religious and professional perspectives align.
"We need to have a collective responsibility for caring for and protecting and loving one another," he said. "We would be, and could be, stronger as a state, stronger as communities, if we looked to care for and support each other."
Family-minded
The long hours he has worked during the pandemic have been difficult for his family, Chan said. He credits his wife, who trained as a labor and delivery nurse, with "keeping the household together."
The Chans, who live in the Upper Valley, have a 13-year-old son, Benjamin, and 11-year-old daughter, Eowyn, a name from J.R.R. Tolkien's "The Lord of the Rings."
It turns out Chan is an avid reader of science fiction and fantasy. The "Game of Thrones" series is among his favorites — but he didn't watch the TV show based on the books.
"I refuse to, until George Martin finishes writing the series," he said.
There are more surprises from this man of science.
"My wife and I love to dance," he said.
It's not something he grew up doing, he said: "In fact, Wheaton College in Illinois had a no-drinking, no-dancing policy."
But a few years back, the Chans took dance classes and got hooked.
"We started with East Coast swing, then that quickly blossomed to all sorts of other types of ballroom dancing: West Coast swing, we've done some waltzes, some Latin dances like cha-cha." Their current favorite is Hustle, he said.
Their dancing days have been put on hold during the pandemic, Chan said, "but we're looking forward to getting back into that once the pandemic is over."
When the number of COVID cases dropped over the summer, Chan had a chance to do some hiking with his family in the White Mountains. "That's always been a key stress reliever," he said — and not just during the warmer months.
"There's nothing better than blazing a trail up a mountain after fresh snow," he said. "People need to do it safely," he said — ever the public health physician — "but I've learned to love winter hiking in New Hampshire."
Now that the state's COVID-19 vaccination program is ramping up, Chan is back to working weekends.
"It's been tiring, to be frank," he said. "Everybody's tired of this pandemic and the virus, but we can't let our guards down yet."
About those shoes
There is one thing that mystifies Sununu about Chan: "He always has on the same black shoes."
"They are incredibly worn out. I say to myself: I have to buy this guy another pair of black shoes," the governor said. "He says they are really comfortable, but I think it's about how focused he is on the job; it's all he pays attention to."
Not true, Chan laughed. They're "barefoot shoes," he explained, and "honestly some of the most comfortable shoes I've ever had."
Chan still feels uncomfortable with all the attention he's getting, and he's quick to credit the entire public health team, and the governor's leadership, for the successes of New Hampshire's response to COVID-19. When the pandemic is over, he said, "I hope to fade back into the woodwork."
But until then, he said, "I think people are looking for a reliable, credible source of information.
"And hopefully people see public health in New Hampshire as reliable and credible and trustworthy, and if I can be a part of that, then I'm grateful."