LITTLETON — Hospital officials are awaiting confirmation from the federal Centers for Disease Control and Prevention as to whether a 19-year-old patient who recently returned from China is carrying the coronavirus.
On Monday, prior to the start of Littleton Regional Healthcare's annual meeting, officials announced that a patient was being treated there on suspicion of having the illness, which originated in Wuhan, China.
Edward Duffy, Littleton Regional Healthcare (LRH) chief medical officer, said the patient was admitted on Jan. 23 with mild respiratory symptoms and immediately placed into a "negative pressure isolation room," which he explained is the standard procedure in such cases.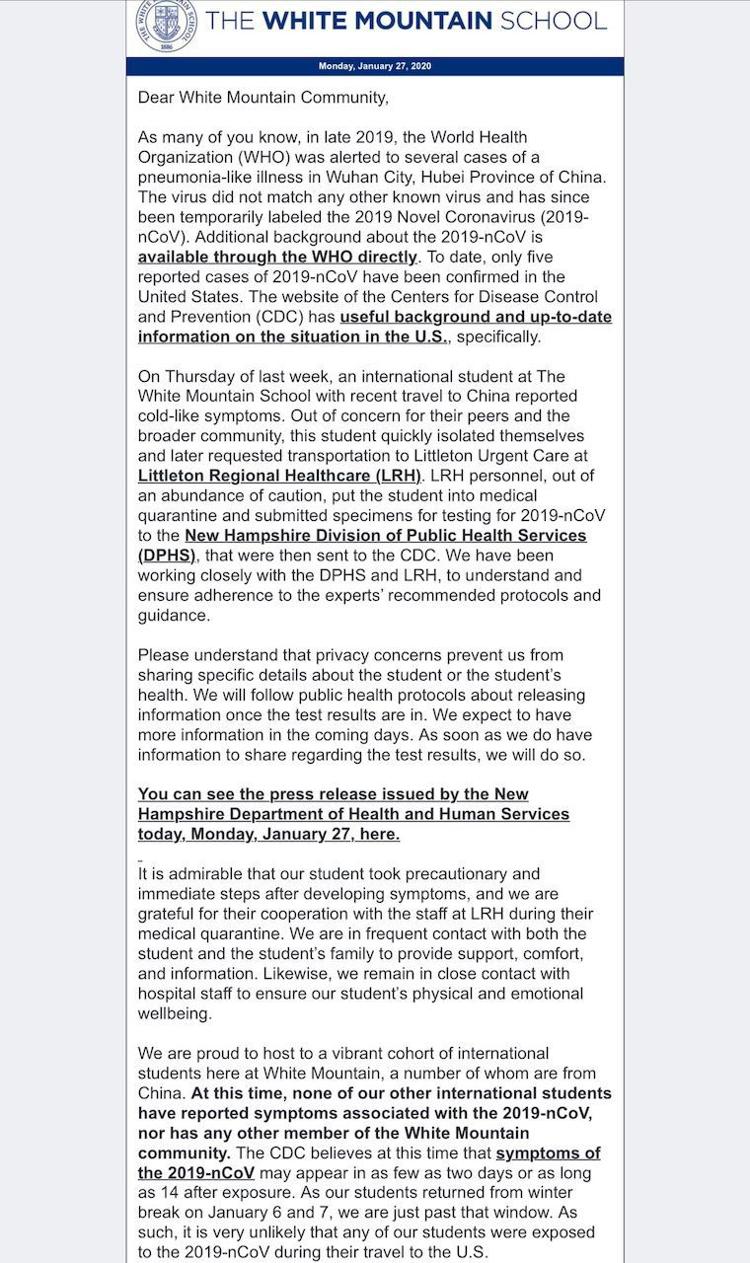 He said LRH is awaiting results from the Centers for Disease Control and Prevention (CDCP) to determine whether the patient has coronavirus.
"The patient is symptom-free and bored," said Duffy, adding the next steps in the patient's care "will be guided by the CDCP."
"Our staff did a wonderful job," of responding to the situation, said Duffy, noting that "In general, we have the knowledge and experience" as well as a modern facility and equipment to handle such cases.
He stressed that there is "absolutely no threat to the community whatsoever from this patient," who is a student at the White Mountain School in neighboring Bethlehem, according to published accounts.
In a letter to the White Mountain community on Monday afternoon, John Drew, the head of school at The White Mountain School, said the student in question reported "cold-like symptoms" after returning from China.
"Out of concern for their peers and the broader community, this student quickly isolated themselves," said Drew, commending the student for taking "precautionary and immediate steps after developing symptoms, and we are grateful for their cooperation with the staff at LRH during their medical quarantine."
Drew said the school is in "frequent contact with both the student and the student's family to provide support, comfort, and information. Likewise, we remain in close contact with hospital staff to ensure our student's physical and emotional well-being."
Drew said none of the school's other international students have reported symptons associated with the coronavirus.
The CDCP, he continued, "believes at this time that symptoms of the (coronavirus) may appear in as few as two days or as long as 14 after exposure. As our students returned from winter break on January 6 and 7, we are just past that window. As such, it is very unlikely that any of our students were exposed to the (coronavirus) during their travel to the U.S."
On Monday, state epidemiologist Dr. Benjamin Chan said two people in New Hampshire, whom he did not identify, were being tested for the coronavirus, which has sickened thousands and killed at least 80 people in China.
Chan, who spoke to the LRH annual meeting via telephone, said if the Centers for Disease Control and Prevention determines the patient has contracted coronavirus that fact would be shared with the public.
"The risk to our communities in New Hampshire is low, but we want to identify people who may be infected with this new coronavirus in order to prevent spread," Chan said in a statement.
New Hampshire residents should take the same commonsense precautions they are accustomed to for avoiding the flu, U.S. Sen. Maggie Hassan, D-NH, urged Tuesday. These include frequent hand washing, staying home when sick, and covering your nose and mouth when sneezing or coughing.
"Briefings from Administration officials have made clear that the coronavirus risk to Americans is low, but out of an abundance of caution, Granite Staters and all Americans should continue to follow typical flu prevention protocol to help contain any possible spread of the virus," Hassan said.
"I will continue to be in touch with state and federal officials to ensure that we are doing everything we can to screen those entering the country, provide care to anyone who may have been exposed, and contain the spread of this virus."